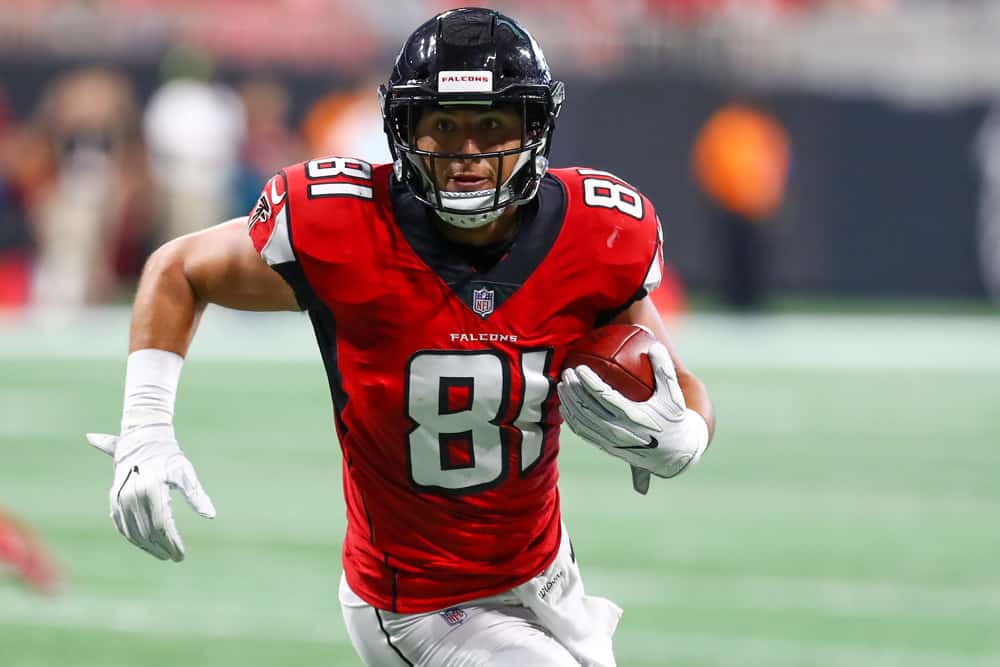 The Cleveland Browns landed the first prize of the 2020 free agency period in agreeing to a deal with Austin Hooper.
Andrew Berry set a new market for tight ends, guaranteeing $23 million for the first two years of a four-year contract.
Hooper can make as much as $44 million dollars if the contract plays out.
TE Austin Hooper, Browns agree to terms. (via @RapSheet + @TomPelissero + @MikeSilver)

(by @SNICKERS) pic.twitter.com/anb2ZtEkuA

— NFL (@NFL) March 16, 2020

The former Atlanta Falcon comes off a solid 2019 season.
He set career highs in catches and yards in just 13 games.
That follows a trend of improvement in each of his four years.
Atlanta wanted to sign Hooper to an extension.
But they were handicapped by the salary cap and defensive needs.
Hooper joins David Njoku and Ricky Seals-Jones on the Cleveland Browns roster.
And a few other players we might hear some hype about.
The Browns' offense is STACKED with talent 😳

🏈 Austin Hooper
🏈 Odell Beckham
🏈 Jarvis Landry
🏈 Baker Mayfield
🏈 Nick Chubb pic.twitter.com/Bp0bnHTud3

— ESPN (@espn) March 16, 2020
Cleveland also re-signed Pharaoh Brown as a blocking tight end.
But today is all about Austin Hooper and the impact he´ll have on the Browns´stacked offense.
Everyone knows Hooper is a top-ten (or better) NFL tight end.
But here are another 3 things to know about Austin Hooper.
1. Hooper Was Projected as a College Defensive End
Austin Hooper attended De La Salle High School in Concord, California.
During his freshman and sophomore years, Hooper was a quarterback.
Austin Hooper gives you this every week. He's a great fit for Baker Mayfield.pic.twitter.com/CHAZgky7S9

— Mike @ Everything Cleveland (@MikeFromCLE) March 16, 2020
He played defensive end on the varsity squad during his junior and senior years.
Rivals.com listed Hooper as a 3-star defensive end recruit.
But ESPN made him a 4-star recruit and the #261 player overall "at whatever position he plays."
Stanford won over Hooper by promising to make him a tight end.
Hooper went on to play all 13 games in his redshirt freshman year.
He claims his defensive background makes him want to be a good blocker as much as a route runner.
2. Hooper Left Stanford 2 Years Early
Hooper once said attending Stanford means he has to be smart at football and in class.
He was smart enough to realize the 2016 NFL draft class was rather weak at tight end.
As a freshman, Hooper caught more passes (40) than he did as a sophomore (34).
But in his second season, he scored more touchdowns and was helped by a high-profile performance.
Austin Hooper showing off those wheels on #NationalTightEndsDay 🙌 @AustinHooper18 pic.twitter.com/VRA81vA33k

— The Checkdown (@thecheckdown) October 27, 2019
Stanford upset then #6 USC that year.
Hooper scored one of his six touchdowns and gained a career-high 79 yards in that game.
After discussing the matter with his Stanford coach, Hooper entered the draft with two years of eligibility remaining.
The Falcons used a third-round selection on Hooper.
Hunter Henry was the only tight end off the board before him.
He joined fellow Stanford Cardinal alumnus Levine Toilolo in Atlanta.
3. Guess Who Hooper Caught 10 Passes Against?
Austin Hooper showed signs of becoming a productive tight end every year.
But he has only had 3 career games with over 100 yards and one game with 2 touchdowns.
One of those games was the opening day of the 2017 season.
That day, the Chicago Bears decided not to cover the Falcons´tight end, no matter what.
Matt Ryan found Hooper twice on broken plays.
He was so wide open, he rambled for an 88-tard touchdown and another 40-yard gain.
Pretty excited about the hype video content @AustinHooper18 is going to give us! #GoBrowns pic.twitter.com/Ue4F3rM6ai

— Michael Killi (@MikeKilli) March 16, 2020
He never matched that career-long reception and is not one to carry defenders downfield after a catch.
But Hooper's target count and catch count increased in each of his 4 seasons.
His career-best game in receptions came against a team the Cleveland Browns are very familiar with.
In 2018, Hooper caught 10 of 11 targets for 56 yards and a touchdown in the Falcons loss to… the Cleveland Browns.
So, now you know.