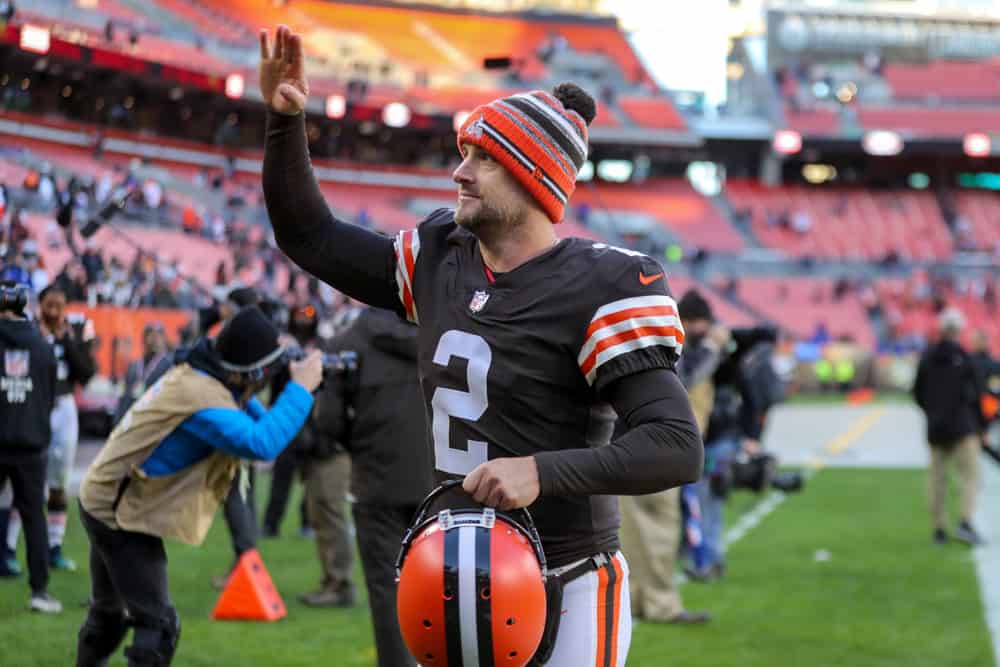 In a surprise move, the Cleveland Browns have decided to shake up their special teams unit.
They've waived third-year punter Jamie Gillan and are keeping veteran punter Dustin Colquitt on the roster.
The #Browns are releasing punter Jamie Gillan. Dustin Colquitt has earned his stay in Cleveland.

— Camryn Justice (@camijustice) December 22, 2021
Gillan has been on the COVID list recently, which forced the Browns to find another punter.
After two games, Cleveland has decided they want to keep Colquitt around for the rest of the season.
It's a shame, but Gillan is young and should bounce back with another organization.
Now, it's time to focus on what Colquitt brings to the Browns roster.
1. Comes From A Family Of Punters
Four members of the Colquitt family have made an impact punting the football.
Colquitt has been in the NFL since 2005 when he was drafted by the Kansas City Chiefs.
His brother Britton has been a punter since 2009 when he signed as an undrafted free agent with the Denver Broncos.
He was most recently released by the Minnesota Vikings in September and is currently a free agent.
Their father, Craig, punted during 1978 to 1987 with the Pittsburgh Steelers and has two Super Bowl rings.
Jimmy Colquitt, Dustin's cousin, is the career leader in punting at the University of Tennessee.
It's worth noting that all four of the Colquitt's went to college at Tennessee.
Clearly, punting is something that is in the family bloodline.
2. Holds Five Franchise Records
At first glance, it's pretty difficult to hold five different franchise records as a punter.
Somehow, Colquitt has accomplished that during his time with the Chiefs.
He holds the record for the Chiefs longest punt, which was 81 yards in 2007.
It's worth noting that Colquitt has been making ridiculous punts ever since his days in college.
Dustin Colquitt was the GOAT! pic.twitter.com/3W7hIrGLSP

— FQTennessee🍊 (@FqTennessee) April 4, 2020
Colquitt also holds the record for most games played at any position with 238.
That is something that probably won't be broken anytime soon.
He is tied for the franchise record with 15 seasons played in Kansas City.
Not surprisingly, Colquitt holds the franchise record for punting yards with 50,393.
Lastly, Colquitt has the most punts with 1,124 during his time with the Chiefs.
3. Drafted In The Third Round
Nowadays, most punters are drafted in the late rounds or not at all.
In 1973, the Oakland Raiders used their first-round selection on Ray Guy.
It's such an odd thing to hear because punters rarely get drafted anymore.
Although, in 2005 the Chiefs took a chance on Colquitt and selected him in the third round.
Obviously, that worked out for them as he spent 15 years there and broke plenty of franchise records.
Since then, it's rare to see an organization take a chance on a punter early in the draft.
The Jacksonville Jaguars selected Bryan Anger in the third round in 2012.
Also, the Seattle Seahawks selected Michael Dickson in the fifth round in 2018.
He's the highest drafted punter since Bryan Anger in 2012 (70th overall). https://t.co/zmcfn5bKhf

— Mike Garafolo (@MikeGarafolo) April 28, 2018
It certainly seems that the organization tends to wait rather than take a chance on a punter.
Obviously, the Chiefs made the right decision since Colquitt was a Hall of Famer in Kansas City.
The Browns waited until after the draft to sign Gillan in 2019.
Possibly, more teams will begin taking punters during the draft, but it seems unlikely.
At least, the Chiefs were able to get a steal in Colquitt who possibly deserved to be taken earlier in the draft.
Now, the Browns can give Colquitt a chance to win his second Super Bowl ring.