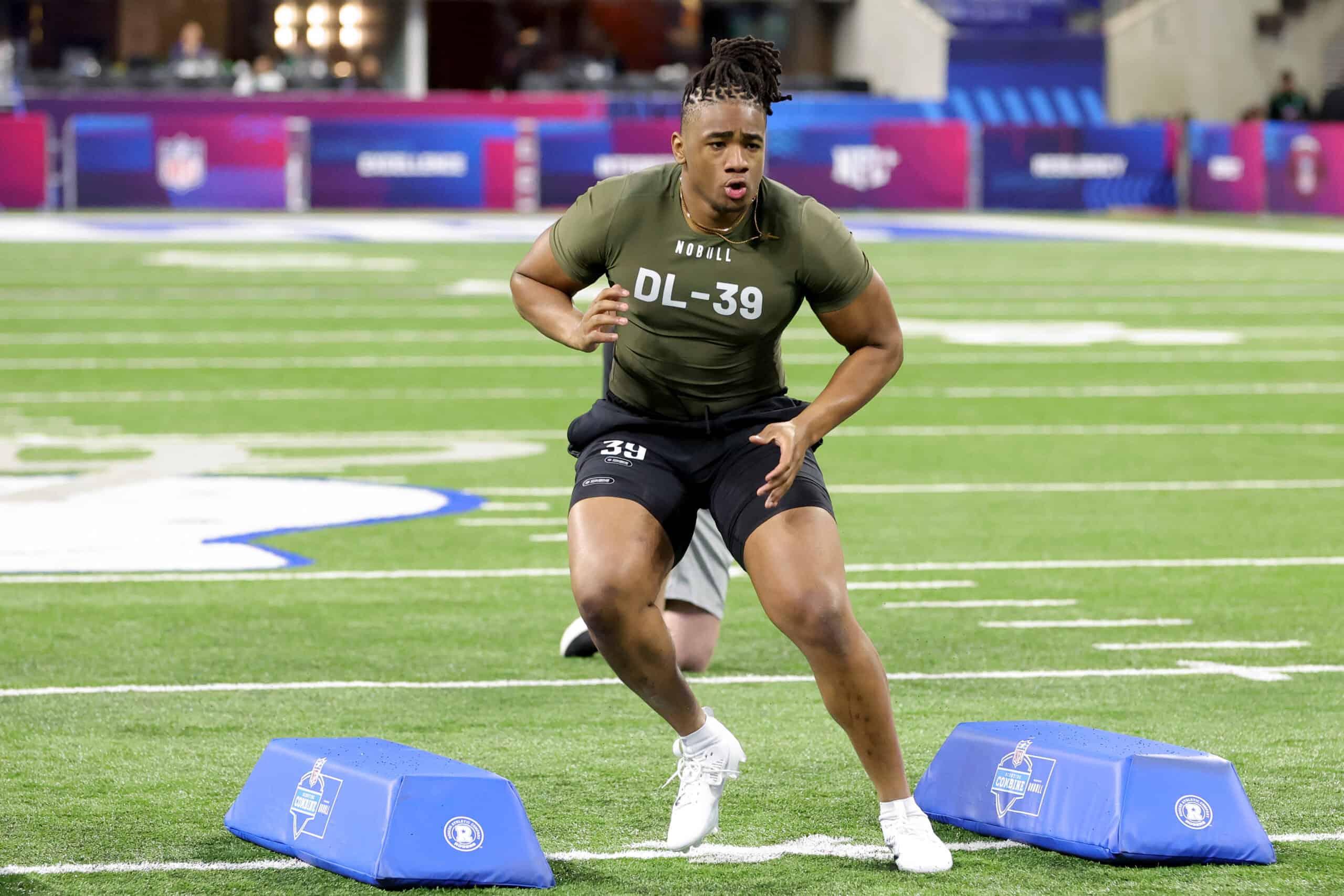 When Jadeveon Clowney was sent home before the 2022 regular-season finale, it signaled the end of his time in Cleveland.
Clowney's eventual release from the franchise on March 15 also signaled a need for a new edge rusher.
With the 126th overall selection in the fourth round of the draft, the Cleveland Browns addressed that need.
The #Browns pick up another #PFN365 sleeper at No. 126 in the #NFLDraft! Cleveland selects Missouri defensive end Isaiah McGuire, our No. 84 player on the board!#PFN365 Draft Hub ➡️ https://t.co/9ojRIs3h6g pic.twitter.com/ngPuHpjsuv

— Pro Football Network (@PFN365) April 29, 2023
Here are three things to know about new Browns defensive end Isaiah McGuire.
1) Four Year Player for Missouri
After committing to the University of Missouri from Tulsa's Union High School, McGuire played four years for the Tigers.
McGuire's college career began slow with just 22 total tackles and three sacks in his first two years.
However, he developed into a fine starter in his final two seasons, picking up 95 total tackles and 14.5 total sacks in 2021 and 2022 combined.
IN CLEVELAND WE EAT QBS

117 tackles.
32 tackles for loss.
17.5 sacks.

Welcome Isaiah McGuire!!! pic.twitter.com/D0hRBIec12

— Nick Karns (@karnsies817) April 29, 2023
He was voted second-team All-Conference after the 2022 season.
Not only did McGuire showcase his ability on the field, he was a consummate teammate as well and was voted a team captain for his senior year.
2) Great Size for an EDGE
McGuire comes to Cleveland as a 6'4, 268-pound defensive end.
During the NFL Combine, he blazed to a 4.76 40-yard dash time, showing the speed he used to net 8.5 sacks in 2022.
Isaiah McGuire was drafted with pick 126 of round 4 in the 2023 draft class. He scored a 9.53 #RAS out of a possible 10.00. This ranked 77 out of 1634 DE from 1987 to 2023. https://t.co/I5JRuEKnDL pic.twitter.com/tSqQ4sSo2d

— Kent Lee Platte (@MathBomb) April 29, 2023
Although NFL scouts noted pre-draft that McGuire has some weaknesses to address, they universally believe he is ready for the next step.
The Browns are more than excited to add his size and motor to their roster.
"Isaiah is a long defensive end with some good pass rush upside," Browns Director of Player Personnel Dan Saganey said. "We're going to be an attacking up-the-field defense and looking forward to seeing him rush off of the edge. We do think he eventually has the ability to rush inside, as well. High-motor player who has been very productive in the SEC and again excited to add to the d-line any chance we get. Just like the o-line room, as well."
McGuire's former Missouri teammates believe that he was the best edge rusher in the entire nation.
"You guys have seen it. He's the best player on our defense for two years now," said fellow defensive lineman Darius Robinson. "He's the best defensive end in the country, just flat out if you just simply watch the tape. I'm just so happy for him. We've definitely seen these days coming."
3) Former Teammate of Jordan Elliott
When McGuire arrives in Cleveland, he will see a familiar face in former college teammate Jordan Elliott.
Elliott has been a member of the Browns organization since 2020.
Before he became a pro, Elliott and McGuire were Missouri teammates during the 2019 season.
"I definitely looked up to [Elliott] in terms of doing the right things, really taking care of your body and making sure that you're mentally locked in for the game and whatever opponent was coming up," McGuire said. "So definitely good to be alongside him again."
Assuming all goes well for McGuire, he may soon line up next to Elliott for Cleveland.
With the 126th pick in the 2023 NFL Draft the Browns select DE Isaiah McGuire from Missouri pic.twitter.com/hFMKIUPABg

— BelieveLAND Media LLC (@BlievelandMedia) April 29, 2023
Of course, McGuire is also looking forward to learning the finer points of NFL edge play from Myles Garrett.
"I'm really excited to pick his brain and learn from him and have him as a mentor for this upcoming stage of my life," McGuire said.