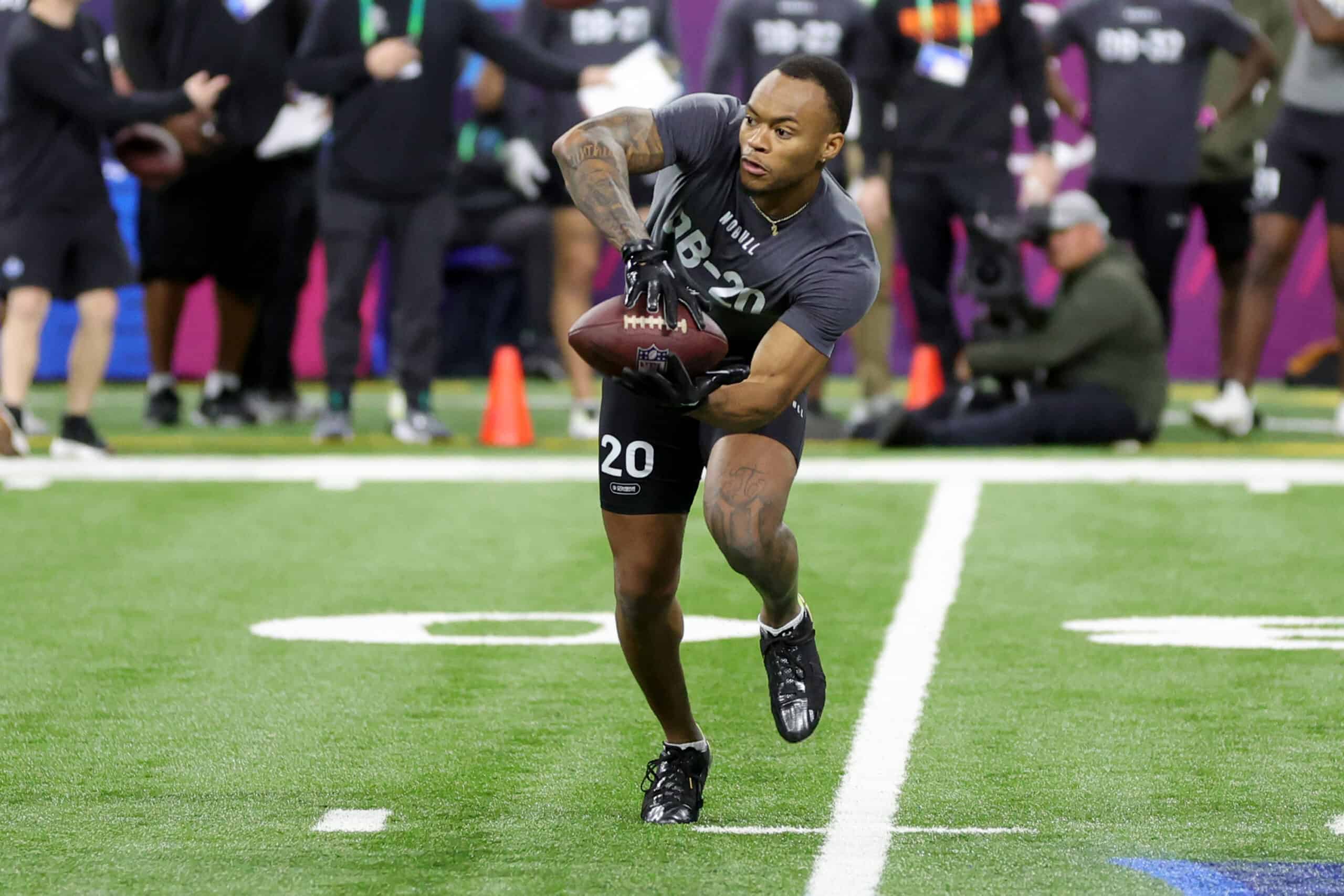 Welcome to Cleveland, Cameron Mitchell.
The Cleveland Browns selected the Northwestern cornerback in the 5th round of the NFL Draft with the 142nd overall draft pick.
Let's go Cam!! 👏#NFLDraft | #DawgPound pic.twitter.com/LD8EGZHQde

— Cleveland Browns (@Browns) April 29, 2023
With the cornerback room a bit thin so far this offseason, Mitchell will add some needed depth.
As a fifth-round selection, expectations aren't going to be through the roof for Mitchell.
However, he's a solid player who showed professional-level promise throughout his collegiate career.
Let's take a closer look at what the Browns are getting in Cameron Mitchell.
Ability in Coverage
At Northwestern, Mitchell proved he could stick with just about any receiver during his two years as a starter.
He led the Wildcats with 10 pass deflections his senior season and had one interception.
Really like the Browns reuniting Greg Newsome with Cameron Mitchell. Mitchell was the best available CB and has really good eyes in zone and great ball skills. Fluid with clean feet too. Lots of play where he disrupts the catch point like this: pic.twitter.com/Bni6ZHTgr2

— Bobby Football (@Rob__Paul) April 29, 2023
Mitchell can get in the backfield as well. In his final year he tallied one sack and two and a half tackles for loss.
His production earned him honorable mention honors for the All-Big Ten team.
Pro Football Network's draft profile highlights Mitchell's ability to play the ball in the air while tracking it.
That should help him avoid those back-breaking pass interference calls that can plague a defense.
Play recognition and run-stopping ability are added strengths of Mitchell.
Another positive is Mitchell's ability to transition and move his hips while backpedaling, something he showed at the NFL Combine.
Nice backpedal and transition rep from Cameron Mitchell pic.twitter.com/EIJtFgwjKp

— Billy M (@BillyM_91) March 3, 2023
Mitchell is listed at 6'0 and 195 pounds.
That's right around the league average for his position.
Can He Cover the Slot?
While Mitchell didn't play slot corner at Northwestern, that could be something the Browns look for him to learn at the pro level.
One of his listed weaknesses is his footwork and sticking with receivers coming out of their routes.
That's problematic if he's going to be matched up with some of the faster and "twitchier" receivers the league has to offer.
He seems to rely more on his instincts rather than raw physical ability.
Smart defensive players can almost always find a spot in the NFL. However, Mitchell may be limited with what roles he can be used in.
Special Teams Role?
The Browns should also be able to use Mitchell in a special teams role.
He did so often at Northwestern with over 380 special teams snaps.
Cameron Mitchell had 383 career snaps on special teams at Northwestern.

That is a ton.

— Pete Smith (@_PeteSmith_) April 29, 2023
Even if he isn't what the Browns need in coverage, special teams will be an avenue for him to still see the field.
College Reunion
One Cleveland Brown in particular is very excited to see his team draft Mitchell.
That's Mitchell's former Northwestern teammate Greg Newsome II.
The duo played the cornerback position together at Northwestern and will do so once again in Cleveland.
Newsome took to social media on Saturday to voice his excitement for teaming up with Mitchell once again.
NOOOO WAYYY LFGGGGGGG GO BROWNS

— Greg Newsome II (@gnewsii) April 29, 2023
One would think having a former teammate in the locker room will benefit Mitchell.
Newsome can become someone he looks to when looking at how to adjust to different things at the NFL level.