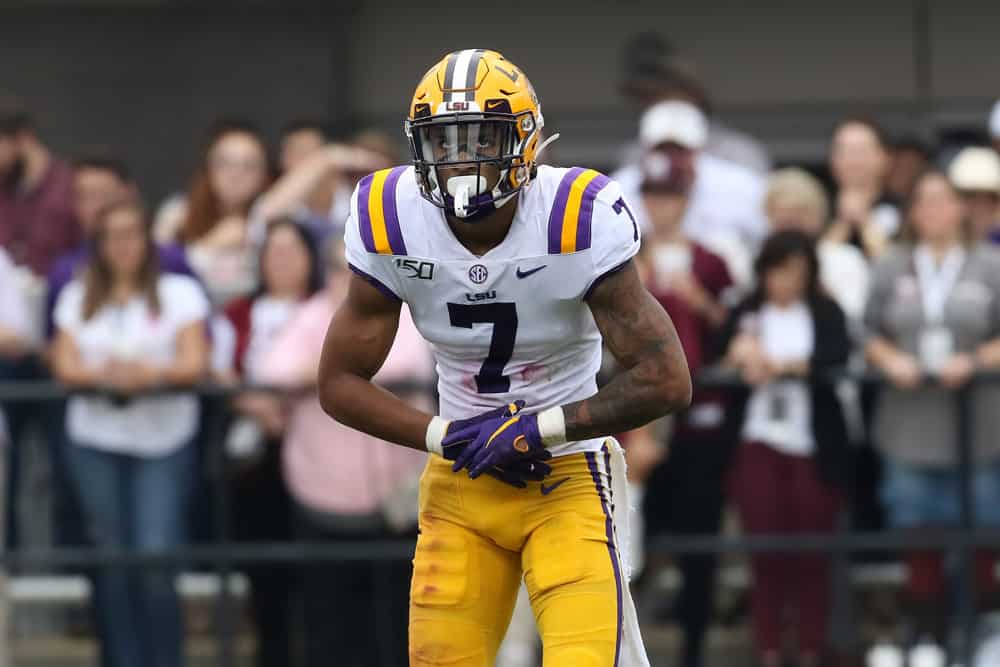 Cleveland Browns rookie safety Grant Delpit was carted off the field during Monday's practice after an apparent leg injury, according to multiple media reports.
ESPN Senior Insider Adam Schefter tweeted there is concern Delpit has an Achilles injury.
Schefter also tweeted the 21-year-old rookie is undergoing testing.
Cleveland.com's Mary Kay Cabot tweeted Delpit was on his stomach and pounding on the ground.
Browns are concerned that rookie S Grant Delpit suffered an Achilles injury and he's undergoing testing now. https://t.co/iqcLMIUdnU

— Adam Schefter (@AdamSchefter) August 24, 2020
#Browns Grant Delpit carted off, while down on his stomach he was pounding the ground

— Mary Kay Cabot (@MaryKayCabot) August 24, 2020
NFL Network reporter Mike Garafolo tweeted Delpit was grabbing his calf or Achilles area before trainers carted him off.
#Browns S Grant Delpit carted off a few minutes ago. Video on @nflnetwork showed Delpit grabbing his calf/Achilles area before being taken off.

— Mike Garafolo (@MikeGarafolo) August 24, 2020
Delpit's apparent injury comes after linebacker Mack Wilson hyperextended his knee and cornerback Kevin Johnson suffered a lacerated liver in recent practices.
Running back Nick Chubb is also in concussion protocol after taking a hit from Wilson the day before the linebacker's injury.
On Monday, Cabot reported cornerback Greedy Williams walked into the fieldhouse with a trainer after being checked out the practice sidelines too.
It's unclear the extent of Delpit's apparent Achilles injury and how much time he could miss.
Delpit was expected to get playing time in the Browns' secondary this season.
According to Cabot, Delpit worked behind free-agent acquisition Andrew Sendejo during the first week in camp in the team's 4-3 base defense, but with the first time in sub-defensive packages like the nickel (five defensive backs) and dime (six defensive backs).
Other than Delpit and Sendejo, the Browns have five other safeties on their roster: Elijah Benton, J.T. Hassell, Karl Jospeh, Jovante Moffatt and Sheldrick Redwine.
If the Browns decide to make a move, OverTheCap.com shows they still have the most amount of salary cap space of any team in the NFL with about $40.07 million.
On Sunday, the Baltimore Ravens decided to release seven-time Pro Bowl safety Earl Thomas.
It came two days after an on-field altercation between Thomas and teammate Chuck Clark.
Before the news of Delpit's apparent injury, SportsLine.com NFL oddsmakers initially listed the Browns at +1,000 to sign Thomas.
The sports betting website now lists the Browns' odds at +800 to sign Thomas.
It means if Thomas signs with the Browns, a $100 bet wins $800 for a $900 total payout.
SportsLine.com lists the Dallas Cowboys as the favorites to sign Thomas at +150.
The San Francisco 49ers are listed at +300, the New England Patriots at +500, Philadelphia Eagles at +700 and Houston Texans at +1,000.
The Browns are scheduled to open their season on Sept. 13 in a road game against the Baltimore Ravens.
In April, the Browns drafted Delpit out of LSU with the 44th overall pick in the second round of the 2020 NFL Draft.
Delpit won the 2019 Jim Thorpe Award, which is given each year to the nation's best defensive back.
Many people have pointed out that Delpit played hurt during the 2019 season, in which LSU finished with a 15-0 record en route to a national championship.
Grant Delpit's statistics
2018 (sophomore year): 74 total tackles, 9.5 tackles for a loss, five sacks, five interceptions, nine pass deflections, one fumble recovery and one forced fumble
2019 (junior year): 65 total tackles, 4.5 tackles for a loss, two sacks, two interceptions, seven passes deflected, one fumble recovery and one forced fumble