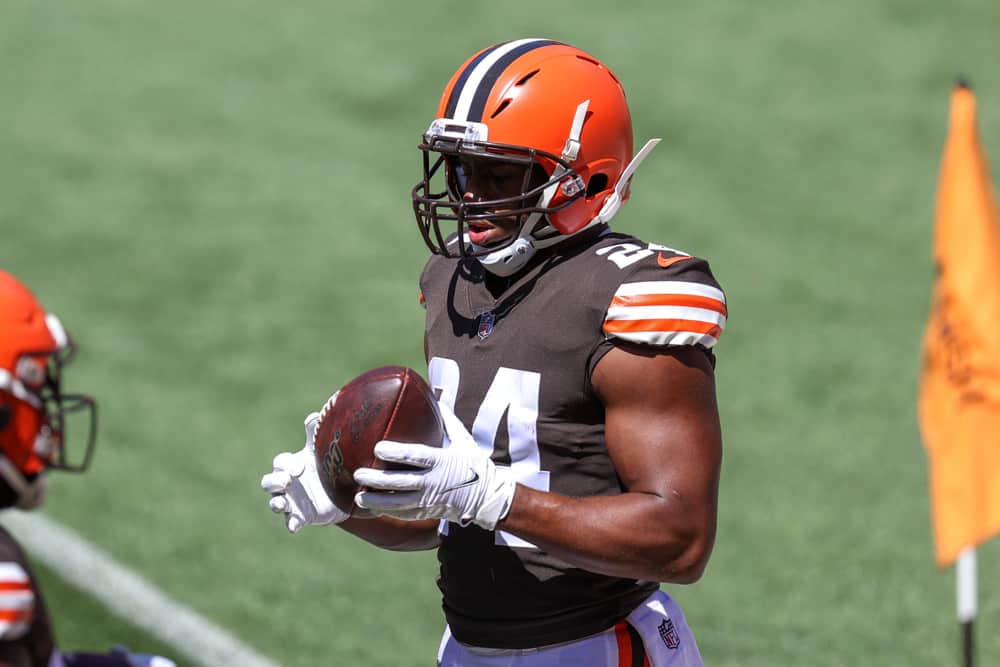 Smiles and laughter filled the Cleveland Browns locker room after the team's first victory of 2020.
And why not?
The offense clicked on all cylinders and the defense had Joe Burrow on the run all night.
Credit to Kevin Stefanski for getting Baker Mayfield out on the bootleg here. This is a great way to utilize his skill set. (Sets his feet w/ a balanced release) Nice double move my Beckham, and a fantastic catch. pic.twitter.com/JiCGR7BLw6

— John Ellis (@OnePantherPlace) September 18, 2020
Eventually, Kevin Stefanski will review the film and find reasons for concern.
As well as things went, the game wasn't settled until late into the fourth quarter.
Cincinnati converted 5 fourth downs and ran 30 more plays than the Browns.
But let's leave that for another day and dwell on the highlights for now.
Here are three things we learned from the Browns' victory over the Bengals.
1. The Browns' Interior Linemen Are As Good as their Edge Rushers 
One week ago, PFF graded Larry Ogunjobi as the best defensive player across the NFL.
In Week 2, expect Sheldon Richardson to take a run at Ogunjobi's crown.
Cleveland's veteran lineman registered 4 tackles for a loss, a stuff, and a SportsCenter highlight.
Sheldon Richardson helped Joe Burrow up after that fumble and gave him the "Welcome to the NFL, kid" tap on the helmet. pic.twitter.com/sUmrcdOvK9

— Mike Beauvais (@MikeBeauvais) September 18, 2020
NFL Network cameras caught Richardson chasing down a scrambling Joe Burrow in the second half.
This despite the fact Richardson had no helmet on after an overmatched offensive lineman ripped it off.
Cleveland boasts a formidable front four, regardless of what combination is on the field.
As a group, they registered 3 sacks, 8 tackles for a loss, and 8 QB hits.
And before anyone says the Bengals don't offer a worthy barometer of success, the same defensive line posted the fourth-best pass rush win rate against Baltimore, according to NextGen Stats.
2. Rookie Harrison Bryant is More Than a Pass-Catching Tight End 
David Njoku had a disruptive preseason related to his new agent's trade wishes.
But it still surprised many to see Harrison Bryant listed ahead of the veteran on the Week 1 depth chart.
Watching Bryant push Bengals defenders around when he wasn't running routes, we know it was an earned award.
This first #Browns TD is successful because rookie TE Harrison Bryant is able to handle the kick-out block on CIN DE Michael Johnson at the LOS.

He holds the turn long enough to allow Chubb the alley. Big-time for a rookie TE to handle this task. And, man, he's jacked about it. pic.twitter.com/KAjnLYVvfZ

— OBR Film Breakdown (@TheOBRFilmBDN) September 19, 2020
Bryant was named college football's best tight end in  2019.
But he still came from a small college to play a position that rookies don't usually master.
Njoku had some issues with drops in his first few seasons.
But there was a bigger issue with his unwillingness to engage in the blocking game.
And after Thursday night, we know Bryant has no such issue.
3. The Browns Running Backs Can Close Out Games
Cincinnati pulled within 5 points with just under 6 minutes to go in the game.
It should have shifted momentum more than it did, following an interception that ended a Browns scoring drive.
But Nick Chubb and Kareem Hunt had other plans.
Kareem Hunt was running all over the defense during that last drive 💪 @Kareemhunt7 @Browns pic.twitter.com/n9iCUCMbCq

— The Checkdown (@thecheckdown) September 18, 2020
Because the running game was just too good.
Baker Mayfield never threw another pass in the game, letting Chubb and Hunt run on every play.
But when Hunt crossed the goal line, only 2 minutes had come off the clock.
Chubb kicked the drive off with runs of 4 and 26 yards before Hunt went for 33, 11, 10, and the touchdown scamper.
They left enough time on the clock for Cincinnatti to score again and set up an onside kick scenario.
There were plenty of other positives on Thursday night. Tell us what caught your eye in the comments below!