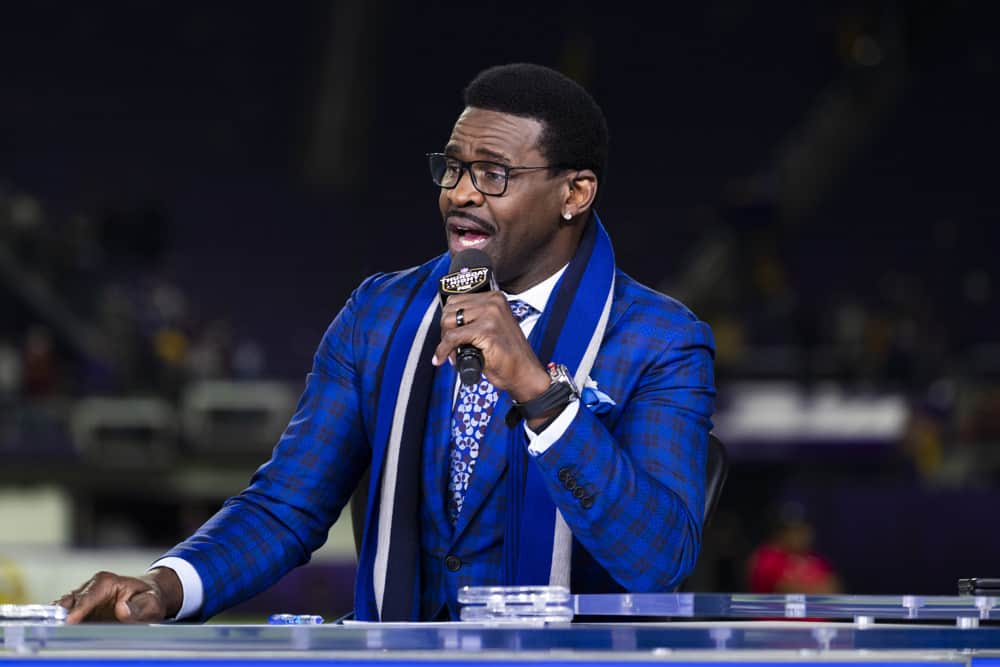 Cleveland Browns RB Nick Chubb had a huge night on Thursday against the Cincinnati Bengals.
Browns get their first win with a big night from Nick Chubb:

22 Carries
124 Yds
2 TDs pic.twitter.com/E2JJhg2wvf

— SportsCenter (@SportsCenter) September 18, 2020
Michael Irvin, retired Dallas Cowboys WR who was known as "The Playmaker" in his day,  took notice and was not shy about complimenting Chubb.
We talk a lot about every one else on the @Browns but @NickChubb21 is the baddest man on that team🏈#Playmaker.

— Michael Irvin (@michaelirvin88) September 18, 2020
Irvin was a radio guest on WEEI in Boston on Friday and offered his thoughts on the Browns.
"That dude, that's the key. If Cleveland finds the identity of their offense and allows it to be that, where they run to set up the passing game, they got a shot. They got a shot."

"They got a first pick in Baker Mayfield, Odell Beckham and you have all that talent and then you have a new coach… If you can just turn over the control to Chubb and then everybody else eat the crumbs that he leaves…"
Bengals can't tackle Nick Chubb 😳 @brgridiron

(via @NFL)pic.twitter.com/zvBCRXMTj6

— Bleacher Report (@BleacherReport) September 18, 2020
Deja Vu
Dallas Cowboys – early 1990s
It's not hard to figure out why Michael Irvin loves Nick Chubb so much.
Irvin, one of the Cowboys triplets, played with fellow Hall of Famers Troy Aikman and Emmitt Smith.
The Cowboys, at their best, relied on the run game to open up the passing game.
Emmitt Smith was the glue that made the whole Cowboys machine run.
And as Irvin alludes above, Nick Chubb fills the same role for the Cleveland Browns.
Fullback
The Browns added an important piece to the offense this offseason with fullback Andy Janovich.
Remember Moose Johnston from the Cowboys days?
He blocked his heart out so Emmitt could run through those giant holes.
That's exactly what Andy Janovich is capable of doing for Nick Chubb.
Quiet, Stable Chubb
It's true that the Browns roster is filled with superstars.
Baker Mayfield, the first-rounder from 2018, has experienced highs and lows.
Odell Beckham Jr. is a tremendous talent, but injury has hampered him in recent years.
Nick Chubb is the only one who has done his job, each and every day, in a methodical and consistent way.
What Kevin Stefanski recently said about him is so true.
"I love how Nick Chubb works. You see him on the grass, you see him in the classroom, he's all ball all the time. He's a good person, he's a solid citizen, he's a great teammate. Pleased with what Nick means to this team."
Chubb Always Delivers
Nick Chubb played four years at the University of Georgia.
Three of the four years, he rushed for over 1,000 years.
During his sophomore year, he suffered a serious knee injury that limited his play to 6 games, but he still rushed for 747 yards.
As a rookie in 2018, he rushed for 996 yards and exploded for 1,494 yards in a 2019 that was dismal for everyone but him in a Browns uniform.
The Kareem Hunt Factor
Chubb is hardworking and humble and has welcomed Kareem Hunt to Cleveland.
Nick Chubb.

(Via @NFL) pic.twitter.com/RWCdbuKcpx

— Sunday Night Football (@SNFonNBC) September 18, 2020

He is not threatened by his presence; he is all about the team evidenced by his November 2019 remarks on Hunt.
"I can do whatever. I can play the role of being the main guy or sharing carries. It is all about the team for me. Whatever we can do to win, I am all for it."
Chubb also doesn't get caught up in the business end of football.
Asked recently about other RBs getting big paydays, Chubb said this:
"I see it, I know it's happening, I'm aware of it, but I'm just focusing on this team right now. I'm a big believer in everything happens for a reason. Whatever happens to me, it will be for the best. I'm trying to get better every day and not worry about the future."
Michael Irvin is right; Nick Chubb is the heart and soul of this team.