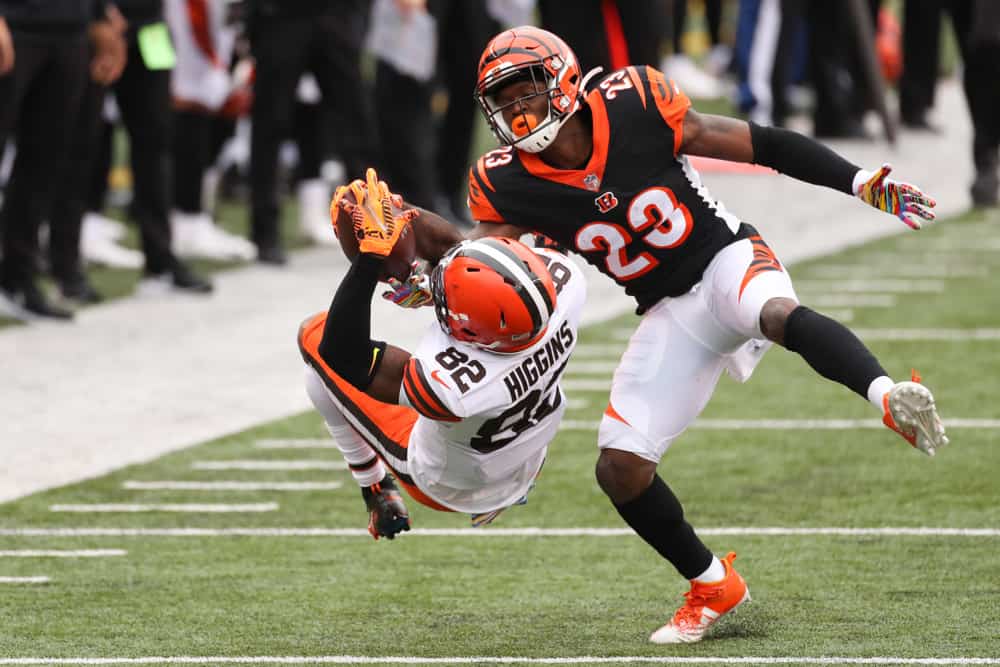 Regardless of the outcome of Sunday's game, lessons were going to be learned for the Cleveland Browns.
Thanks to a beautiful catch and throw from Baker Mayfield to Donovan Peoples-Jones, Cleveland gets to regroup following a win rather than a loss to the Cincinnati Bengals.

1. Baker Can Bounce Back
Following about a bad of a start as possible, Mayfield was nearly flawless with his play the rest of the way against Cincy.
Baker Mayfield started 0/5 with an INT, then went nearly perfect:

22-23
297 Yards
5 TDs

His only incomplete pass was a spike to stop the clock.

Shut the haters up. pic.twitter.com/Rj1lLbWYSL

— SportsCenter (@SportsCenter) October 25, 2020
Baker Mayfield completed his last 22 passes after starting 0 for 5, leading the Browns to a 37-34 win over the Bengals.

Mayfield had just a 1 in 19,062 chance of completing those 22 passes in a row (~0.005%).#CLEvsCIN | #Browns pic.twitter.com/VEaGmlkIfo

— Next Gen Stats (@NextGenStats) October 25, 2020
Is the poor start still concerning? Sure. Digging an early hole is what plagued this team against Pittsburgh.
This time around, however, both Baker and his team showed some resiliency.
Starting slow against good teams like Pittsburgh will doom you.
Doing so against a mediocre Bengals team gives you more wiggle room to get back into the game.
That's exactly what happened in southern Ohio on Sunday as Mayfield pieced together a record-setting performance.
21 consecutive passes.@bakermayfield has set a new Browns record! pic.twitter.com/6yowGfyn5k

— Cleveland Browns (@Browns) October 25, 2020
This could not have come for a better time for Mayfield who has been tortured on social media over the past week.
Even as the early portions of this game unfolded, the Twitter clamors for Case Keenum were out and about.
This doesn't guarantee Pro Bowl-level performances from Mayfield for the rest of this season or anything like that.
Baker truly did look "back" against the Bengals though. It looks like he might have some of his swagger back too.
Baker Mayfield after his game winning touchdown 😂🔥

(via ronniegolive/Instagram) pic.twitter.com/UwXLJQS0pu

— SportsCenter (@SportsCenter) October 25, 2020
2. Limit The Trickery
Some of the trick-plays that Kevin Stefanski has run this year have been tremendous.
The Jarvis Landry toss to Odell Beckham Jr. against Dallas earlier this season was pure bliss.
However, sometime it's best to leave those types of plays uncalled.
Unfortunately, there don't seem to be clips of the plays I am about to refer to on Twitter or anywhere else at the moment.
However, one of the plays I took exception to was the Landry-Kareem Hunt triple option play.
It was awkward from the start, didn't fool anyone, and very fortunately did not turn into a Browns turnover.
The Browns would score a touchdown later that drive, so the loss on first down didn't cost them.
First down losses can still be drive killers, however.
The other "play" isn't one in particular, but rather the couple of times that Landry was involved in a jet sweep.
This isn't a "trick-play" anymore as they are so commonly used (Pittsburgh and Chase Claypool say hello), but using your receiver playing through broken ribs on these seems like a bold choice.
They shouldn't abandon it completely, as it can certainly be an effective play as it was at times on Sunday.
Still, with the talent this team has, there's no need to be cute too often then needed.

3. DPJ Can Play!
Play of the game honors certainly go to Mayfield and Peoples-Jones for the game winner.
The Throw.
The Catch.@bakermayfield to @dpeoplesjones FOR THE WIN.

📺: #CLEvsCIN on CBS pic.twitter.com/cIlcHw99yr

— Cleveland Browns (@Browns) October 25, 2020
With Odell Beckham Jr. going down for the rest of the year, Peoples-Jones could very well be seeing more snaps.
He took advantage of his opportunities today and then some as he is already in Browns lore with the game-winning catch.
Andrew Berry received some criticism when he drafted Peoples-Jones (albeit some were just upset hardcore Ohio State people), but DPJ has already started to prove some of the doubters wrong.
What was once going to be a very special teams-heavy season for Peoples-Jones could turn into a very productive receiving year.
Oh, and as a quick bonus lesson for those who forget this one, a win is a win!
#Browns QB Baker Mayfield: "This is a good team win. Doesn't matter how we do it."

— 92.3 The Fan (@923TheFan) October 25, 2020