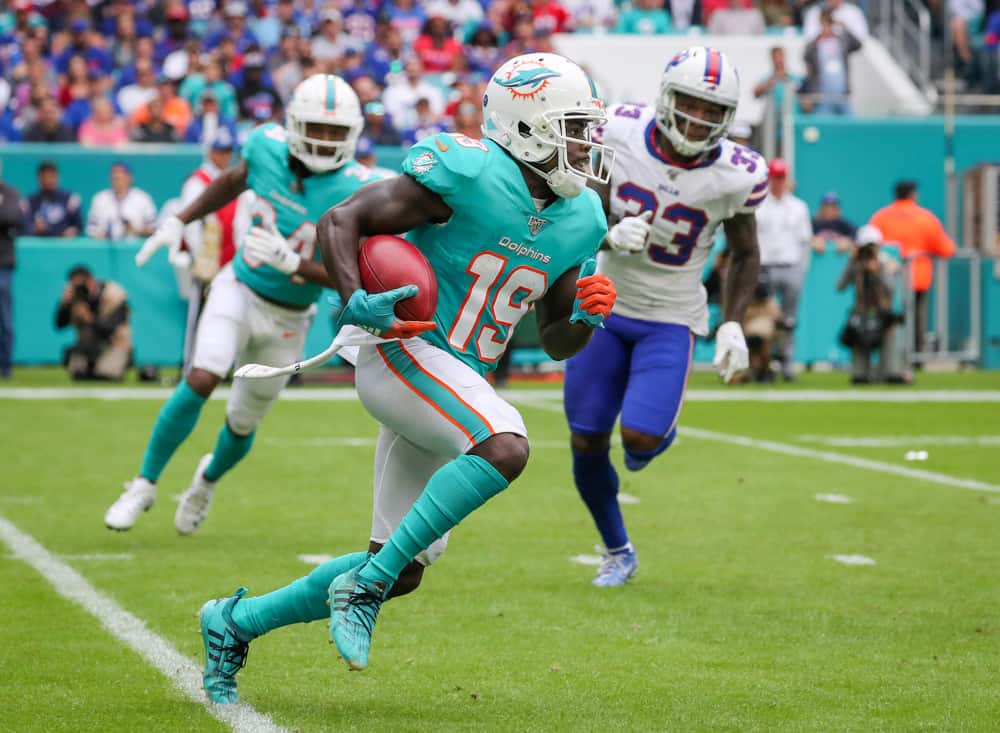 The Cleveland Browns are headed into their easiest game this season against the Miami Dolphins. Prior to a loss against the Buffalo Bills last week, the Dolphins won two consecutive games against the New York Jets and Indianapolis Colts.
The Browns are dealing with multiple injuries and suspensions, but the Dolphins are one of the worst teams in the league. If Baker Mayfield and company can't win this game, playoffs were never a realistic possibility.
Here are four keys to the game that will increase the likelihood of Freddie Kitchens going 1-0 this week.
1. Protect Baker Mayfield
The Browns' offensive line tends to struggle to keep opposing defenses away from Baker Mayfield in the pocket. Last week, against the Pittsburgh Steelers, he was pressured 10 times. The week prior, the Buffalo Bills pressured him 17 times.
Kareem Hunt adds an additional receiving option out of the backfield, which helps Mayfield to not throw interceptions and take sacks, but properly protecting Mayfield is a better solution. If Mayfield can find time, his wide receivers can start to develop routes down field. Jarvis Landry is having a lot of success running shorter routes, but the Browns need to stretch the field against the Dolphins.
2. Get the Ball to Odell Beckham Jr.
Odell Beckham Jr. has double-digit targets in two consecutive games now. Kitchens is attempting to get him the ball, but he hasn't eclipsed 70 receiving yards since the Browns' game against the Denver Broncos.
This week, he gets a great matchup against a Xavien Howard-less Dolphins' defense. As long as the offensive line gives Mayfield time, Beckham will get open deep into the secondary. Beckham has 290 air yards in his last two games, but those air yards need to be converted at a more efficient rate. This is the week for OBJ to shine.
3. Keep It Simple on Defense
The Browns' defense is injured. Myles Garrett and Larry Ogunjobi are suspended. Morgan Burnett is out for the season. Eric Murray and Olivier Vernon are out with a knee injuries. Jermaine Whitehead is no longer on the team. The list goes on.
Steve Wilks needs to keep it simple on defense in Week 12. Joe Schobert can step up and lead the defense, but he can't consistently remind each player of his assignment. The Dolphins don't have one of the better offenses in the league, and as long as the Browns don't hurt themselves, they should be able to halt Ryan Fitzpatrick and company.
4. Contain Jakeem Grant
Jakeem Grant is starting to find his groove for the Dolphins, running 21 routes last week, catching 3-of-3 targets, gaining 32 receiving yards, and scoring 2 touchdowns against the Buffalo Bills. He showed off his versatility, scoring on an end around and kickoff return.
As previously mentioned, the Browns' defense is banged up, and the Dolphins will try to get creative. Grant has both speed and elusively. He could become a problem for Cleveland, if he is not contained on both offense and special teams.
If the Dolphins are consistently starting their drives in good field position due to Grant's returns, it puts even more pressure on an inexperienced Browns' defensive unit. Steve Wilks and Mike Priefer need to work together to contain Grant.