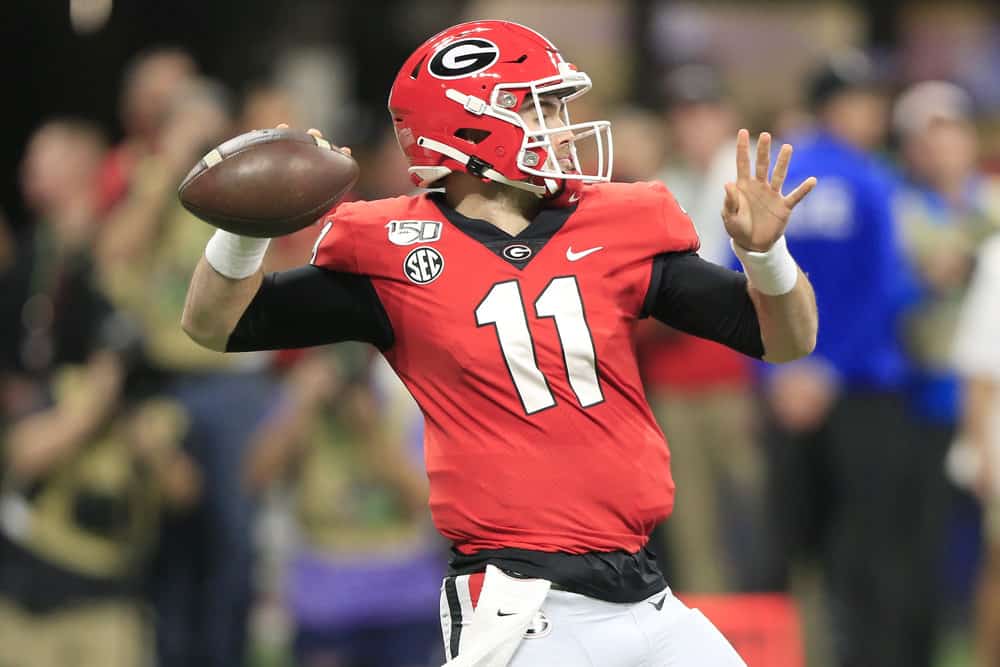 In 2019, Cleveland Browns quarterback Baker Mayfield started all 16 games of the season.
The last time the team had a consistent starter for every game was Tim Couch in 2001.
Cleveland was fortunate for Mayfield's good health since the backup quarterback situation last year was sketchy at best.
Drew Stanton and Garrett Gilbert were in reserve if Mayfield went down.
However, Stanton sustained a knee injury, was placed on Injured Reserve in September, and won't return next season.
Technically, Gilbert is under contract with the Browns for 2020, but there's no guarantee he'll be back.
In other words, it wouldn't hurt if the team brings in a capable backup for Mayfield.
Having an experienced arm can serve a number of purposes.
The right backup can push Mayfield to improve in 2020 or serve as a mentor to the third-year quarterback.
The team could also bring in a young signal-caller, develop him, and use him as a trade piece in future transactions.
The New England Patriots did exactly that in 2017.
Within the first two months of '17, the Pats traded both Jacoby Brisset and Jimmy Garoppolo to the Colts and 49ers respectively.
The return on these investments gave New England future draft picks and veterans, including receiver Phillip Dorsett
.
Regardless of what their future plans are, the Browns need one or two backups who are ready to go at a moment's notice.
The following is a list of potential backups Cleveland could draft in later rounds or through the undrafted free agent pool.
Note: this list is intended for informational purposes only and are not actual rankings.
Washington State QB Anthony Gordon Highlights

Gordon broke many Pac-12 records in his historic 2019 season. He threw for 5,579 yards & 48 touchdowns #GoCougs

Full Video 🎥: https://t.co/ksN5Eeh8Rm pic.twitter.com/1nfaZAo2io

— JustBombsProductions (@JBP_Official) January 15, 2020

After spending a year at City College of San Francisco, Gordon transferred to WSU in 2016.
He then promptly held a clipboard for three seasons, although that wasn't entirely his fault.
In 2018, Gordon backed up Gardner Minshew, who would eventually play in the NFL for Jacksonville.
When Gordon finally got his opportunity, he made people stand up and take notice.
In 2019, the 6'3", 210 pound Gordon threw for 5,500 yards, 48 touchdowns, and 16 interceptions.
When he plays, it is obvious he has a swagger to him and a fearlessness that exudes to his teammates.
He is not afraid to take chances to get his team in a position to win.
Gordon can get the ball to any part of the field.
He primarily has a ¾ arm delivery, but he will adjust on the fly if necessary.
He can hit targets on the run and can also hit receivers deep, placing the ball where only his guy can get it.
On film, it is evident Gordon uses his peripheral vision, sliding up to avoid a sack or make a play.
While not the fastest runner, Gordon can extend plays with his feet.
Though scouts love his game, they note that he has a few inconsistencies.
For starters, Gordon takes too many risks with the ball.
There were a number of times in 2019 where he could have taken a sack or thrown the ball away.
His decision making in these moments needs to be better.
Scouts also note that Gordon has a bad habit of "burping the baby."
In scout speak, this means he pats the ball before throwing.
When he does this, he has a "tell" where he pats the ball, hard, one last time before release.
At the next level, defenses will key on this and make his life miserable.
NFL personnel also wonder if Gordon is a product of the Air Raid System.
Does he have the intangibles to play well in the NFL, or is he the product of a specific system?
Regardless, some NFL team will take a flyer on him during the draft.
Gordon should be off the board during Day 2.
QB Jake Fromm @FrommJake Highlights 🆚 Tennessee

#GoDawgs pic.twitter.com/p8guDdg3UN

— GEORGIA HEROES (@GeorgiaHeroes) October 8, 2019
Fromm first made his entrance into the collective knowledge of football fans when he appeared in the Netflix series QB1.

Since the show's debut in 2017, Fromm has stayed on the football radar with his play at Georgia.
Though Fromm has played well during his three seasons in Athens, many were surprised when he declared.
Fromm had once been projected as a first-round draft pick.
However, in 2019 he was without many of his weapons from 2018.
The newcomers struggled to adapt, leading to Fromm's lowest completion percentage in his Bulldogs career.
His completion percentage in 2019 aside, Fromm wraps up his time at Georgia with NFL promise.
He threw 24 touchdowns in 2019 against five interceptions, his lowest interception as a Bulldog.
Scouts love his size, 6'2", 220 pounds, decision-making ability, and football IQ.
Fromm knows the game well and it shows on the field.
Numerous game clips show him cool under duress.
He does not panic under fire and is willing to take a sack or throw out of bounds if needed.
Fromm does a great job working through his progressions.
He knows where his receivers are and processes quickly to find the open man.
Fromm's pre-snap reads are excellent allowing him to spot mismatches in the defense.
In a nutshell, Fromm is a cerebral athlete who can dissect the game well and perform admirably.
Numerous scouts have noted that he lacks arm strength.
His best throws are short to intermediate and he struggles with accuracy and zip for deeper throws.
Fromm is also not overly mobile, though he is fairly capable of extending plays with his legs.
In the NFL, scouts see Fromm's best fit in a team that runs the West Coast offense.
Unfortunately, Fromm's performance at the Combine didn't help his cause.
Look for him to come off the board late on Day 2 or sometime during Day 3.
Who is this year's Gardner Minshew? One that evaluators point to as a possibility is FIU QB James Morgan. pic.twitter.com/mKL5izKEvA

— Ian Rapoport (@RapSheet) February 29, 2020

Morgan began his collegiate career at Bowling Green University.
After red-shirting in 2015, he started 13 games for the Falcons during the 2016 and 2017 seasons.
Morgan then transferred to FIU where his game really took off.
In his first season with the Panthers, Morgan led the team to a school-record nine wins.
He also threw for a school-record 26 touchdowns and finished second in program history with 2,727 yards passing.
In 2019, Morgan threw for over 2,500 yards and 14 scores.
His combined 40 touchdown passes rank second in FIU history.
NFL scouts are impressed by his willingness to take a hit while standing tall in the pocket.
They mention that he has a good feel for the game and can make good throws.
His accuracy is solid and he can make some beautiful throws.
Morgan can also drop in a big pass downfield where only his receiver can get it.
In-game film, he works through his progressions to find his guy.
Morgan's experience shows with his poise in the pocket.
However, scouts see work to be done at the next level, especially with decision making speed.
With a 6'4", 213-pound frame, he's also not going to wow you with his mobility, though he is functional in this area.
Overall, some scouts believe that Morgan is the 2020 version of Jacksonville's Gardner Minshew.
Don't be surprised to see him come off the board during Day 2.
Kelly Bryant and Jalen Knox connected on two long pass plays yesterday in a win over SEMO. The Tigers were clicking on all cylinders. Watch more than 10 minutes of extended highlights from Mizzou's blowout win over SEMO.

📺: https://t.co/0o1kgo5OaV pic.twitter.com/xAFuE69nK0

— Tyler Murry (@TylerMurryABC17) September 15, 2019
Even casual football fans will remember this name.
Before transferring to Missouri, the 6'3", 225 pound Bryant played the position for Dabo Swinney at Clemson.
After sitting behind future Houston Texan Deshaun Watson, Bryant got his chance in 2017.
During that season, Bryant threw for over 2,800 yards and 13 touchdowns.
He also tore up the competition with his running ability, adding 665 yards rushing and 11 touchdowns.
That Clemson team finished 12-2 overall, losing to Alabama in the 2018 Sugar Bowl.
After playing in only four games in 2018, Bryant chose to transfer to Missouri.
This was a result of Swinney wanting freshman phenom Trevor Lawrence to start.
Bryant's lone season with Missouri was hit and miss.
Battling injuries, Bryant passed for over 2,200 yards, 15 touchdowns, and six picks.
Those same injuries curtailed his running ability as well, limiting him to 242 yards and one touchdown rushing.
When healthy, Bryant has the requisite knowledge to play the game well.
He can throw accurately to most areas of the field.
Bryant will test man coverage as well as drop-in a bomb, perfectly placed in stride.
His game film shows an ability to throw the short and intermediate routes, then surprise with a deep throw to keep defenses honest.
Even when fighting injuries, defenses had to watch for Bryant's mobility.
He can extend a play at any moment with his legs.
On the other hand, Bryant struggles in the pocket when a play starts to collapse.
He will get happy feet and work himself into trouble.
He does not "climb the pocket" well and keep his eyes downfield when he feels pressure.
It's not hard to miss on film that Bryant operated almost exclusively out of the shotgun formation.
Scouts wonder how that nuance will translate to NFL offenses that ask him to move under center.
Bryant will most likely fall to the 6th or 7th round before being selected.
Highlights from Steven Montez's pro day. Jordan Palmer running the show … pic.twitter.com/15fjgcoWOv

— Nicki Jhabvala (@NickiJhabvala) March 11, 2020
The 6'5". 230 pound Montez leaves Colorado with four years of playing experience.
He showed steady improvement each year until 2019 where his stats dipped a bit.
Montez has a good frame for a quarterback.
His size gives him the ability to scan the entire field.
When he throws the ball he is accurate in routes to the short and middle parts of the field.
He has a strong arm that can deliver an absolute sizzling pass.
Although, scouts note that sometimes he can put a little too much mustard on the ball.
When facing a pass rush, Montez has ability to escape the initial onslaught.
He will sling a quick pass, roll out of the pocket, or use his legs to escape.
Game film shows him throwing with good velocity and accuracy on the move.
It is also evident that Montez made a lot of pre-snap reads at Colorado.
He processed what was happening with the defense and made adjustments accordingly.
A huge plus for scouts is Montez' reputation as a leader and that he was named a captain for the Buffs in 2019.
As much as scouts like his intangibles, the holes in Montez' game are evident.
For starters, while he can elude the initial rush, the more a play develops the more his mental processing is negatively affected.
Also, when dropping back to pass, Montez is not overly quick.
This lack of urgency allows the defense to get into the pocket to disrupt timing.
Montez will often stare down his first receiver, leading to interceptions or passes broken up.
His lower body mechanics need help as well.
His hips have a tendency to get off-kilter and not face his intended receiver, leading to throws being off-target.
Montez probably gets selected in the 7th round or, most likely, as an undrafted free agent.
Man if you guys missed this game last night you missed one hell of a game! All the way down to the wire! The whole time I'm shouting at Khalil Tate to dive into the end zone at the end! JUMP!!!🤦🏾‍♂️ Arizona vs Hawaii 2019 CFB Highlights https://t.co/AFHcKrVtbu via @YouTube

— Reggie Bush (@ReggieBush) August 25, 2019
Tate is a former 4-star recruit who showed flashes of greatness at Arizona.
As he matriculated through his time in Tucson, Tate was whipsawed between two very different offensive systems.
In his first two years, former head coach Rich Rodriguez ran his spread offense through Tate. In 2018 and 2019, Kevin Sumlin used a pro-style system.
Tate's best season was 2018 when he threw for over 2,500 yards, 26 touchdowns and eight interceptions.
He played well enough that, before the '19 season, Tate was on the Maxwell Award preseason watch list.
The Maxwell Award is given to a college football player judged to be the best all-around in the country.
However, Tate did not have a strong 2019 season.
He finished the campaign with 1,954 yards, 14 touchdowns, and 11 interceptions.
Scouts like his arm as he can throw to any part of the field.
If flushed out of the pocket, Tate can hit his receiver in stride.
Long considered a dual-threat quarterback, the 6'2", 215 pound Tate can frustrate defenses with his rushing ability.
In 2017 (running Rodriguez's spread offense), Tate rushed for 1,411 yards and 12 touchdowns.
2019 saw him rush for 413 yards and three touchdowns.
Tate's results with the two very different offensive systems has scouts intrigued, but skeptical.
Specifically, they note that his pocket presence is not strong.
Tate will look to run if faced with pressure instead of work through his progressions.
Game film shows Tate's lower body mechanics fail him when under duress.
He will work himself into the defense instead of away from defenders.
Basically, Tate will need a lot of developmental work at the next level.
Some NFL teams even envision a position change for Tate.
Watch for him to be selected in Round 7 or picked up as an undrafted free agent.
Jake Luton highlights https://t.co/YJrLWYWOJG

— joe wood jr. (@yaunti) February 6, 2020
Oregon State has typically been the doormat for the Pac-12 North Division.
The last time the program had a winning record was in 2013.
In other words, there isn't much to boast about and, on the rare times a Beavers game is televised, viewership is almost non-existent.
However, Luton did provide a spark, of sorts, in 2019.
The team rebounded from a 2-10 record in 2018 to 5-7 in '19.
A big reason for that modest turn around can be attributed to Luton.
The 6'7", 229 pounder threw for over 2,700 yards, 28 touchdowns, and only three INTs last year.
Luton provided the Beavers with leadership and poise on the field, which was sorely lacking in previous years.
He will step into his throws and put a good delivery on the ball.
When throwing, he releases the ball over his head.
His release point, combined with his natural height, lead to well-delivered and well-timed throws.
He can also adjust his arm angle to make throws, providing enough zip to get to the intended target.
Even with his height, Luton is surprisingly nimble.
He can extend plays with his legs and even scramble for yards if necessary.
Even when faced with a superior defense (which OSU saw on a regular basis) Luton keeps his cool.
He will stay in the pocket until the last minute to make a throw.
Luton will test defenses when given time and appears adept at back shoulder throws.
Scouts note that Luton could have better lower body mechanics.
His arm strength on deep throws is average and lacks pop.
Also, Luton does not work through his progressions consistently, though that could be attributed to pass protection from his line.
In short, Luton will provide a team with a serviceable backup in the pros.
He is most likely an undrafted free agent.
#MichiganState QB Brian Lewerke at the #NFLCombine2020 pic.twitter.com/OEHfXD3Syg

— Rico Beard (@RicoBeard) February 28, 2020
Lewerke is something of an enigma for scouts (as well as Spartans fans).
He showed great promise during the 2017 season when he threw for almost 2,800 yards, 20 touchdowns, and seven picks.
Then came injuries and inconsistency in coaching.
He struggled during the '18 season as he fought through a reported injury to his throwing shoulder.
This past season was slightly better, but he was battling consistency issues.
While throwing for over 3,000 yards and 17 touchdowns, Lewerke also added 13 interceptions.
When he's on, Lewerke can play with the best of them.
He has fairly good arm speed and accuracy.
If his mechanics are sound, he can put the ball anywhere with amazing touch.
At 6'3", 216 pounds, he has good field vision and can use his legs to make plays when called upon.
Lewerke will work through his progressions if given time and will stand in the pocket to take a hit.
The issues most scouts have with Lewerke are consistency, anticipation, and costly mistakes.
One snap he is making a huge throw on the money, then making a questionable throw on the next snap.
His interception total in '19 translates to poor reads and forcing throws that aren't there.
Scouts question whether his injuries and coaching issues at MSU truly forecast his ability at the next level.
At most, he is viewed by NFL personnel as a career backup.
Most likely, Lewerke will be a late-round draftee or undrafted free agent.