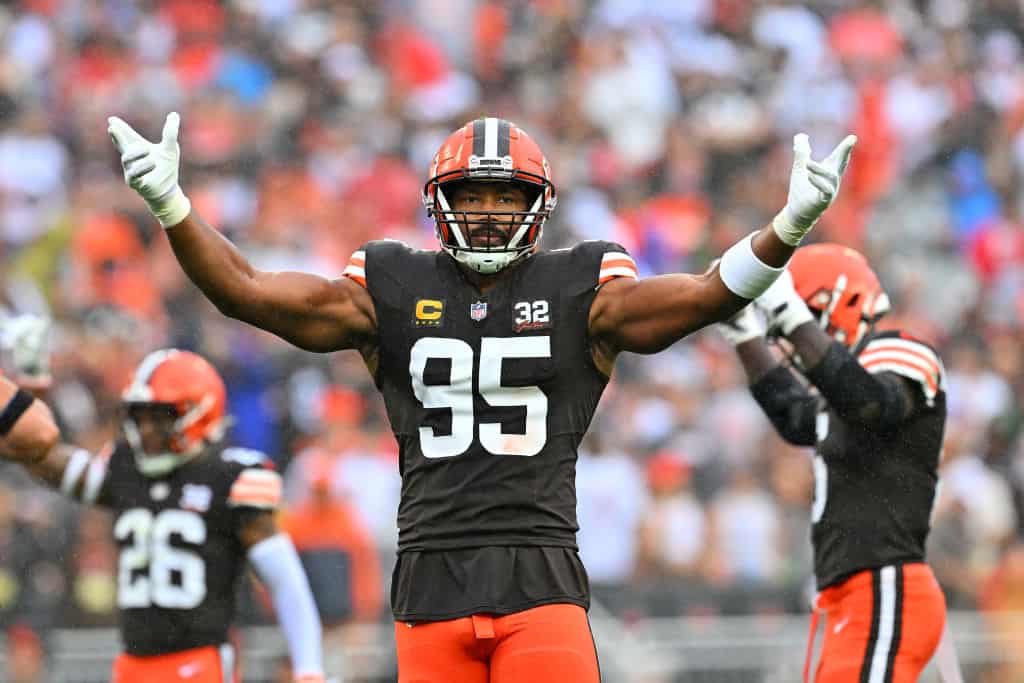 Pro Football Focus (PFF) has confused many NFL fans over the years with their analytical performance scores.
And they stunned Pittsburgh Steelers fans by naming the Cleveland Browns' Myles Garrett as the top defender in their Week 2 game.
Garrett was held to one tackle and a quarterback hit in the official box score.
But PFF's Sam Monson and Steve Palazzolo explained why his game was far more successful than it seemed.
Myles Garrett put on a clinic against the Steelers, but it just didn't show up in the box score@PFF_Steve | @PFF_Sam pic.twitter.com/lGz5XXc84H

— PFF NFL Podcast (@PFFNFLPod) September 20, 2023
Monson told viewers of the PFF NFL Podcast that players can make good efforts that go unrewarded.
For example, if Garrett wins his pass rush and flushes the passer into the arms of another player who gets the sack.
Seven such plays (and three pressures) helped Garrett earn the game's top PFF grade of 91.7.
Alex Highsmith (91.1) and T.J.Watt (82.6) earned high grades for their far-better stat lines.
The Steelers' pair of stalwarts accounted for two sacks, six QB hits, 11 tackles (three for a loss), and two pass deflections.
They even each scored a touchdown, but couldn't top Garrett's PFF assessment.
But PFF saw some of their stats as the opportunistic results of the efforts of another.
There is no anger in the world like the anger Steelers fans have that Myles Garrett is really good.

— Sam Monson (@PFF_Sam) September 20, 2023
And that made Garrett's pass-rushing scores more impressive than the Steelers duo's visible game dominance.
Thanks partially to Garrett, eight different Browns defenders hit or sacked quarterback Kenny Pickett 11 times.
Careful analysis might show that Cleveland's five tackles for a loss were affected by the perennial Pro-Bowler, too.
But most of us don't have that kind of time, so we can just take Monson and Palazzolo's word for it.