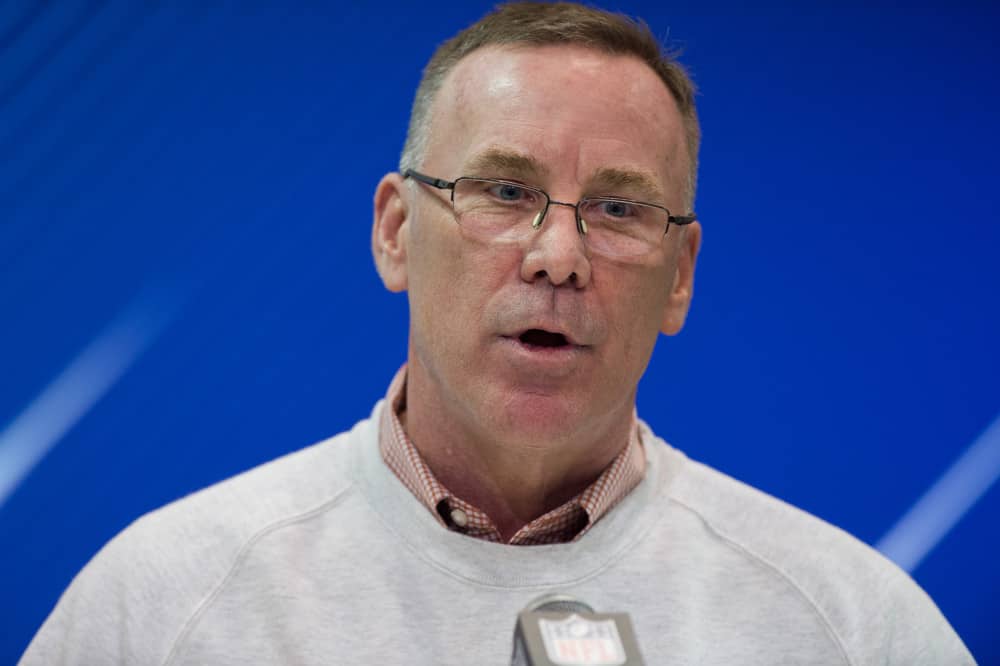 It doesn't seem like it was all that long ago when we were watching John Dorsey add superstar talent to the Cleveland Browns.
Expectations were high, perhaps too high.
Areas of concern, such as the offensive line, were brushed off with the hopes of positional talent being enough to carry the team.
After last season ended, it was clear that approach was not going to work.
Oh, letting Freddie Kitchens operate the ship wasn't exactly the best approach either.
So, Dorsey was let go on New Years Eve.
New general manager Andrew Berry has a chance to correct the mistakes of Dorsey, and he's off to a good start this offseason.
Offensive Line
Pro Football Focus ranked the Browns offensive line 23rd in the league by the end of last season.
That's obviously not the worst, but it's nothing to celebrate either.
It was a constant conversation point throughout the year, and not in a good way.
It was something that needed addressed this offseason.
Berry seems to have figured that much out.
OFFICIAL: Welcome to Cleveland, @Jack_Conklin78!

We've landed major help for our offensive line with the addition of Jack Conklin » https://t.co/nvaEd3Go0l pic.twitter.com/y9z4XChoAj

— Cleveland Browns (@Browns) March 20, 2020
Jack Conklin received a 78-overall grade from PFF last year on top of allowing only four sacks and committing just seven penalties.
Conklin is exactly the veteran presence Cleveland needed to add to it's front five.
Additionally, the Browns are still projected to take an offensive tackle with the tenth overall pick in the upcoming draft.
Conklin would serve as a great mentor to whoever the Browns draft.
Tight End
The David Njoku project hasn't gone according to plan thus far, and that's caused issues at the tight end position.
Demetrius Harris and Ricky Seals-Jones were serviceable, but Baker Mayfield would be better served with a bigger receiving threat than those two.
So, Berry decided to address that concern as well.
OFFICIAL: Welcome to Cleveland, @AustinHooper18!

We've added another offensive weapon with the signing of TE Austin Hooper » https://t.co/v12SDl0cdu pic.twitter.com/wbmO3t5UlE

— Cleveland Browns (@Browns) March 20, 2020
This wasn't a move many saw coming, but it's one that has northeast Ohio excited.
Hooper was a tremendous talent in Atlanta catching passes from Matt Ryan, and he's looking to do more of the same with Mayfield.
He caught 75 passes last season for 787 yards and 6 touchdowns.
The most intriguing stat, however, was that all six of his touchdown receptions were in the red zone.
The Browns red zone woes were a huge part of the offensive struggles in 2019.
If Hooper can continue to be a threat inside the 20, Mayfield will have a much easier time finishing off drives.
Commitment to the Run Game
The Browns rushing attack was not bad in 2019.
Nick Chubb finished second in the NFL in rushing yards and really turned heads around the league.
Still, it felt like more support could have been added.
The offensive line is trending upwards, but now the rushing attack will feature a fullback.
Well, at least it seems like it will.
Both Johnny Stanton and Andy Janovich were acquired by Berry this offseason.
Neither are superstars by any stretch, but what fullback is nowadays?
In short, both are humble, hard-working individuals who will be more than happy to pave the way for a handful of Chubb and Kareem Hunt touchdowns.
The Browns needed to learn from the mistakes of John Dorsey, and Berry knows it.
Fielding a quality team is about more than putting together a good roster on paper.
You need the right pieces and parts all moving in one direction to have success.
Dorsey may not have been able to do that, but Andrew Berry seems confident he can.