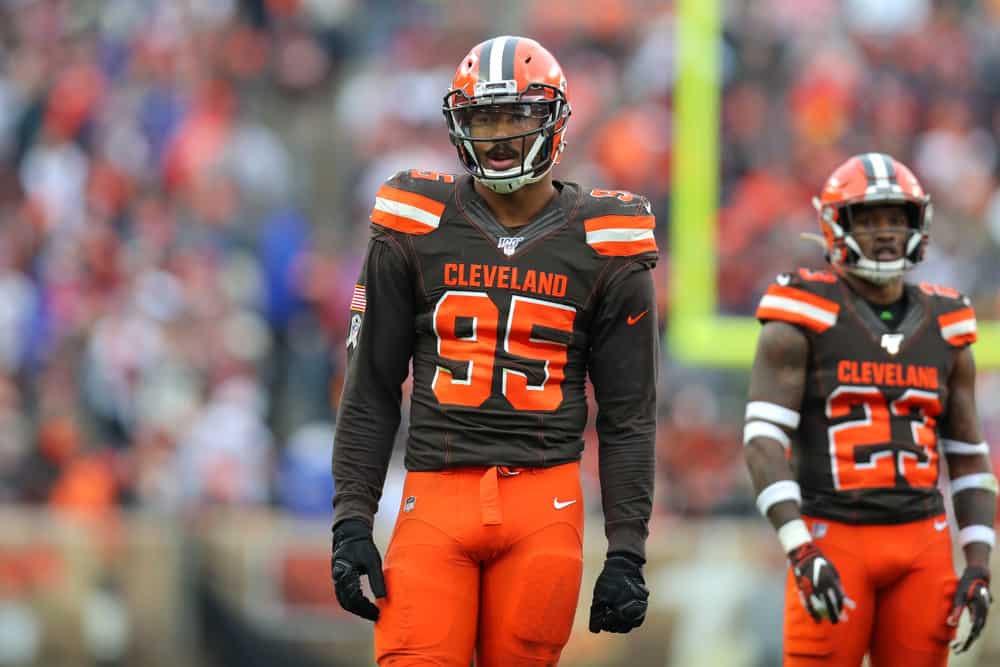 Myles Garrett was projected to be a future first-ballot Hall of Fame (HOF) player by an anonymous coach last week.
The aforementioned anonymous coach had plenty of opinions to share with ESPN's Jeremy Fowler.
Recall that he also accused of OBJ of quitting on plays.
So the fact that he wishes to remain anonymous to float his opinions into the media should be taken into consideration.
It does raise the question.
Is it possible?
Could Garrett achieve this?
In an article @JFowlerESPN did with @ESPN+, a combination of NFL executives, coaches, scouts, and players, ranked Myles Garrett the 5th best pass rusher in the NFL.

Garrett ranked higher than Joey Bosa. One person said Garrett was the best in the NFL. pic.twitter.com/4yGqabbNiZ

— Kyle Kelly (@KyleKellyNFL) July 13, 2020
It's too early to say.
I would not even use my Magic 8 Ball to project a 24 year old player starting his 4th year in the NFL as a future first ballot HOF candidate.
But we can look at his career thus far and attempt to draw some conclusions.
1. Rookie Season – 2017
Myles Garrett was the 1st pick of the 2017 NFL Draft.
Being the first overall pick comes with the pressure to perform, and Garrett had an admirable rookie season though injuries (a problem for him at Texas A & M also) were a problem.
After recovering from a high ankle sprain that caused him to miss 4 games, he suffered a concussion just a few weeks later.
In 11 games, he had 19 solo tackles and 7 sacks.
2. Sophomore Surge – 2018
Garrett started all 16 games in 2018.
He netted 32 solo tackles and 13.5 QB sacks.
His 13.5 sacks was 6th best in the NFL in 2018.
In a peer vote, Garrett ranked 49th among the Top 100 NFL Players for the season.
3. Troubled – 2019
2019's stats were good, but unfortunately, Garrett's best-known stats were in fines.
He paid nearly $100,000, half for early season roughing the passer penalties.
Most notably he paid the remainder of the money and was suspended from Week 11 through the end of the season for the altercation with Mason Rudolph.
We will not rehash the events of that game here, but suffice it to say that Baker Mayfield called Garrett's behavior in the waning seconds of that game "inexcusable."
The Browns remain committed to Myles Garrett and see him as a vital part of their future success.
Cleveland Browns DE Myles Garrett was the only member of the 2017 draft class' top five picks to get the fifth-year option in his rookie contract picked up. He's recorded 104 total tackles, 30.5 sacks, six forced fumbles and four passes defended in 37 appearances. pic.twitter.com/MXwhn6Z6xG

— Lilian Chan (@bestgug) May 2, 2020
4. Esteemed Company
First ballot defensive ends enshrined in the Hall of Fame are few and far between.
But the ones that are selected are extraordinary and have long careers (more than 10 years).
Think about the company Garrett would be in.
We're talking about the likes of Gino Marchetti (1972), Deacon Jones (1980), Reggie White (2006), Bruce Smith (2009), and Jason Taylor (2017).
Those are big shoes to fill both on the field and off.
If you evaluate all of this with the anonymous coach's words, what conclusion can you draw?
In my mind, it is too early to call Myles Garrett's career first-ballot worthy.
When he is on the field and focused, he is an outstanding player.
Injuries have troubled him since college so it's hard to say how his body will fare with more years of wear and tear in the NFL.
One thing is for sure; he needs to have a long career to be considered.
And the intangible that no one, except maybe Garrett can predict, is his mental state and on-the-field demeanor.
The optimist will say he learned valuable lessons last year that will carry him forward.
All of us hope so because we simply cannot have another Week 11 incident.