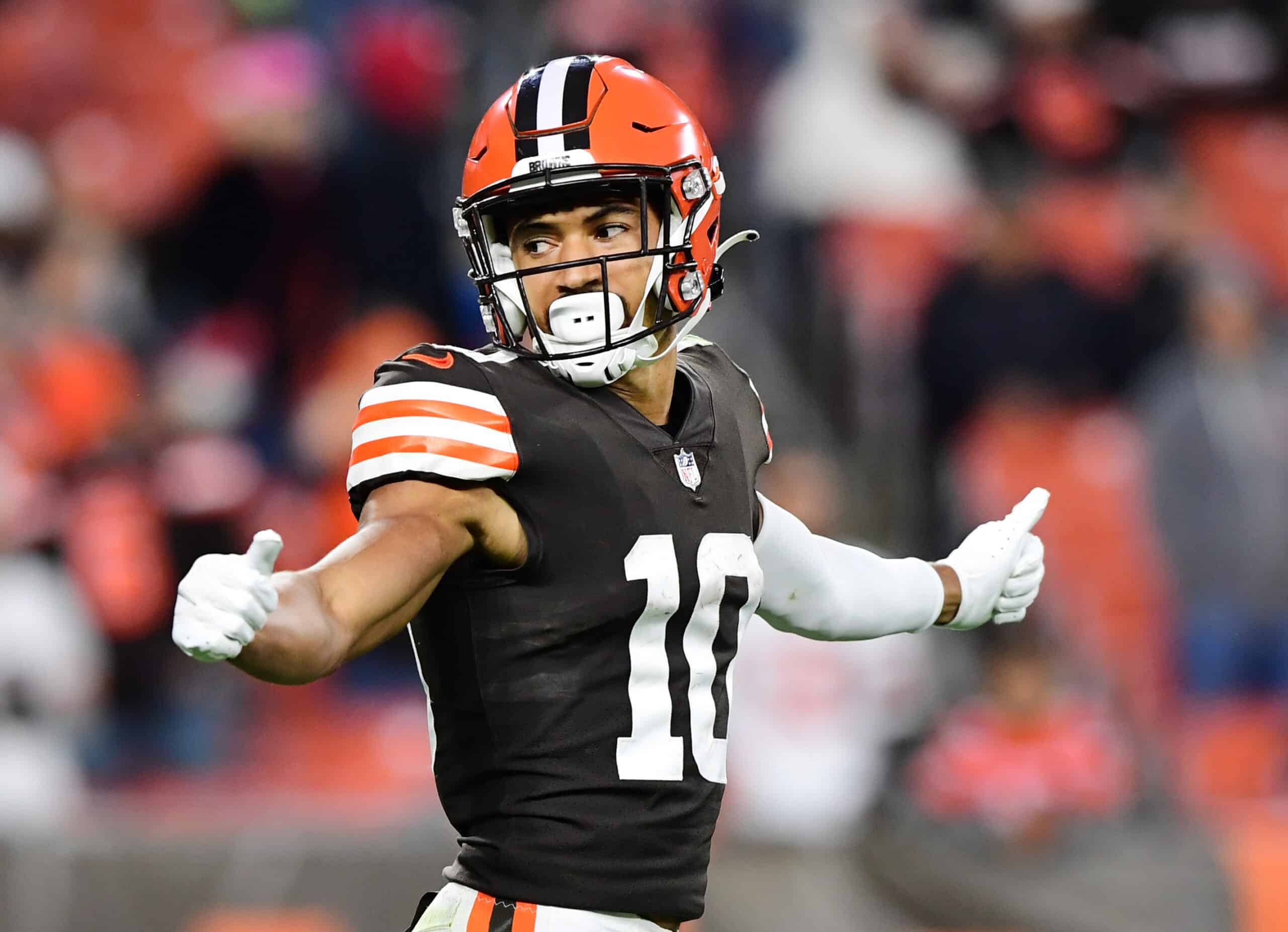 You win as a team, and you lose as a team.
Anyone who's played a team sport at any point in their life has likely heard this statement before.
Coaches and great locker room leaders love to preach it.
It can become cliché, but cliches still have truths, right?
Following Sunday's loss to the Steelers, Cleveland Browns wide receiver Anthony Schwartz had a similar message he shared on social media.
Football is a team sport, we win together, we lose together, time regroup and get ready for another big game

— Anthony Schwartz (@TheRealF1ash) November 1, 2021
While social media posts following a loss can be dangerous, especially from young guys, this was a nice sign of maturity from the rookie.
However, words can only do so much.
Action, in the way of better on-field performance, is needed from the Browns.
A Divided Locker Room?
Not having the whole team on the same page is a surefire way to create problems in a locker room.
Some have noted this may be the case with the Browns.
This clip, shared by "OBR Film Breakdown" on Twitter, potentially exemplifies some of those issues.
Not the body language guru or anything but you can tell some on this #Browns offense are not having much fun. pic.twitter.com/bS4x9nt8kL

— OBR Film Breakdown (@TheOBRFilmBDN) November 1, 2021
After the D'Ernest Johnson touchdown run, Odell Beckham Jr. doesn't give much of a reaction.
The way he saunters off could lead one to believe it was a turnover if they didn't see anything else involved in the play.
This is not to say Odell needs to be a cheerleader and pull off a series of back handsprings after a touchdown.
However, it'd be nice to see some emotional investment from a guy who typically wears his feelings on his sleeve.
If a go-ahead touchdown run against a divisional rival won't excite Beckham Jr., what will?
This only becomes a legitimate issue if other guys in the locker room take note.
Once a veteran leader on the team disengages from the season, it's only a matter of time until others follow suit.
Perhaps the team-first attitude of Schwartz and others will help inspire those who seem ready to waive the white flag on this season.
The New "Flash" in Cleveland?
Some of the replies to Schwartz's tweet demand more offensive snaps for Schwartz.
Given the struggles of the receiving core on Sunday, that could happen sooner than later.
Jarvis Landry, Rashard Higgins, and OBJ all had subpar days at the office.
Dropped passes plagued the passing attack and have many questioning what kind of return the team is truly getting after investing heavily into their receivers.
The return of Donovan Peoples-Jones will help, whenever that is.
But, perhaps it's time Schwartz saw more playing time as well.
His game-breaking speed is something Cleveland could use offensively right now and is a huge reason why Andrew Berry drafted him in the first place.
Browns just got the fastest player in the NFL Draft, Anthony Schwartz💨

— PFF College (@PFF_College) May 1, 2021
Gut-Check Time
If a rookie understands the importance of sticking together through adversity, it's safe to assume others grasp that as well.
Sometimes, though, even the best need reminded.
It's been a tough few weeks for the Browns as injuries and lackluster performances own the narrative.
But it's this type of adversity that makes teams stronger on the other side.
A massive chance to get the season turned around comes the Browns way next Sunday when they travel to Cincinnati to take on the Bengals.