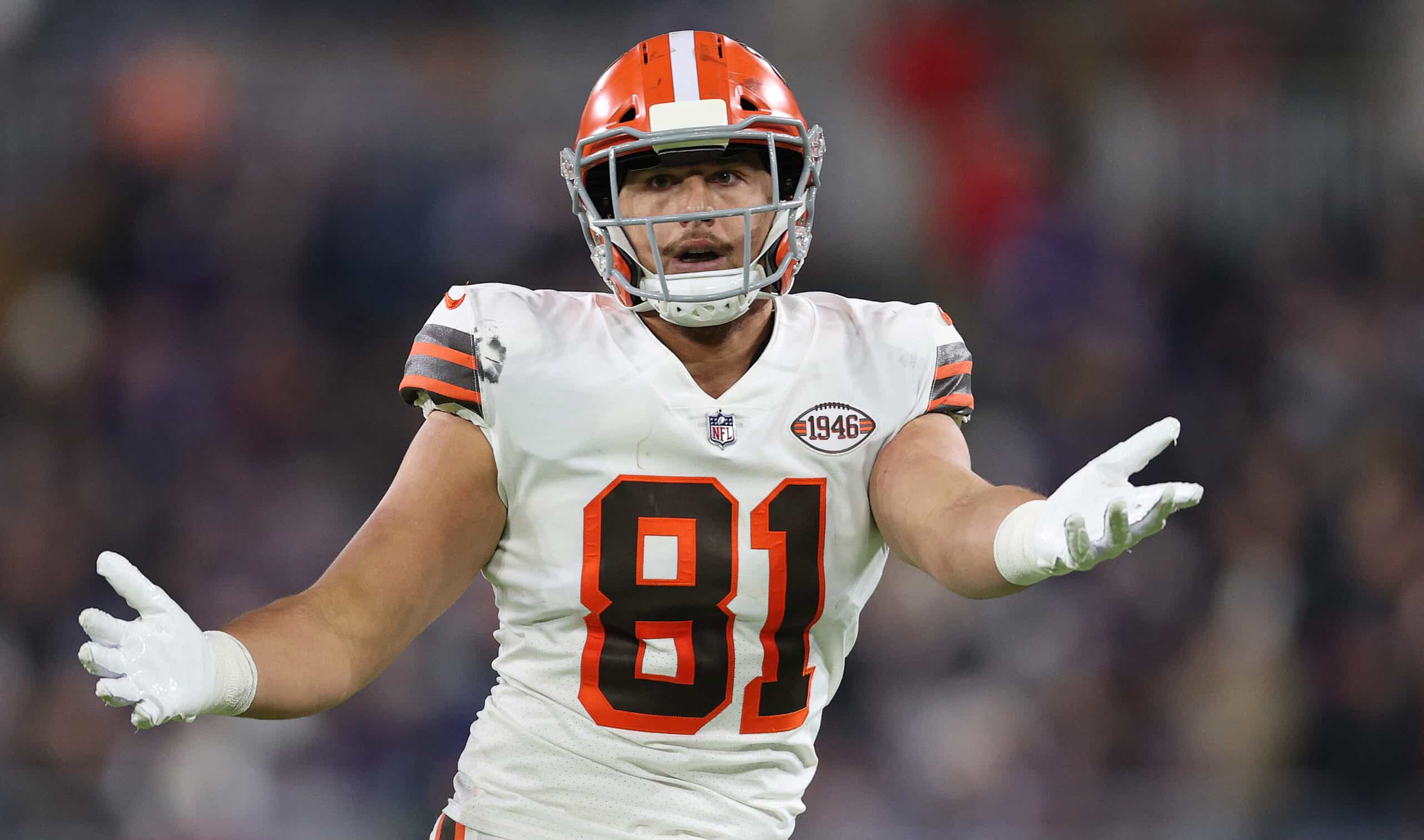 Stop me if you've heard this one before.
The Cleveland Browns brought in an All-Pro player some years back, traditionally ranked among the best of his peers.
This player had a career receiving percentage over 75% at 8 yards per target and 10.1 yards per catch.
#Falcons free agent TE Austin Hooper, the top player at his position, is headed to the #Browns, per @TomPelissero, @MikeSilver and me. They've agreed to terms, he's the new highest-paid TE.

— Ian Rapoport (@RapSheet) March 16, 2020
He was coming off a season when he averaged 6 catches and 60 yards per game and scored 6 touchdowns.
But something went awry in Cleveland.
In his first 2 seasons with the Browns, this player averages 6 yards per target, just under 3 receptions per game.
And in 2021, he added a new twist to his repertoire: he started dropping passes at a whopping 10% rate.
Hooper led the entire NFL in drop % last year. 11th worst in 2020.
Finished 29th out of 44 TEs in yards per route after finishing 27th in 2020. Had 1, count it 1, target of more than 20 yards the entire season. And makes $13m. But yes more of that plz! https://t.co/NtwTJUh2cw

— TA (@ClevTA) March 8, 2022
In Cleveland, his main attribute is tying up defenders with unused routes and blocking for teammates.
Most folks believe he is still a good player, but no longer worthy of the highest salary at his position.
Andrew Berry pays Austin Hooper like a star, and Hooper has not met expectations.
Problem 1: Expectations Were Too High 
Austin Hooper's rookie season with the Atlanta Falcons was fairly nondescript.
But on the opening day of the following season, he made every NFL highlight reel.
The huge tight end rumbled for an 88-yard touchdown and followed it up with a 40-yard reception later in the game.
It can be argued that Hooper has been living off that day since, with no receptions longer than 36 yards in 5 ensuing seasons.
Hooper's official stat line for 2017 lists 10.7 yards-per-reception, but from Week 2 on, Hooper only averaged 6 yards.
Busted coverage. You take him, I don't want him.
Matt Ryan to Austin Hooper for 88 yards. 20-10.#Falcons #Bears #nfl pic.twitter.com/DLwLsZwi63

— Scott Pearson Eberly (@PearsonEberly) September 10, 2017
Furthermore, when he caught both of those Week 1 catches, there was not a defender within 20 yards of him.
Hooper still needed a big stiff arm and key block to score on the big play and got caught on the second.
He was never a great contested pass receiver or route runner, relying on Julio Jones and Mohammed Sanu to clear out zones.
But Berry paid him to be the man in a tight end-heavy offense, which presented a new challenge for the former Falcon.
Defenses were going to account for him in Kevin Stefanski's passing game.
Problem 2: He's Really Not a Bad Tight End 
Cleveland recently franchise-tagged David Njoku while they continue to negotiate a contract extension.
Harris Bryant is also on the roster and already looks like a solid receiving tight end.
Austin Hooper might be the third wheel soon, but Stefanski uses a three-wheeled tight end system.
Berry can release Hooper with a June-2 designation and save $9.5 million in salary in 2022 and 2023.
But word is the Browns are going to roll with the same three tight ends they used last year.
I'm told the Browns' plan is to keep Austin Hooper along with David Njoku, despite Njoku's franchise tag of $10.9 million. Hooper is due $9.5M in salary in the third of a four-year deal.

— Jeremy Fowler (@JFowlerESPN) March 8, 2022
Without a renegotiation, Cleveland will grossly overpay Hooper and Njoku for their statistical contributions.
Njoku and Bryant are pass-catching tight ends who can block, and Hooper is a blocker who can catch… usually.
Injuries at tackle forced Hooper to play a bigger role as a blocker, and that might have hurt his receiving game.
Hooper could use a pair of outside deep receiving threats and a healthy Kareem Hunt to draw linebackers away.
He didn't forget how to catch, but Cleveland knows by now he is not the deep threat or jump-ball guy in the room.