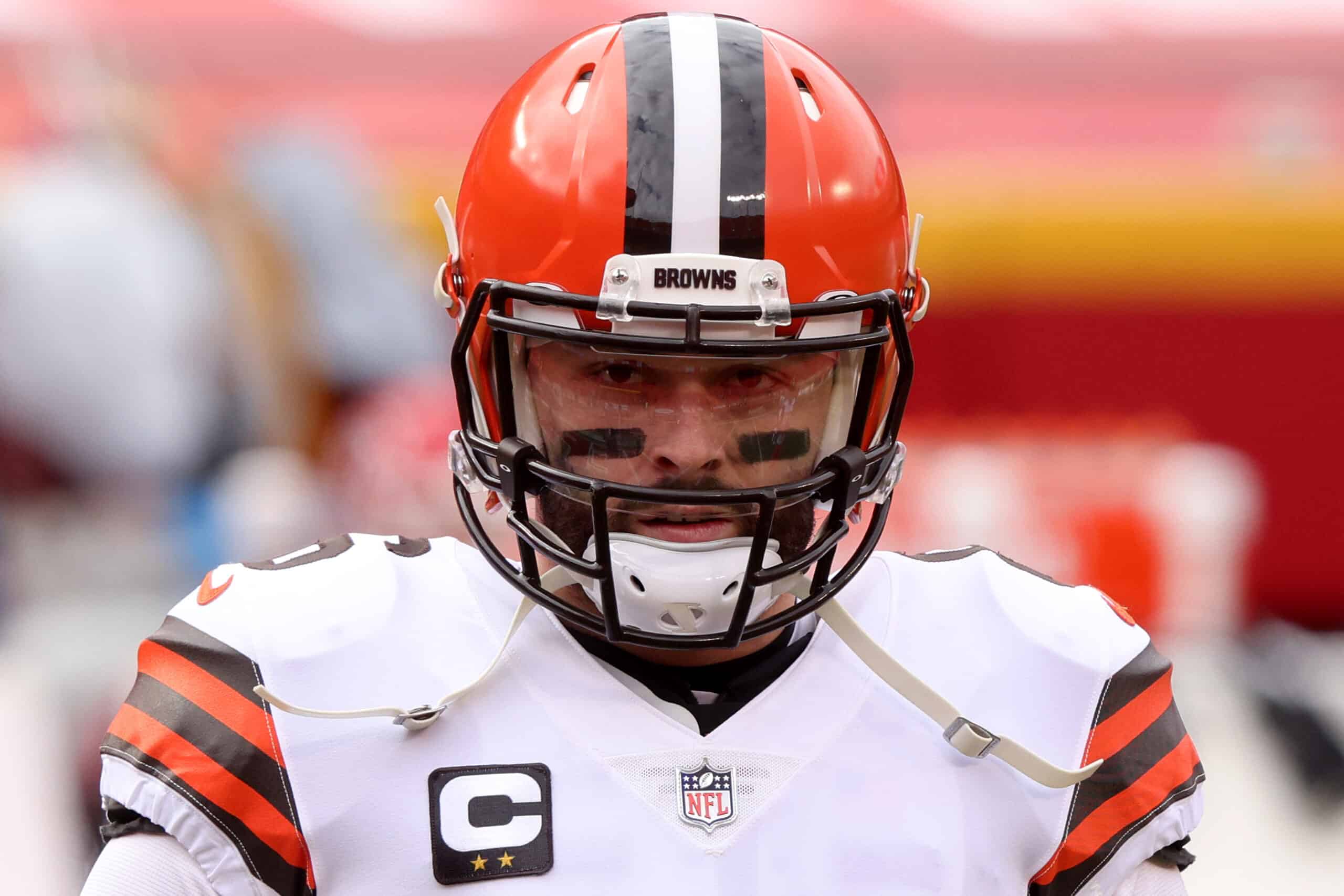 Tom Brady and Aaron Rodgers faced off yesterday on the golf course in "The Match" charity tournament.
Brady was paired with Phil Mickelson, and Rodgers was teamed with Bryson DeChambeau.
The Rodgers and DeChambeau team earned the victory but not before a myriad of celebrity guests appeared via phone or video.
Cleveland Browns quarterback Baker Mayfield was a video guest.
#Browns Baker Mayfield with a guest appearance during the Match

Said his golf game isn't great

But said his swing is still better than Chuck's

Also interesting shirt choice pic.twitter.com/eCf2aYSoA1

— Matt Fontana (@MattFontana83) July 7, 2021
After commenting that his golf game is "not real great", but effort is not the problem, he was asked questions by Larry Fitzgerald and Charles Barkley about the Browns' upcoming season.
Was good to see @bakermayfield on "The Match."

He looks like a lean, mean, fighting machine & this team looks locked and loaded for the fall.

— Browns22 (@browns2211) July 7, 2021
Larry Fitzgerald
Guest commentator and current free-agent wide receiver Larry Fitzgerald asked Mayfield how it felt to have OBJ back in addition to a lot of new players joining the team in 2021.
Mayfield said he was "really excited" to get things going.
He commented that it is a "very talented" group of players who have "good chemistry" on the field and in the locker room.
Fitzgerald's NFL future is definitely uncertain, but he paid a big compliment to the Browns saying he would not make the team given the Browns' depth at WR.
Charles Barkley
Leave it to NBA legend Charles Barkley to bring levity to the conversation.
He first commented on Mayfield's shirt wondering if it actually was a robe.
Then he asked Mayfield the question all of us have wondered.
How will this Browns team handle the lofty expectations that have never been placed on them before?
#Browns QB Baker Mayfield spoke on The Match broadcast about the teams chemistry and expectations this season: pic.twitter.com/8aRqb5iVWC

— Baillie Burmaster (@bayburmTV) July 7, 2021
Mayfield said expectations have been discussed.
He responded with the perfect answer, and if we closed our eyes and did not know who was talking, the words sounded exactly like something Coach Stefanski would say.
Mayfield said the team has to set its own standards and not feed into whatever positive or negative noise surrounds them.
He also said the team needs to focus on doing a good job one day at a time and one week at a time.
Let's hope Mayfield and the boys can do all of that while winning a lot of football games come September.