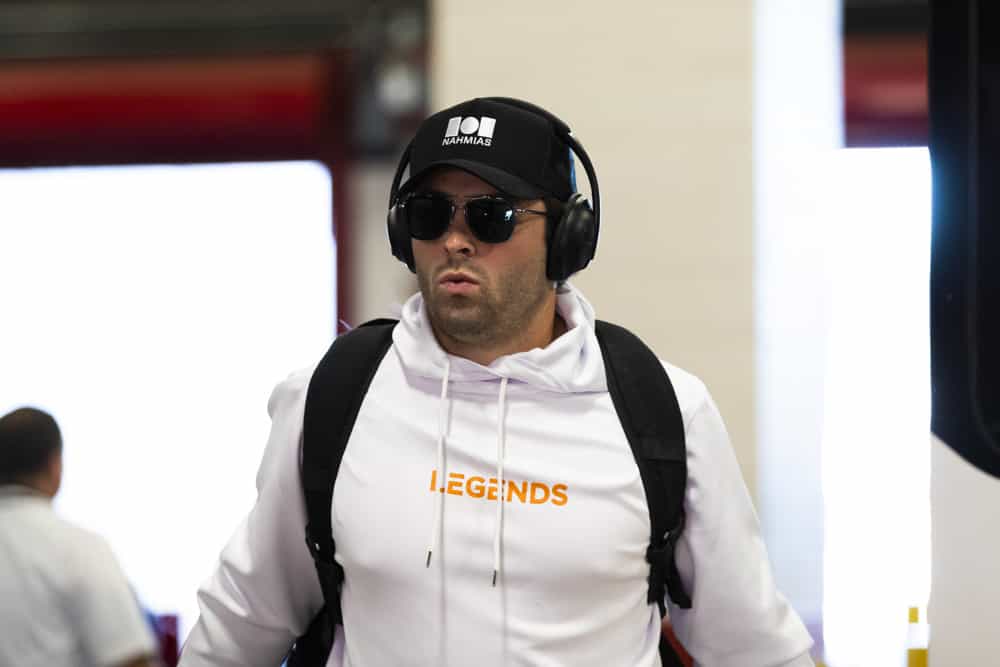 The Cleveland Browns had a huge team win yesterday over the Tennessee Titans by the score of 41-35.
Not only did the Browns go to 9-3 for the first time since 2007, but also QB Baker Mayfield threw 4 TDs in the first half which hasn't been done since Otto Graham's era.
Waking up and remembering we're 9-3. 😂 pic.twitter.com/c9NbC6mO2Q

— Cleveland Browns (@Browns) December 7, 2020
After Browns' wins this year, we've come to expect pop culture references from Mayfield in the postgame press conferences.
He didn't disappoint this week.
Channeling Dwight from The Office, Baker offered this gem.
Baker Mayfield, asked what's different with him vs. last year: "Whenever I'm about to do something, I think, 'Would an idiot do that?' And if they would, then I don't do that." #Browns @rainnwilson @theofficetv pic.twitter.com/pHepwAivzW

— Jake Trotter (@Jake_Trotter) December 6, 2020
Previous Pressers
Because the Browns have 9 wins this year, Baker has had many opportunities to give us these nuggets.
Last week he plucked a quote from the TV show Parks and Recreation.
And prior to that, Baker evoked rap lyrics from DMX and Snoop Dogg to name a few.
Baker's personality is charismatic even though it rubs some people the wrong way.
Regardless, no one can say he is boring or lacks passion.
Team Focus
The jubilation Baker had when his offensive tackle caught a TD pass was genuine.
Baker Mayfield celebrates TD pass to OT Kendall Lamm

Relive Sunday's 41-35 win over @Titans

Listen to #TheDailyGrossi podcast (free)

w/@TonyGrossi @MattFontana83 https://t.co/Rm2mIQTgJE , The Land on Demand App #Browns pic.twitter.com/EMZbS1EAVY

— ESPN Cleveland (@ESPNCleveland) December 7, 2020
His admiration for Nick Chubb (and Kareem Hunt) is also sincere.
This Tweet does not get old as Baker shows his excitement for another explosive Nick Chubb run.
.@bakermayfield HYPED 😂#BudLightCelly pic.twitter.com/p1eipbRU2n

— Cleveland Browns (@Browns) November 22, 2020
Stefanski is Coach of the Year
In many people's minds, he is the reason for Baker's and the Browns' turnaround.
So it doesn't matter if he actually wins the award (as he has tough competition from the Steelers Mike Tomlin).
Yes, GM Andrew Berry made great decisions in the draft and with free agents that strengthened this team.
But this team has had talented players (though not as many) on the roster in past seasons and did not perform well.
Coach Stefanski knows how to manage this locker room; distractions and nonsense from previous seasons are gone.
You can bet he's not thinking about any of this or even the Titans' win, he has already turned his attention to the Ravens and Monday Night Football on December 13.