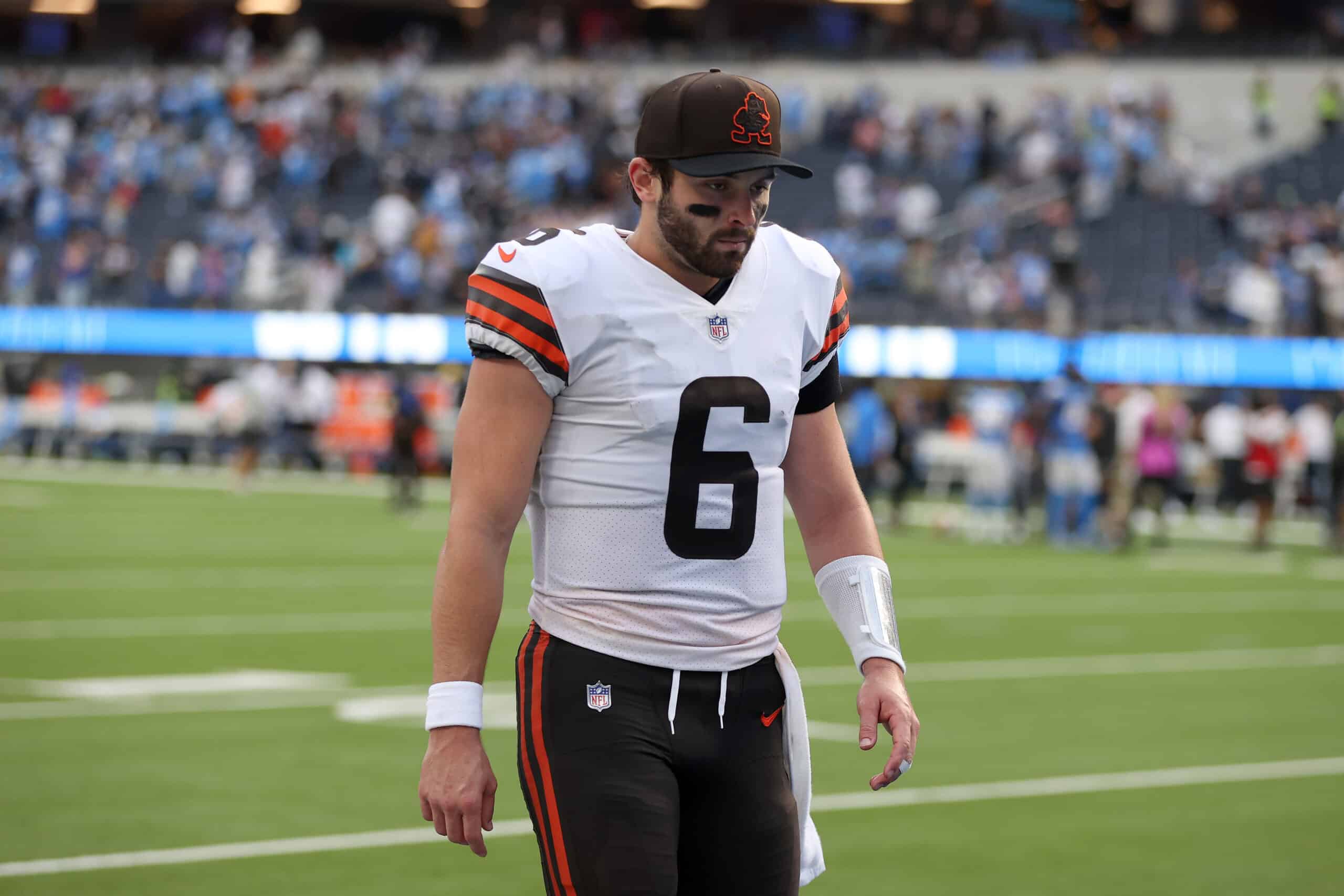 Baker Mayfield threw for over 300 yards Sunday in one of the day's most exciting games.
But he was quite unhappy after the Cleveland Browns' contest with the Los Angeles Chargers.
By the time he ripped the refs at a postgame presser, Mayfield was probably told how his team made history.
Cleveland became the first NFL team to total 500 yards, 40 points, and no turnovers and still lose a game.
The Browns scored 42 points, had 532 yards with 0 turnovers.

They are the first team in NFL history including the playoffs to lose when having either

– 40 Pts and 0 turnovers OR
– 40 Pts, 500 yards and 0 turnovers

h/t @EliasSports pic.twitter.com/f9PoDinGc0

— ESPN Stats & Info (@ESPNStatsInfo) October 10, 2021
But that might not be the worst statistic Baker Mayfield sees today.
Commentator Dan Orlovsky shared another unflattering fact with the audience of the ESPN-sponsored KJM morning show. 
In a conversation with Keyshawn Johnson, Orlovsky shared Mayfield's QBR in the 4th quarter of one-score games is ranked 31st in the league.
Stat by Dan Orlovsky this morning: Baker Mayfield is 31st in QBR since enetering the league in one score games in the 4th quarter….. he looks elite at times due to the talent around him. He's above average, nothing better.

— Junnie Riddle (@JunnieRiddle) October 11, 2021
You can find him talking about this stat at around the 7:30 mark of the show.
And it is not going to put the Browns' quarterback in a better mood.
Mayfield Has the 31st-ranked QBR In This Situation
Nothing stirs up controversy like a debate over Baker Mayfield's skill and potential.
Even Orlovsky started his conversation by saying he believes Mayfield can get the Browns to a Super Bowl.
But then he pointed out something missing from Mayfield's 2021 resume that he needs to correct.
Mayfield has had 2 chances to drive the Browns to a last-possession victory this year.
Baker Mayfield is the best QB #Browns have had in 3 decades. He's flying up the team's record books, but in 2 games against AFC contenders – #Chiefs & #Chargers this year, he had the ball in his hands with a chance to win. He went 0-2. It's fair to point that out.

— Daryl Ruiter (@RuiterWrongFAN) October 11, 2021
And so far, he is 0-2 in those clutch situations.
He went further by asking his assistant to figure where Mayfield's QBR ranks in the 4th quarter of one-score games.
And in a 32-team league, Baker Mayfield ranks #31 when it comes to playing under such pressure.
Orlovsky, a long-time Baker Backer, says Mayfield has to fix that if he wants to be considered among the elite NFL passers.
Mayfield's 4th Quarter QBR Matches the Eye Test 
Anybody who objectively watched yesterday's game saw a different Mayfield in the final minutes.
Mayfield and the whole offense enjoyed a stellar day against the Chargers' defense.
At one point, Mayfield complete 15 of 18 passes, including a drop and a throwaway.
David Njoku tacked on a 71-yard catch and run in the 4th quarter.
Baker Mayfield ➡️ David Njoku

FOR 71 YARDS 🔥

(via @NFL)pic.twitter.com/AjKJYWJQ6f

— Bleacher Report (@BleacherReport) October 10, 2021
Without that one play, Mayfield's 4th quarter stat line read as 7/12/40/0.
Kevin Stefanski blamed himself for a conservative mindset in the game's stretch run.
He called the same offense he called in the final minutes of last week's Minnesota game.
Certainly, that is not helping Mayfield's 4th quarter stats.
Johnson, Orlovsky, and Kellerman Pile On 
Keyshawn Johnson was at the game and said he questioned a few of Mayfield's decisions in the final stretch.
On a long incompletion to a double-covered Donovan Peoples-Jones, Mayfield missed a wide-open Odell Beckham.
Beckham ran a long crossing pattern that would have picked up most of the needed yards and let him get out of bounds.
Similarly, on a pass to a well-covered Higgins, several players broke open short who could have advanced the ball.
So…I guess I don't understand pass interference now. #Browns #Chargers pic.twitter.com/RqLITKa6K2

— Browns Rally Possum (@Browns_Possum) October 11, 2021
Mayfield hit Beckham twice, or three times in as many chances, if you count a big Beckham drop.
But the three hosts wondered if Mayfield was purposefully avoiding passes to Beckham most of the day.
Indeed, 24 of Baker's 29 pass attempts went to 4 receivers, Njoku, Higgins, Hunt, and Peoples-Jones.
The question was raised and left unanswered as to whether Mayfield narrowed his focus to "his guys."