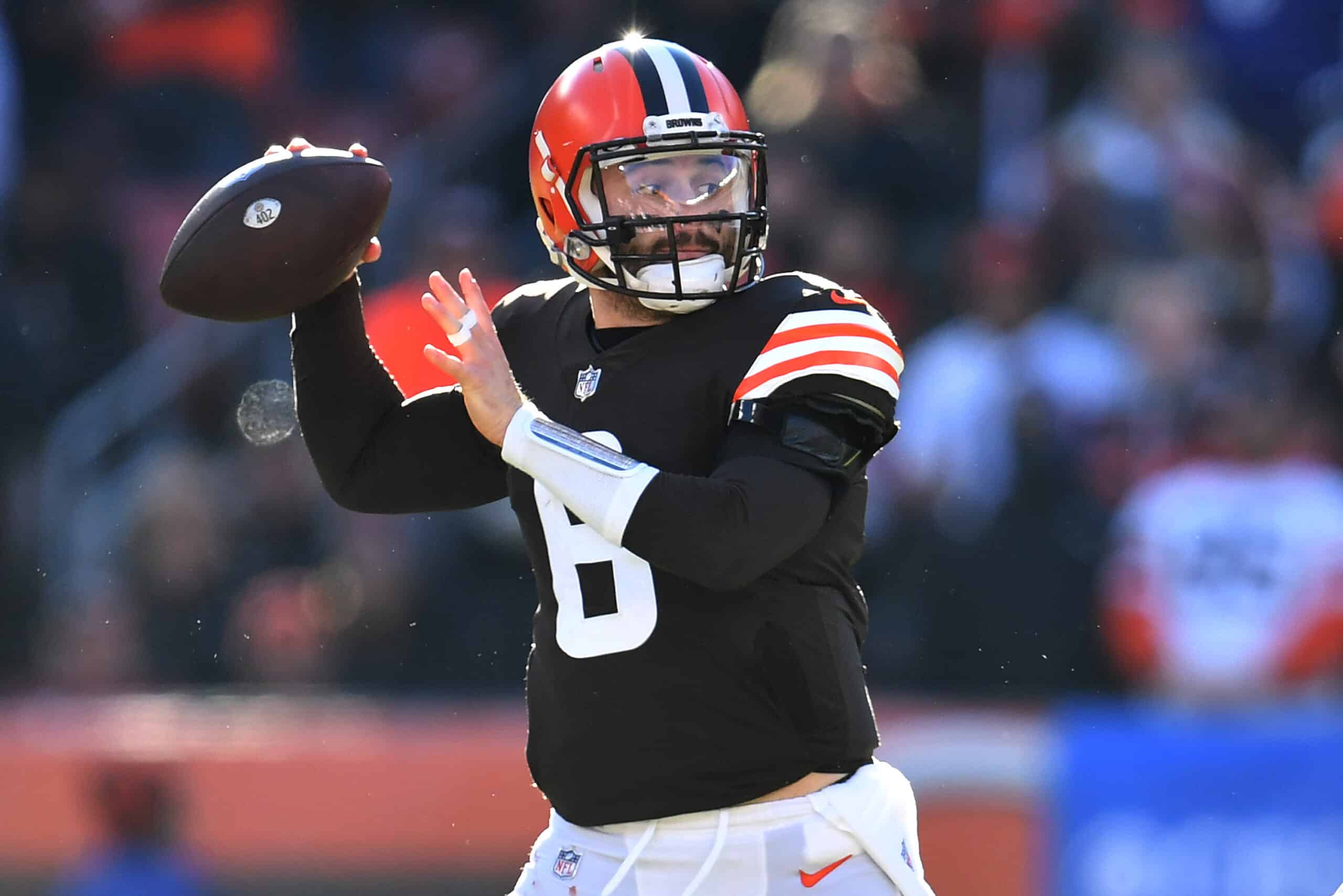 It appears the bye week did the Cleveland Browns and quarterback Baker Mayfield some good, especially considering they got some redemption in a 24-22 win against the Baltimore Ravens on Sunday.
Ahead of the Week 14 matchup against the Ravens, Mayfield sat down with Hall of Fame quarterback Kurt Warner for an NFL Network interview about the Browns' season.
Warner asked Mayfield about how he deals with criticism.
"It comes down to trying to find an even balance of listening to those opinions around you that truly matter, friends, family, teammates," Mayfield said. "And, that's been the tricky part about this year, has been a lot of internal things. It hasn't just been the outside noise."
It's unclear what specifically Mayfield meant by "a lot of internal things."
"It's night and day compared to where I was heading into last week" @bakermayfield sat down with @kurt13warner to talk about how he and the @Browns will finish up the season 👇 pic.twitter.com/YBPgVDjVPM

— NFL GameDay (@NFLGameDay) December 12, 2021
Sunday's win against the Ravens provided an example of what could be part of the problem.
The Browns had a 24-6 lead at halftime, but failed to score in the second half.
Unnamed sources have told cleveland.com's Browns beat reporter Mary Kay Cabot that there is a disconnect between Mayfield and head coach Kevin Stefanski about the team's playcalling.
Apparently, Mayfield isn't the only player frustrated with the Browns' playcalling.
Another unnamed source told Cabot that Mayfield wasn't thrilled about receiving criticism from the team's in-house radio show, Cleveland Browns Daily.
Parts of the Browns offense have struggled this season.
Here is how the Browns offense ranked entering Week 14:
The Browns' 207 passing yards per game ranks 24th in the NFL
The Browns 147.1 rushing yards per game ranks third in the NFL
The Browns 21.2 points per game ranks 19th in the NFL
Several injuries to Mayfield's left shoulder, knee, heel and groin have hampered his ability to perform in the 2021 season.
"(It is) "night and day compared to where I was heading into last week, which is great for me,'' Mayfield said ahead of Week 14. "If your lower body's not able to move around, especially with me, my violent throwing motion, how I plant, how I torque, I need my feet to feel good and I'm in a much better place right now.''
Specifically, Mayfield has played with a torn labrum and fracture in his left shoulder since Week 2.
The only way Mayfield's shoulder can fully heal is with surgery, which he is expected to undergo in the offseason.
There is also a disconnect about the extent of Mayfield's injuries and the messaging to media members about them.
Last month, Mayfield admitted that he felt the "most beat up" he's ever been in his NFL career.
Stefanski has downplayed Mayfield's injuries and consistently started him instead of backup Case Keenum.
Plus, the team is coming off the release of wide receiver Odell Beckham Jr.
Another unnamed source told Cabot about how defensive players are frustrated with Mayfield and the offense's inability to score points this season.
Mayfield told Warner what he needs to do the rest of the season.
"I have to be myself and try and do my job 100%," Mayfield said. "The guys that truly know me understand that. We need to take care of business in the building, and I need to be myself for these guys.''
In the 2021 season, Mayfield has thrown for 2,603 yards, 13 touchdowns and seven interceptions.
Mayfield mentioned the importance for the offense to hone in on "little details."
"(I need to) play my position at the highest level I can, and distribute the ball and be the leader I know I am," Mayfield said. "So for me, that's doing my job at a high level one week at a time and push these guys to do the same."
The Browns (7-6) remain in the AFC playoff hunt ahead of Saturday's home game against the Las Vegas Raiders.