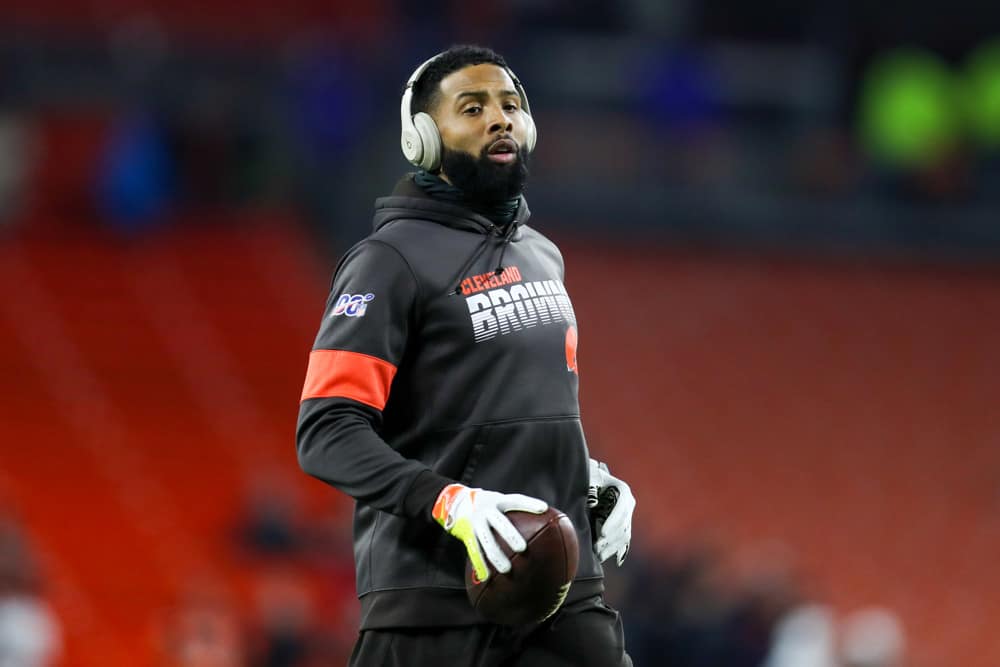 Andrew Berry and the Cleveland Browns released an official statement about Odell Beckham Jr today.
The press release puts a definitive end to Beckham's time in Northern Ohio.
— Cleveland Browns (@Browns) November 5, 2021
The statement reads as a team decision more than an agreement between understanding parties:
"After careful consideration, internal discussions and conversations with Odell and his representation, we've determined that it is in the best interest of all parties involved that Odell no longer play for the Cleveland Browns," said the statement. "We appreciate all his efforts and contributions while in Cleveland, but we've just reached a point where it is best that we move forward as a team without Odell. We are finalizing the process of granting Odell his release and we wish him well as he continues his career."
Berry mentions there were internal discussions as well as a conversation with Beckham's agents.
But it does not offer insight into the thought processes involved in the matter.
Once the Browns finalize the reworked Odell Beckham Jr. contract, they will release him and he will go on waivers, where other teams will have the opportunity to claim him.

But the Browns and OBJ's time together is coming to a rapid end.

— Adam Schefter (@AdamSchefter) November 5, 2021
Odell Beckham Sr posted a YouTube video on his Instagram account Tuesday, sparking a firestorm.
The video, whose producer says he does not know the Beckhams personally, focused on Baker Mayfield's role in OBJ's diminished production.
Beckham did nothing to diffuse the situation, choosing to remain silent as the ensuing chaos erupted.
Recapping the Week 
After Beckham Sr's video hit social media, several sports celebrities jumped into the fray.
Most notable was Lebron James' "#FreeOBJ" tweet.
But other baseball, basketball, and a couple of NFL players posted supportive comments for the wide receiver.
Odell Beckham Sr. isn't the only one that thinks Baker Mayfield is missing open throws to OBJ. 👀 pic.twitter.com/5UFIJBa0FK

— theScore (@theScore) November 4, 2021
And in the days since, many pundits and personalities weighed in, mostly against Mayfield.
Several teammates initially "liked" the video, although they all removed their clicks later.
As the press gained access to the players, the usual neutral responses and claims of unity were released.
Then one anonymous player alleged that Beckham was a malcontent in the locker room.
More detail on Odell Beckham/the Browns: The team got a text from Beckham's reps on Sunday night asking for a trade, I'm told. Still, Beckham had been fine in the building, so the social media blowup blindsided the team.

Browns simply couldn't find anyone to take OBJ's contract.

— Albert Breer (@AlbertBreer) November 5, 2021
Mary Kay Cabot reported this morning that a source says OBJ asked for a trade or release several times this year.
But several players jumped in to defend OBJ's practice habits and the support he gave teammates.
Still, Beckham's continued silence indicates he is satisfied with the outcome of the week's events.
What It Means For The Browns 
Details of Beckham's release have not been made public.
However, the team is believed to have mitigated their dead cap hit by changing salary to a signing bonus.
Beckham will have to clear waivers, but that will not happen until Monday.
At last check, the expectation was Odell Beckham's base salary would be reduced near the minimum, with the rest going to him in a signing bonus. That makes him very claimable and adds to the intrigue. https://t.co/4R5JZ8RkJQ

— Ian Rapoport (@RapSheet) November 5, 2021
The shifting of salary to a Browns-paid bonus should make it easier for teams to fit Beckham into their own budget.
But if he clears waivers, Beckham is immediately a free agent, able to sign a new contract with any team.
Cleveland also clears $15 million from the 2022 salary cap by releasing OBJ.
As far as replacing Beckham in the offense, the receiving numbers might be the easiest to cover.
Just a reminder that the Browns did not need Odell Beckham to have their best season in decades. pic.twitter.com/LN4MCZxbGU

— Nick Karns (@karnsies817) November 3, 2021
Kevin Stefanski and Baker Mayfield have made little use of any of their wideouts so far.
Beckham's blocking and ability to draw safeties his way will be more difficult to replicate.
But there is little reason to expect the team will fare any poorer than they did in OBJ's absence last season.