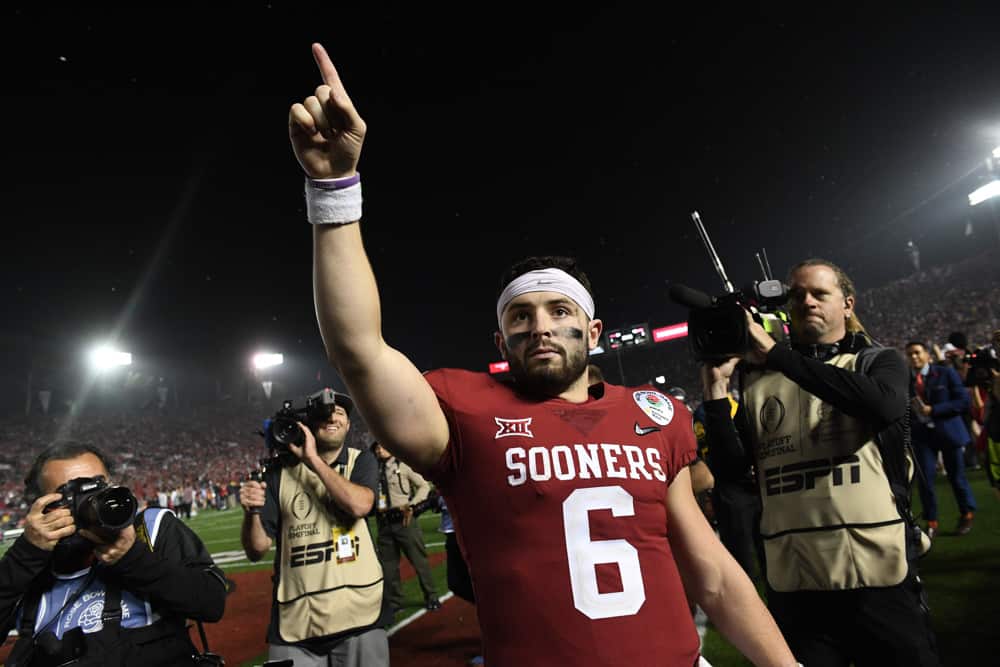 ESPN recently took on the task of ranking the 60 best college quarterbacks thus far in the 21st century.
The key to the analysis is that only the college statistics were evaluated; there was no correlation to success in the NFL.
Cleveland Browns quarterback Baker Mayfield came in first on the ESPN list.
ESPN ranks Baker Mayfield as No. 1 college quarterback of 2000shttps://t.co/MxGR4GUg9x pic.twitter.com/g4vCNneOt1

— Ben Axelrod (@BenAxelrod) February 26, 2021
Another note to mention is that quarterbacks who put together spectacular single seasons may have made the list, but the totality of the player's college career was evaluated so consistency and longevity were rewarded with higher rankings.
1. Baker Mayfield – Texas Tech/Oklahoma
ESPN names Baker Mayfield the BEST QB of the 2000's #UnDraftable pic.twitter.com/DDyf49gLBs

— Tattoo Baker (@QB1TATT00) February 26, 2021
Mayfield had three seasons with the Sooners after his transfer from Texas Tech.
As a result, the majority of the stats are from OU.
He threw for 14,607 yards and 131 touchdowns.
Mayfield only had 30 interceptions in his NCAA career.
He also rushed for 21 touchdowns and caught 1 touchdown pass.
His career completion rate was 68.5%.
Mayfield's senior season was his best statistically and was capped off by winning the Heisman Trophy and being named the MVP of the Sugar Bowl.
The Rest Of The Top 10 – According To ESPN
Here is a look at the quarterbacks who rounded out ESPN's Top 10.
2. Cam Newton – Auburn
3. Vince Young – Texas
4. Tim Tebow – Florida
5. Joe Burrow – Ohio State/LSU
6. Deshaun Watson – Clemson
7. Kyler Murray – Oklahoma
8. Lamar Jackson – Louisville
9. Marcus Mariota – Oregon
10. Robert Griffin III – Baylor
At some point, ESPN will probably revisit the list and evaluate how the top college quarterbacks parlayed their NCAA successes into NFL careers.
Many of the Top 10 are current NFL players so the jury is certainly out on that right now.
Regardless, these players provided some of the most heroic and athletic college football performances each Saturday for their schools and fanbases.
Other Notables On The Top 60
If you are wondering, where the Super Bowl champions are, fear not, some have made the list.
Ben Roethlisberger of Miami (Ohio) came in at number 26 for his three year career spanning 2001-2003.
Newly minted Super Bowl Champion Tampa Bay Buccaneers offensive coordinator Byron Leftwich of Marshall ranked 41st.
Kansas City Chiefs QB Patrick Mahomes (Texas Tech) ranked 54th and had some fun on social media with his ranking.
Man i couldn't even make top 50 😂😂😂 https://t.co/E05yXjFeW1

— Patrick Mahomes II (@PatrickMahomes) February 26, 2021
Current NFL MVP Aaron Rodgers (California) barely made the list, coming in at number 56.
Who Did Not Make The List?
If you are thinking that the GOAT Tom Brady was left out, you are correct.
Tom Brady was in the NFL in 2000 so he aged out of this ESPN analysis of 21st century quarterbacks.
A few others not on the list despite electrifying college careers are Geno Smith (West Virginia), J.T. Barrett (Ohio State), and A.J. McCarron (Alabama).
An Alabama QB On The List
Current Miami Dolphin and former Crimson Tide QB Tua Tagovailoa is 19th on the list.
2021 NFL Draft Prospects On The List
Clemson's Trevor Lawrence ranked 11th whereas Ohio State's Justin Fields is in the 27th position.
It will be fun to revise this list in a few years when perhaps another Manning (Arch is a current high school sophomore) could break through as well as stars we don't even know about yet.