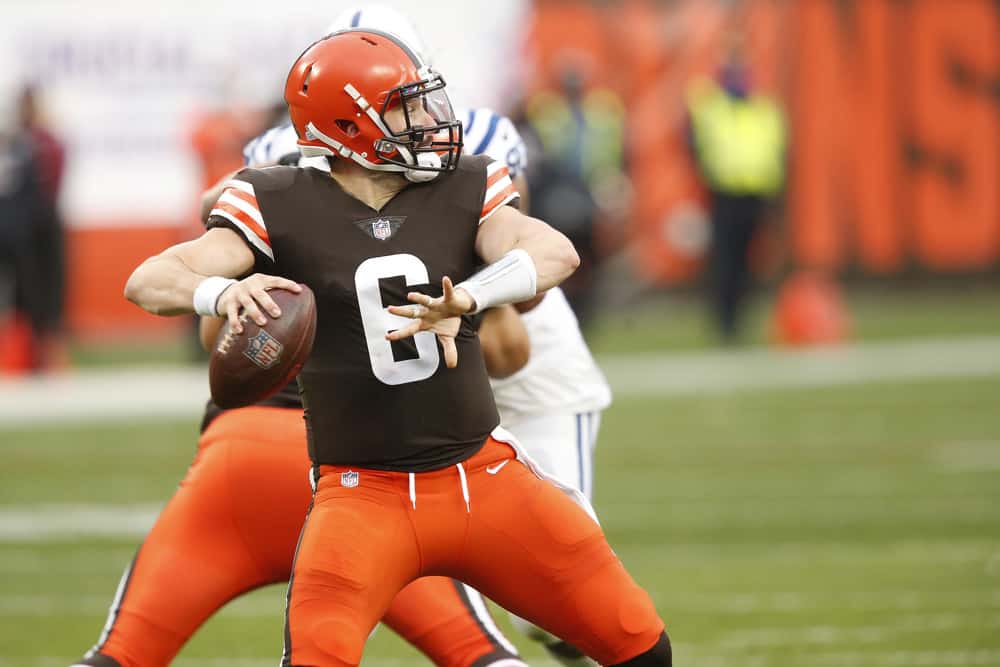 Baker Mayfield enjoyed his best game as an NFL quarterback this week. 
22 straight completions- a streak ended by a clock-stopping spike- and 5 touchdown passes had Cleveland Browns fans rejoicing over their 5-2 record.
Highest-graded QBs in Week 7:
1. Drew Brees – 92.5
2. Baker Mayfield – 91.2
3. Tom Brady – 90.4
4. Matthew Stafford – 90.3 pic.twitter.com/opkAOvKM5j

— PFF (@PFF) October 26, 2020
But before the last player left the locker room, some questions and doubts filtered back into the equation.
After all, this is the Cleveland Browns we're talking about… and Baker Mayfield.
Was Mayfield helped by the early exit of Odell Beckham Jr?
Can Baker Mayfield play defense?
Why didn't Kevin Stefanski let Mayfield throw the ball more over the first six weeks?
And most importantly, can Baker Mayfield repeat this passing effort against other teams?
Okay… I made up the question about Mayfield playing defense.
But we really need to know whether Week 7 Mayfield is close to what we should expect going forward.
Or does regression to his fair-to-good game manager role keep the debate going over Mayfield's future in Cleveland?
Consistency is (Usually) the Key To Playoff Success
Statisticians can feed us plenty of data that shows how consistent or inconsistent an NFL player is.
For the most part, Mayfield has had more inconsistent stats than consistent.
That doesn't always make for a bad quarterback situation.
There are Super Bowl champions graciously described as "streaky."
Streaky is the word we use for inconsistent passers who win a lot of games.
Cleveland Browns quarterbacks of late have simply been called inconsistent or consistently bad.
Baker Mayfield Week 7 red zone stats:
🔸 5 of 5
🔸 44 yards
🔸 4 TDs (1st) pic.twitter.com/Q8sXmwOcnt

— PFF (@PFF) October 26, 2020
Baker Mayfield burst onto the scene with a Rookie of the Year performance in 2018.
He admittedly lost focus under the Freddie Kitchens regime in 2019.
But despite a highly regarded coaching staff this season, Mayfield's statistics were worse than last season.
Sunday's performance did a lot to correct that situation.
It is somewhat unrealistic at this point to think he'll throw 5 touchdowns every week for the rest of 2020.
But Mayfield's declining stats offer some consistencies.
He threw multiple touchdowns with one or fewer interceptions in all 5 Cleveland Browns victories this year.
Can he throw multiple touchdowns every week?
Consistency is More Than Statistics
Baker Mayfield has other consistencies that don't show up in a typical boxscore.
For instance, his passing accuracy is still noticeably lower under pressure than not.
He takes longer to get rid of the ball than any other starting NFL quarterback.
Conversely, when Mayfield is moving by design, he sports an elite passer rating.
Cincinnati blitzed only 9 times Sunday, and Mayfield was near-perfect on those plays.
The Bengals failed to sack Mayfield and were credited with just 5 QB hits.
The Throw.
The Catch.@bakermayfield to @dpeoplesjones FOR THE WIN.

📺: #CLEvsCIN on CBS pic.twitter.com/cIlcHw99yr

— Cleveland Browns (@Browns) October 25, 2020
Except for one fourth-quarter pass, completed while he dragged a Bengal behind him, it is hard to remember Mayfield under pressure.
Consistency from Mayfield would include completing more passes as the pocket is getting pushed back or squeezed.
Baltimore and Pittsburgh's outside pressure successfully discouraged Stefanski from calling rollouts.
As other teams with better defenses than Cincinnati try to replicate that plan, Mayfield needs to stand tall and deliver from the pocket.
Consistency is More Than Physical Play 
There was nothing anyone could say or do to darken Baker Mayfield's postgame mood Sunday.
He danced and sang his way around the crowd for a day.
But memories of mid-game facial hair adjustments and press conference trenchcoats lurk.
Mayfield is not one to throw things on the sideline, attack a kicking net, or verbally abuse an assistant coach.
But his emotions are not difficult to discern.
Baker Mayfield after his game winning touchdown 😂🔥

(via ronniegolive/Instagram) pic.twitter.com/UwXLJQS0pu

— SportsCenter (@SportsCenter) October 25, 2020
When it comes to consistency, that might be where it is needed the most.
Mayfield has to remember he is an NFL quarterback and truly believe he can be a franchise player.
That means carrying the same swagger when teams are beating him as he did during the Bengals game.
On every snap, he has to believe he can start another 22-completion streak.
Fans and pundits can debate Mayfield's skills and leadership all day every day.
But Mayfield has to consistently believe Week 7 Mayfield is ready to bust out at any moment in any game.
That will make him the winning quarterback the Browns and their fans rally behind.