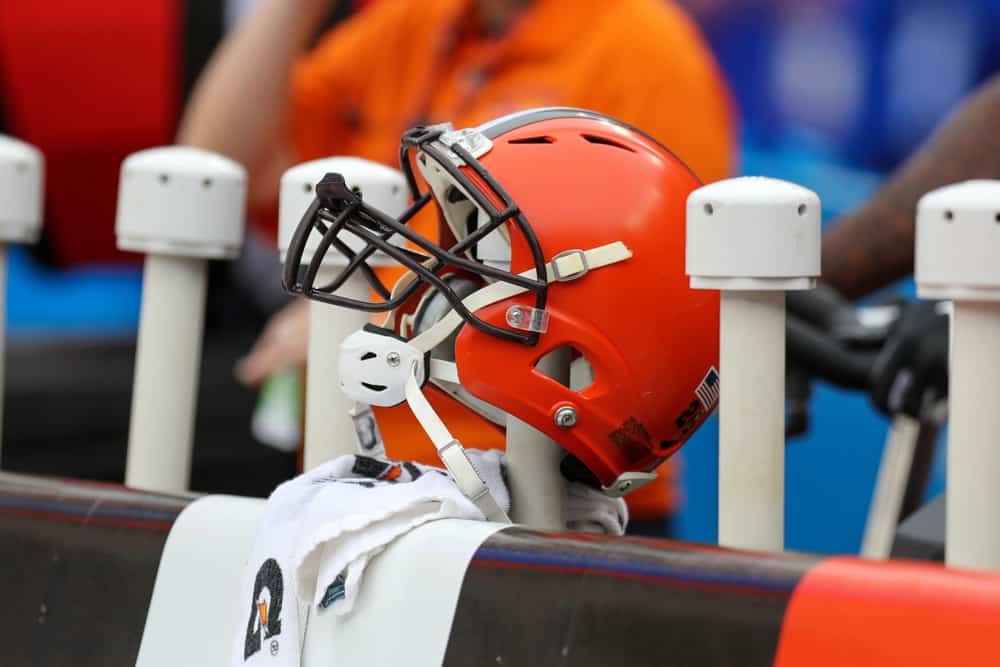 We´ll have to write this article fast because Andrew Berry is signing free agents as fast as we can find them.
With the signing of Andrew Sendejo, the Cleveland Browns already added nine free agents.
Berry aggressively signed Austin Hooper and Jack Conklin right off the top.
He landed Kevin Stefanski´s optimal backup quarterback before the end of the day.
Browns free agent tracker:
– TE Austin Hooper (4-year)
– OL Jack Conklin (3-year)
– QB Case Keenum (3-year)
– LB BJ Goodson (1-year)
– S Karl Joseph (1-year)
– DL Andrew Billings (1-year)
– CB Kevin Johnson (1-year)
– WR JoJo Natson (1-year)
– S Andrew Sendejo (1-year)#Browns

— Hayden Grove (@H_Grove) March 20, 2020
Then he set to work finding bargains with upside willing to sign one-year commitments.
Many of the Browns´ biggest needs have been addressed.
But the Browns still have holes Berry can fill before the NFL Draft.
And there are plenty of free agents waiting for a call.
Here are some of the positions Cleveland might still address in free agency.
Left Tackle Options are Dwindling
Cleveland´s biggest area of need remains its biggest area of need as the first week of free agency ends.
The team made the biggest splash at the offensive line group when they landed Jack Conklin.
But they still need to close the hole on the blind side of Baker Mayfield.
FWIW, I still think the Browns draft a left tackle.

— Matt Miller (@nfldraftscout) March 16, 2020
Using their 10th overall draft pick on an offensive tackle seems like an obvious plan.
But shifting priorities, trades, and other opportunities could force Berry´s hand in another direction.
Plan B could include a short-term answer at left tackle while the team develops a drafted successor.
Jason Peters remains the biggest name available.
Anyone know if the #browns are looking at Jason Peters havent heard his name mentioned at all so far be a better option than trent williams pic.twitter.com/gIMKWvXYqe

— @ (@RebelDawg73) March 17, 2020
At age 38, he shouldn´t command more than a 2-year deal and only if he is the focus of a bidding war.
Because he comes off a stellar 2019 season though, Peters might price himself out of Berry´s plan.
Cordy Glenn is another big name.
But unlike Peters, Glenn comes off a pair of subpar seasons and appears to be fading.
But eight-year veteran Kelvin Beachum remains available.
With all these garbage OL signing, I am surprised no one is bringing in Kelvin Beachum and Michael Schofield.

— Nicholas Dante Spano (@NickSpano) March 20, 2020
He is not a sexy name on the market, but he provides solid experience and effectiveness at left tackle.
In three years with the Jets, he accumulated 17 penalties, including 10 for holding and 5 false starts.
But Sam Darnold posted an average QBR 30 points higher in games Beachum started.
He is also likely to agree to an affordable, short-term deal to play in Cleveland.
Linebackers are Lacking
BJ Goodson brings experience to the Browns linebacking corp.
But he can´t replace both Joe Schobert and Christian Kirksey.
The Browns desperately need linebackers. And tackles. And veteran leadership. That's a lot of holes.

— Aaron Goldhammer (@HammerNation19) March 10, 2020
Multiple draft scenarios offer hope that Isaiah Simmons will fall to the Browns at number 10.
Cleveland could also trade up to snag the talented and coveted defender.
But it seems more likely the Browns will roll with second-year players Sione Takitaki and Mack Wilson.
They could also land a different linebacker later in the draft
Either way, Berry would do well to add another experienced player to the group.
Clay Matthews is a popular choice with the fans.
The #Rams announced that they released LB Clay Matthews.

With the release of Kirksey and Schobert leaving in free agency, would you like to see the 33 year old linebacker in a #Browns uniform following in his fathers footsteps? pic.twitter.com/ci6dYtgKWO

— The Hottest Take Sports Podcast (@Hottest_TakePod) March 19, 2020
But he is not the Clay Matthews of old.
He missed 12 of 44 tackle opportunities last season.
And while his 2019 stats include 40 quarterback pressures, 24 involved unblocked or mop-up plays.
There aren´t many other options still available.
It's a business and I'm sure Andrew Berry and his guys are hard at work. But the market is thinning on quality defensive free agents. And last time I checked, the Browns have almost nobody to play linebacker or safety.

— Realistic CLE Fan (@RealistCLEFan) March 18, 2020
Jordan Jenkins of the Jets will price himself out of Berry´s plans, assuming the Browns stick with a 4-3 base.
If they flip to a 3-4, that could mean the end of Olivier Vernon and puts Jenkins back in play.
A more likely and Berry-like signing could come out of Baltimore.
Patrick Onwuasor is a young, high-energy, overachiever who played inside and outside for Baltimore.
He was an undrafted free agent who keeps fighting his way onto the roster.
Baltimore´s Josh Bynes and Pittsburgh´s Mark Barron offer more experience at a higher cost.
Other Odds and Ends
The signing of Andrew Sendejo and Karl Joseph address the safety position.
It is not a deep position in this year´s draft, but the Browns might take a shot at someone on Day 3.
Adding quality depth via free agency is not a bad idea.
Carolina´s Eric Reid could be anxious to prove his disappointing 2019 season was a fluke.
Eric Reid ranked 69th among 71 safeties in 2019. pic.twitter.com/dOlWkbOLMh

— PFF (@PFF) March 18, 2020
That might make a one-year, prove-it deal amenable to the free safety.
Reid registered higher than a 65.0 coverage rating in 4 of the 5 years before his atrocious 2019.
Of course, the best available free agent is Jadeveon Clowney.
I occasionally have a hard time evaluating Jadeveon Clowney, because sometimes it's like watching an alien play an entirely different sport. pic.twitter.com/wxpKnS1kbX

— Robert Mays (@robertmays) March 16, 2020
Fans can hope Olivier Vernon is still on the roster solely as insurance if the Browns can´t sign Clowney.
But the former Texan and Seahawk will have to lower his $20 million/season asking price to play here.
The NFL trade market is active even as the draft approaches.
Needs and budgets can change rapidly.
But fans hope Andrew Berry´s aggressive reshaping of the Browns continues.