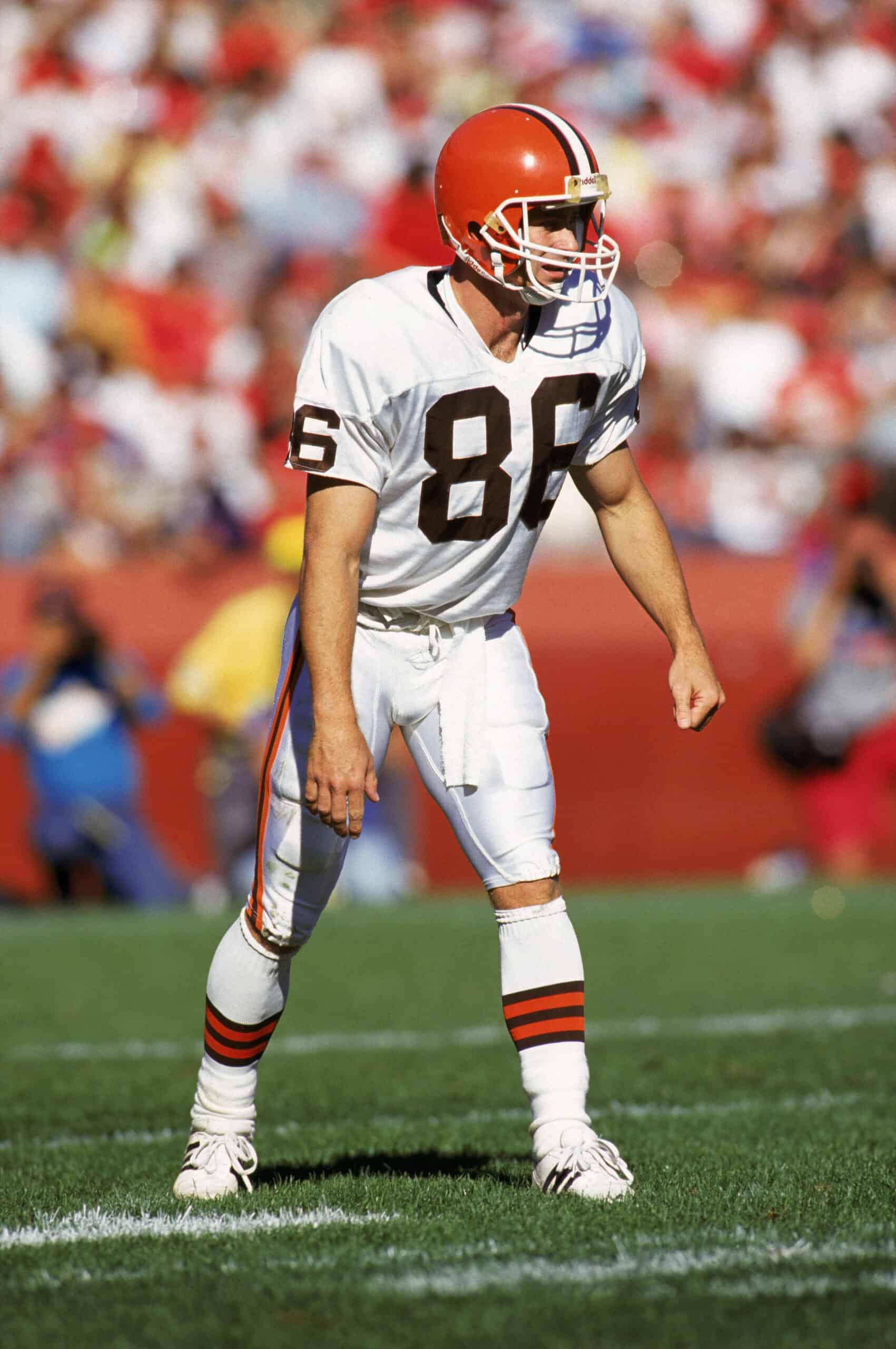 One of the common themes that occurs nearly every year in the NFL centers on doubt.
Inevitably, this season we will hear from a player or team who declares that they were doubted or that they have proved the doubters wrong.
It makes for good theatre and most fans love an underdog story.
However, it's also easy to cheer for the athletes who prove their doubters wrong with their play on the field.
These particular athletes know the prognosticators were incorrect in their pre-draft assessment of the athlete.
Yet, the player goes out and shows the world their ability without so much as a peep to the haters.
The Browns had such a player in receiver Brian Brennan.
Brennan was an integral part of the Cleveland teams that experienced wonderful highs and agonizing lows during the 1980s.
For eight seasons, Brennan was a fan favorite who provided clutch receptions in key moments.
This is the story of Brian Brennan.
Brian Brennan #86
Vintage #Browns pic.twitter.com/44HrnYV8dz

— Vintage Browns (@VintageBrowns) August 10, 2019
Early Life and College Success
Brian Michael Brennan was born on February 15, 1962 in Bloomfield, Michigan.
He played football at Brother Rice High School in Bloomfield and excelled.
Brennan's skills displayed on the gridiron led to a scholarship at Boston College.
His decision to matriculate to BC would prove instrumental for his future career.
As fate would have it, arriving the year after Brennan was a diminutive quarterback from Maryland named Doug Flutie.
Together, Flutie and Brennan became household names for the Eagles over the next few years.
Almost thought we hit another Browns backer, then I remembered, Brian Brennan went to Boston College. pic.twitter.com/NA9z1bhmlN

— Greg Pudloski (@gtpud) October 1, 2014
At first, the Eagles coaching staff put Brennan at running back and during the 1980 season he responded with one rushing attempt for four yards.
After switching to receiver for the 1981 season, Brennan saw the field more and put together a season where he caught 37 passes for 726 yards and three touchdowns.
In 1982, under the guidance of coach Jack Bicknell, the Eagles went 8-3-1 and played Auburn in the Tangerine Bowl.
Despite giving the Tigers a game, BC eventually succumbed 33-26 due to a healthy dose of Auburn back Bo Jackson.
Because of a broken collar bone sustained during the year, Brennan was limited to only 12 receptions for 305 yards and three scores.
Brennan bounced back in '83 by hauling in 66 passes from Flutie for 1,149 yards and eight touchdowns.
His yardage total was 21 yards short of putting him as the number one receiver in the nation.
Meanwhile, the Eagles went 9-3 and narrowly lost 19-18 against Notre Dame in the Liberty Bowl.
During the game, BC was first on the scoreboard after Brennan snagged a touchdown pass from Flutie.
Brennan's career at Boston College ended with his program records for total number of receptions (115) and catches during a season (66).
He was a Second-team All-American for the 1983 season and was a recipient of the Nathaniel J. Hasenfus "Eagle of the Year" Award as outstanding male athlete in his graduating class.
1984 NFL Draft
As the 1984 NFL Draft approached, Brennan thought he had a halfway decent chance of being an early-round pick.
He had played fairly well at BC and his pairing with Flutie helped bring him national attention.
However, other receivers at the time, such as Irving Fryar and Kenny Jackson, were getting all the publicity.
"I never went to Boston College as a way to go to the NFL," said Brennan. "I went for education. I was a finance major. I was president of the School of Management. I was trying to get all those resume' fillers.  What happened was Doug Flutie showed up and suddenly we're winning, playing on national TV and I'm catching all these passes from him," said Brennan.
During the weekend of the draft, Brennan ended up waiting until the 104th pick in the fourth round to hear his name called.
"I thought I would at least be a second-round pick," said Brennan in a recent interview. "Irving Fryar was the top pick in the draft. Kenny Jackson went fourth. They were the two top receivers. I thought I'd go after them."
To Brennan, he believed the knock on him with pro scouts was his size.
Listed at 5'9" and 170 plus pounds, Brennan didn't fit the mold of the prototypical receiver of the NFL.
The fact that he performed well in college and at scouting combines did not appear to matter to most scouts.
"There were two or three NFL combines that year," said Brennan. "I took part in all of them. I excelled in things like the box drill and other agility drills. I was pretty strong in the bench press."
Instead, he sat and watched in frustration as receiver after receiver went off the board before him.
Cleveland Browns fans remember #86. Brian Brennan – This Day In Cleveland Browns History 9/4. #TDiBH #Browns https://t.co/az56cpt5ov pic.twitter.com/RVQJLve7bb

— Orange and Brown Rpt (@TheOBR) September 4, 2020
Many of those receivers selected ahead of Brennan would have short pro careers.
"You'd see names of guys drafted crawling on the bottom of the screen," Brennan said. "The draft was 12 rounds back then. I was sitting there thinking I was a better player than Kenny Jackson, and he went fourth overall."
Finally, Brennan's phone rang and former Browns and Dolphins receiver Paul Warfield was on the other line.
Warfield let Brennan know that Cleveland had just drafted him and then handed the phone to head coach Sam Rutigliano.
"Brian," said Rutigliano. "Will McDonough (former Boston Globe sportswriter) is a good friend of mine. He saw you play a lot in college. He tells me that you're my next Steve Largent, my next Fred Biletnikoff. We need a player like you. I can't wait to meet you."
With that, Brennan was headed to Cleveland.
He would soon prove the scouts wrong.
1984 and 1985
When he arrived at his first training camp, Brennan briefly thought he was in over his head, especially when he compared himself to the players around him.
"We had a minicamp at Baldwin-Wallace," said Brennan. "After the morning workout, they gave us a bag lunch. I sat down and saw Clay Matthews and Tom Cousineau. They looked like real football players.  I looked like Minnie Mouse," he said. "Part of me was wondering, what am I doing here?"
It didn't take long for Brennan to prove he belonged.
During his rookie season of 1984, he started five games and finished the season second on the team with 35 receptions (in addition to scoring three touchdowns).
Brennan saw the field more only after the man who drafted him was fired.
When the team began the year with a 1-7 record, Rutigliano was fired.
In his place stepped defensive coordinator Marty Schottenheimer.
Brennan wasn't happy that Rutigliano was fired, but he clicked with Schottenheimer.
Under their interim coach, the Browns finished the year 4-4.
Brennan didn't just attribute his success that year to Schottenheimer.
"Part of me believed I was the best athlete on the team," he said. "I'm talking wide receivers, safeties, running backs, defensive backs. Bill Cowher was the special teams coach and he had me returning punts."
Browns owner Art Modell took the 'interim' label off Schottenheimer after the '84 season.
In his first full season as head coach, Schottenheimer led Cleveland to an 8-8 season in 1985.
They narrowly lost to the Dolphins 24-21 in the Divisional Round.
Brennan saw his catch total reduced to 32 and he did not score a touchdown that year.
However, he did gain more yards (487) than he did the previous year (455) and he started 10 games.
Brennan and the Browns are Thwarted by Denver
1986 didn't start out well for the Browns.
After their first seven games, the team stood at 4-3.
However, beginning with a Week 8 victory over Minnesota, the team finished the season 8-1.
Brennan hauled in 55 passes (it would be his career-high) for 838 yards and six scores.
In the Divisional Round, the Browns engaged in a marathon with the New York Jets.
In a game that needed six quarters to be decided, Cleveland finally overcame the Jets 23-20.
The following week, the Denver Broncos came to town for the AFC Championship.
Both teams were knotted at 10 by halftime.
In the fourth quarter, Brennan caught a 48-yard bomb from quarterback Bernie Kosar to put Cleveland up by seven.
"There were less than six minutes left in the game when I caught a touchdown pass thrown by Bernie Kosar that put us up 20-13," said Brennan. "When I walked over to the sidelines I was so excited I was shaking. I thought for sure we were going to the Super Bowl because I had just scored."

https://twitter.com/BrownsMockDraft/status/1415704671126122498
Brennan and the Browns faithful then watched in agony as John Elway led his team 98 yards to tie the score at the end of regulation.
The play would forever be known as "The Drive."
The Broncos scored first in overtime and dashed Cleveland's Super Bowl hopes 23-20.
"I remember standing on the sidelines watching arguably the best quarterback in the NFL at the time march the ball down the field, I began to feel a lump in my stomach developing," said Brennan.  "And then to lose in overtime at home in Cleveland, that really hurt!"
In 1987, the Browns put together a 10-6 season.
Brennan had 43 catches for 607 yards and six touchdowns.
Cleveland was experiencing a rebirth of talent the organization hadn't seen in years.
In addition to Brennan, the receiver group included Webster Slaughter and Reggie Langhorne with Kosar throwing them the pigskin.
@UniWatch Was Brian Brennan the ultimate sleeve manipulator? And did @BernieKosarQB have the longest sleeves in NFL history? Tough Questions. #ASpod #Browns #ClevelandBrowns #NFL #sleeves #uniforms pic.twitter.com/Ij7bWHRDjh

— AestheticallySpeaking (@AestheticsPod) July 9, 2020
The receivers faced the uber talented Frank Minnifield and Hanford Dixon in practice every day, ensuring that Sundays would be a little easier.
In the first round of the '87 playoffs, Cleveland handily defeated the Colts 38-21.
Brennan caught a two-yard touchdown during the game to put the Browns up 31-14.
Next, Cleveland headed to Denver to face their tormentor from the previous year.
Unfortunately, the Browns would be tortured by their nemesis yet again.
As the team drove down field in an attempt to tie the game at 38, running back Earnest Byner fumbled the ball just before he crossed the goal line.
"The Fumble" ensured that the Browns would be denied the chance at a championship for the second straight year.
Brennan and Cleveland Continue to Fall Short
After licking their wounds from two consecutive losses in the AFC Championship game, Cleveland geared up to take another run in 1988.
The team took a 10-6 record into the postseason and faced division rival Houston in the Wild Card Round.
They came up short 24-23 and faced another off-season of "what if?"
For his part, Brennan hauled in 46 receptions for 579 yards and only one touchdown.
Early in 1989, Schottenheimer left the organization after a falling out with Modell.
Bud Carson was hired to take Schottenheimer's place.
"Marty was a student of the game," said Brennan. "He played the game. He appreciated hard work and knowing your responsibilities. I did well with Marty."
Brennan's numbers fell off considerably in '89.
That season, he caught just 28 passes for 289 yards and did not reach the end zone.
The Browns finished Carson's first season at 9-6-1 then defeated Buffalo 34-30 in the Divisional playoffs.
That meant Cleveland would face Denver in the AFC Championship for the third time in four years.
After the Broncos took a 10-0 lead into halftime, Brennan got the Browns on the scoreboard with a 27-yard touchdown catch from Kosar.
Down 10-0 at halftime the #Browns scored all 21 of their points in the 3rd quarter including this spectacular Brian Brennan from Kosar touchdown. #notthedrive #notthefumble #stillhurt pic.twitter.com/DeM87Z5BC4

— Ed_in_Columbus (@ed_in_columbus) May 8, 2019
Denver scored two more touchdowns before Kosar and Brennan connected on a 10-yard touchdown.
Despite Brennan's big day, the Broncos proved too much and dispatched Cleveland 37-21.
Denver had spoiled the Browns Super Bowl hopes for the third time.
1990 and 1991
With the '89 championship loss, the Browns started coming apart.
After a 2-7 start to the 1990 season, Carson was fired.
Interim coach Jim Shofner didn't fare much better and managed only a 1-6 record the rest of the way.
Brennan saw his catch totals rise to 45 with 568 yards and two scores.
Before the 1991 season, Modell hired former Giants defensive coordinator Bill Belichick.
The team improved but still fell short of the postseason with a 6-10 record.
Brennan saw limited action under Belichick and finished the year with 31 receptions for 325 yards and a touchdown.
Brian Brennan. I remember him like the first 'third down receiver', for me, of course. He always had the ball -and many contacts from the defense- when Newsome, Slaugther and Langhorne are covered. Great times for Browns 🏈🥃 pic.twitter.com/mL38C2kRB3

— Delessov Fouts (@ArdillaRules) March 24, 2019
Belichick Releases Brennan
Brennan was looking forward to his ninth season with the Browns entering 1992 before he was summoned to see Belichick.
Upon entering the coach's office, Brennan was blindsided with some unexpected news.
"I was cut in the spring of 1992," said Brennan. "Bill Belichick was cleaning house."
Brennan still recalls Belichick's words that day.
"Brian, I'm looking for a more physical receiver," said the coach. "You are a finesse player. You've been a good player, but we're moving forward."

"I was standing there," said Brennan. "He stared at me. I looked at him. No one said anything. Then I left."

"Being cut by Belichick took a lot out of me," he said. "I thought I'd retire as a Brown…"

"It just took a lot out of me," he repeated. "I was so proud to be a Brown and to be part of all those winning teams."
After the shock wore off, Brennan was signed by cross-state rival Cincinnati.
In nine games with the Bengals, Brennan caught 16 passes for 166 yards and one touchdown.
He was then released and signed by San Diego.
Brennan lasted only six games with the Chargers, contributing three receptions for 22 yards.
"When I was with the Chargers, they had Shawn Jefferson and Anthony Miller as receivers," said Brennan. "Those guys were like Olympic sprinters. (Linebacker) Junior Seau was such a great athlete; he could play any position."
Brennan still believed he could play a few more years once the '92 season ended.
However, he also felt that his time had passed.
"At that point, you're an older guy," he said. "They are always trying to get younger. They have a draft pick they want to play. They can cut you any time. You become expendable."
With that, Brennan retired.
In nine years in the league, he caught 334 total passes for 4,336 yards and 20 touchdowns.
Busy in Retirement
Brennan's belief in himself as a pro was warranted.
Except for Irving Fryar, Brennan and Louis Lipps, every receiver selected in the 1984 draft fell short of expectations.
Only Fryar and Lipps had more career receptions than Brennan.
Brennan also vastly outperformed '84 fourth overall pick Kenny Jackson (334 total catches to Jackson's 126).
While he was playing in the NFL, Brennan kept one eye on his retirement.
During the off seasons, he worked at McDonald Investments.
The company was later purchased by Key Bank.
Since retiring, Brennan has continued working for Key as the Managing Director and Division Head for Fixed Income.
Brennan, his wife Bethany, and their three kids returned to the Cleveland area as well after hanging up his cleats.
"This became home," he said. "I identified with the city, the fan base, everything. It was so special playing here."

https://twitter.com/moyer3282/status/1308440628162899968
Brennan believes that the lessons he learned as a football player helped him succeed in life as well as his new career.
"No matter what talent level anyone has, in football or any other discipline, you get to the top through good habits, hard work, and with help from others who have the same goals that you have."