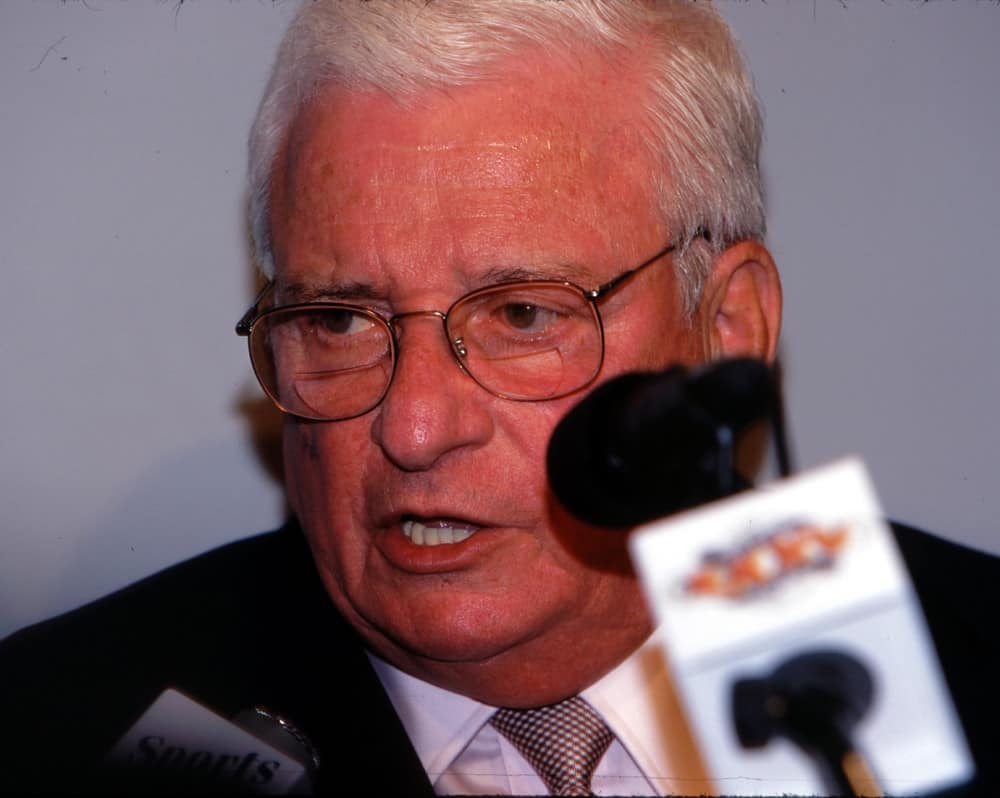 The Cleveland Browns have a checkered past when it comes to the history of their owners.
Arthur "Mickey" McBride was the first owner and oversaw a dynasty.
Presently, the Browns are owned by Jimmy and Dee Haslam.
The Haslam's have not even remotely experienced the success McBride did.
In 1961, Art Modell bought the Cleveland Browns for $4 million.
Modell was a self-made businessman who wanted to own a professional ball club.
After taking over the team, he embarked on a 35 year odyssey that saw glorious highs and terrible lows.
Unfortunately, Modell's legacy with the Browns is tarnished due to a couple less-than-popular decisions.
Nov. 6/1995 – Cleveland Browns owner Art Modell announces that he is moving the Browns to Baltimore. pic.twitter.com/C2FhPPpP2m

— Today In History (@TodayThatWas) November 6, 2020
This is the story of the life and career of Art Modell.

Early Life
Arthur Bertram "Art" Modell was born on June 23, 1925 in Brooklyn, New York.
Modell witnessed a harsh taste of life in the business world at a young age.
His father, George, was a wine sales manager who lost everything when the stock market crashed in 1929.
George Modell would pass away when Art was only 14.
Modell attended New Utrecht High School in Brooklyn.
However, he dropped out of school when he was 15 to help support his family.
Modell's first job was cleaning the hulls of ships in a Brooklyn shipyard.
Three years later, Modell joined the U.S. Army Air Corps at the height of WWII.
After his service time ended, Modell enrolled in a New York City television school.
Television was slowly making its way into the collective conscience of the population.
Modell seized on this new opportunity and formed a production company with a fellow student in 1947.
In 1949, Modell and his partner produced one of the first daytime shows in America called Market Melodies which was a show about cooking and decorating.
Modell pitched his show idea to the Grand Union grocery store chain.
Grand Union bought the show and Modell then proceeded to install television sets in the aisles of the chain's stores.
The novelty of this medium took off and the show was a huge hit.
Using his success with Grand Union, Modell was hired in 1954 as a senior account executive at L.H. Hartman Co. in New York City.
Modell succeeded at Hartman as well and soon became a partner.
In 1958, Modell bought Gold Seal Vineyards, a New York State champagne maker.
Two years later, the Hartman company dissolved and Modell was hired as senior vice president of the advertising company Kastor, Hilton, Clifford, and Atherton.

Modell Purchases the Browns
By 1961, Modell had become a successful businessman.
He was well connected in the television and advertising industries and he was adept at public relations.
Wanting to make a name for himself on a grander scale, Modell maneuvered to buy the Browns in '61.
In a pitch to then president and partial team owner Ellis Ryan, Modell and a group of partners offered to buy the team for $4 million.
The deal was approved shortly after discussion with Ryan and his partners.
For his part, Modell invested $250,000 of his own money, borrowed $2.7 million, and had his partners foot the rest of the bill.
After the sale was completed, Modell was given control of the Browns.
Modell Gives Brown the Boot
After Modell's purchase of the Browns was approved by the league, Modell made it public that he supported longtime coach Paul Brown.
However, in a departure from the past, Modell explained that he would be running the front office.
Since the team's founding, Brown had coached the Browns as well as ran the personnel department which included drafting, trading, and signing players.
Modell told the Cleveland public that Brown would still be coach and general manager.
However, Modell would run everything else.
"In my opinion he (Brown) has no peer as a football coach," said Modell in an interview shortly after he bought the team.  "His record speaks for itself. I view our relationship as a working partnership.  Paul will attend the league meetings with me. He will de­cide any questions about player personnel and field operations. I am assuming the responsi­bility for such things as finances, admissions to the league, promotion and that type of thing.  We'll be consulting fre­quently. I don't like to outline any delineation of duties. As I said before, we'll be partners in the Browns operation."
For his part, Brown assumed he still had control of all matters team related.
"I still will do the hiring and firing as before and control the factors important to the suc­cess or failure of the team. Fi­nancial and promotional as­pects will be his (Modell's) problems."
Unfortunately, that relationship lasted only a few short years.
While compiling an 8-5-1 record in 1961 and finishing 7-6-1 in 1962, Brown believed he would continue to coach the franchise he helped start for the foreseeable future.
By the end of the '62 season, some of Brown's players began to tire of the coach's teaching methods.
The disgruntled players, which included Milt Plum and Jim Brown, went to Modell to complain.
Before the 1962 season, Brown traded running back Bobby Mitchell and their first-round pick, Leroy Jackson, to the Washington Redskins in exchange for Heisman Trophy winner Ernie Davis.
Not long after the transaction, Davis was diagnosed with leukemia.
As he was undergoing treatment for the disease, some doctors and football insiders (Modell included) believed that Davis could play football.
However, Brown did not want to exacerbate Davis' condition by playing him and opted to have Davis sit out the '62 season.
For Modell, the fact that Brown did not play Davis was the final nail in the coffin.
By then, the two had a strained relationship and, between the player complaints and the Davis fiasco, Modell had had enough.
On January 9, 1963, the owner fired Brown and replaced him with Blanton Collier.
In May of that same year, Davis passed away due to complications from Leukemia.
51 years ago today, Art Modell fired legendary coach Paul Brown, for whom the Cleveland Browns were named. pic.twitter.com/evDpMm8u6H

— Moments in Sports (@Sport_Moment) January 9, 2014
The Browns Return to Glory
Understandably, when Brown was fired, the Cleveland fan base exploded.
Brown had won seven world titles with his namesake team and played in four other championship games.
He was responsible for putting professional football on the map in Cleveland and now he was gone.
The fanbase recovered fairly quickly though.
Two years after his ouster, the Browns won their eighth world title under Collier.
Then, from 1965-1969, Cleveland played in three more championship games but lost all three.
Modell Gives Brown the Boot, Part II
While Cleveland was back on track and regularly appearing in NFL Championship games, Modell was in the news again because of a squabble with another Brown.
This time, Modell's issue was with future Hall of Fame running back Jim Brown.
Since his rookie season of 1957, Brown had consistently performed at the highest level.
He had been selected to the Pro Bowl every year he played and was a recipient of countless awards and accolades.
After the 1965 season (when he rushed for over 1,500 yards and scored a combined 21 touchdowns rushing and receiving) Brown was in Europe filming The Dirty Dozen.
Due to poor weather, the production of the movie was delayed and it appeared that Brown would miss time during training camp for the 1966 season.
Modell did not want Brown to miss any training camp time and threatened to fine his star $1,500 each day he missed camp.
He then sent out a message to Brown for all the world to see.
"'No veteran Browns player has been granted or will be given permission to report late to our training camp at Hiram College — and this includes Jim Brown," said Modell.  "Should Jim fail to report to Hiram at check-in time deadline, which is Sunday, July 17, then I will have no alternative to suspend him without pay. I recognize the complex problems of the motion picture business, having spent several years in the industry. However, in all fairness to everyone connected with the Browns — the coaching staff, the players and most important of all, our many faithful fans — I feel compelled to say that I will have to take such action should Jim be absent on July 17."
Brown had already been considering retirement after the 1966 season.
With this ultimatum, and the fact that he wanted to continue in his movie role, Brown chose to retire.
He was 29 years old.
Art Modell was also one of the reasons Jim Brown retired in his prime (He was only 30) pic.twitter.com/FjgzZxF8Vd

— 216 Sports History (@History_Cle) January 23, 2017
Years later, Modell admitted in the book When All the World was Browns Town that he didn't use his best judgement in his handling of Brown.
"I may have acted hastily (with Brown) in 1966. If I had told him to just forget training camp and show up when he could, I think he would have returned. But it wasn't fair to the coaches and players."
Modell Helps Propel the NFL into the Future
Using his business acumen, Modell helped the NFL transform from an afterthought to the behemoth it would become.
Shortly after becoming owner, Modell became active in NFL leadership.
He served as league president and banked on a marriage of television and football.
Modell's connections in the television industry helped pave the way for big money contracts between the industry and the NFL.
Modell also tapped his marketing side by offering to have the Browns host the first primetime Thanksgiving game in 1966.
He then worked with league Commissioner Pete Rozelle to start Monday Night Football in 1970.
At the end of Week 1 of the '70 season, the Browns faced Joe Namath and the Jets before a national audience.
Cleveland ended the day as victors with a 31-21 win.
Contract Battles Lead to Fan Animosity
As owner of the Browns, Modell didn't always endear himself to players and fans.
First, there was the issue of Brown not reporting to camp on time and then retiring.
Then, in 1967, five members of the team were embroiled in a contract dispute with Modell.
It was lost on no one that all five players were African-American.
To make matters worse, most of them were eventually traded or released.
Only running back Leroy Kelly was spared.
Modell later sparred in contract battles with defensive end Jack Gregory and punter Ron Skladany.
The accumulation of in-fighting caused fans to revolt.
Their animosity boiled over when anti-Modell banners began finding their way into old Cleveland Stadium.
The nefarious signs were quickly removed by stadium security.
Modell's Issues with the Indians
In 1973, Modell took over control of Cleveland Stadium.
As de facto landlord, Modell benefitted from their shared tenants, The Cleveland Indians.
Although the Indians were not overly competitive in the 1970s and 1980s, Modell still benefitted.
The team paid Modell in rent and Modell, in turn, did not share any revenue with the Indians that included luxury seating during baseball games.
Seeing no end to his miserly ways, the Indians sought to extricate themselves from Modell and Cleveland Stadium.
By the early 1990s, the Indians talked the City of Cleveland and the residents of Cuyahoga County into funding a new ball park through taxes.
The move proved successful and Jacobs Field (later renamed Progressive Field) opened in 1994.
Near Misses and Cutting Kosar
Throughout the 1980s, the Browns put together a formidable team that eventually appeared in three AFC Championship games.
Unfortunately, the team lost all three games to the Denver Broncos.
Two of the games would go down in NFL history as "The Fumble" and "The Drive" and were notable for the agonizing last-second losses by the Browns.
As the 1990s got underway, a new coach tried to lead Cleveland to the promised land.
Bill Belichick was hired by general manager Ernie Accorsi in 1991.
29 years ago today owner Art Modell introduced Bill Belichick as the new coach of the Browns. Belichick went 37-45 in his five seasons on the shores of Lake Erie, and that total includes a 1-1 playoff record. Who could have guessed six titles would await him in Foxboro? #Browns pic.twitter.com/DzOKJKKUSm

— Johnstone (@JStoneTrivia86) February 5, 2020
Two years later, Belichick and quarterback Bernie Kosar (a fan favorite and Ohio native) made national headlines.
After Kosar refused to kneel down to end a game against the Broncos, Belichick cut him the following day.
Before doing so, Belichick spoke to Modell about his strained relationship with the quarterback.
Modell signed off on the move and Kosar was sent packing.
I was 10 when Art Modell and Bill Belichick cut Bernie Kosar. 😢 pic.twitter.com/3GXggG8Qqg

— Danny Neckel (@DNeckel19) September 8, 2020
The Browns Move to Baltimore
As the Browns struggled on the field during the early 90s, the Indians were finding success in their new home.
In 1995 and 1997, the team made it to the World Series and Jacobs Field sold out 455 straight games between 1995-2001.
Modell was offered the chance to be part of the new Gateway Sports and Entertainment Complex that was set to open in 1994.
However, he insisted that the city make improvements to Cleveland Stadium instead.
The city eventually agreed to make the improvements through local taxes.
While the public received the news about the face lift to the Browns facility, Modell was secretly negotiating with the City of Baltimore.
It was his desire to move to a new city that would build him and his team a new state-of-the-art facility.
Meanwhile, Modell continued to act as if he was trying to work with the City of Cleveland on a stadium upgrade.
Writing to then Cleveland mayor Michael White and Ohio governor George Voinovich, Modell expressed concern that the tax referendum to pay for the Cleveland Stadium upgrades might not be enough.
To this day, many believe that this was Modell's way to ensure the referendum would fail and he would have an excuse to move to Baltimore.
However, the referendum ended up passing by a large margin, opening the doors for Modell's desired upgrades.
Instead, Modell ignored the vote and chose to move to Maryland anyway at the end of the 1995 season.
25 years ago today Art Modell announced the Browns were moving to Baltimore. The Ravens first two draft picks in 1996 were Jonathan Ogden and Ray Lewis, both now in the HOF. Since 2000 Baltimore has a playoff record of 15-10 with two Super Bowl championships. #RavensFlock #Browns pic.twitter.com/482qOOlqYe

— Johnstone (@JStoneTrivia86) November 6, 2020
On the day the move was announced to the public, Modell shared the following:
"This has been a very, very tough road for my family and me. I leave my heart and part of my soul in Cleveland. But frankly, it came down to a simple proposition: I had no choice."
Understandably, this enraged the Cleveland fan base.
Modell had previously promised that he would never move the team.
In fact, he had been a vocal opponent of the Colts move from Baltimore to Indianapolis as well as the Raiders move from Oakland to Los Angeles.
As part of negotiations between Modell and the city of Cleveland, Modell relinquished the name "Browns" as well as the team colors and heritage in case a franchise returned to Cleveland in the future.
As the final game of the '95 season was coming to a close, Browns fans tore apart the stadium partly in anger and partly to collect a souvenir.
Witnessing the scene unfolding before him, television commentator, and former NFL player and coach, Mike Ditka was sympathetic to the fans.
"…these are some of the best fans in the NFL. I said that when I came here with my Bears. They (the Cleveland sports fans) don't deserve this. If Modell had any sort of sense of dignity he would have sold the team."
Cleaning Out My Desk Part 62: The final game at Cleveland Stadium in 1995. Dawg Pound and Jim Brown. Browns beat Bengals 26-10. Still hurts. I still hate Art Modell@WCPO pic.twitter.com/pY1TjbPOUi

— John Popovich WCPO (@Popo_WCPOSports) November 27, 2019
In 2004, Modell shared with reporters the reason he decided to move the franchise to Baltimore.
"I'll tell you one thing which I've never said before at any time," he said. "If I didn't move my team to Baltimore, my family would've gone to bankruptcy. I had to [move]. I couldn't afford it. You declare bankruptcy in the NFL, and it's an automatic revocation of your license. They strip you of the ballclub."
Ravens Success and Super Bowl Appearances
Before the team relocated to Baltimore, Modell fired Belichick.
After briefly considering an attempt to hire Don Shula away from the Dolphins, Modell hired Ted Marchibroda as his new coach.
However, the franchise continued to falter and Marchibroda was replaced by Vikings assistant Brian Billick in 1999.
Billick got to work on building around a ferocious defense that included future Hall of Famer Ray Lewis.  In 2000, the Ravens went 12-4 and tore through the playoffs.
They won Super Bowl XXXV by dismantling the New York Giants 34-7.
Baltimore returned to the playoffs in 2001 and 2003, but failed to make it back to the title game.
R.I.P. Art Modell. A man who brought football to baltimore, who was a leader in bringing the NFL to television. pic.twitter.com/4b7BrWLC

— Matthias Drywater (@MDryH2O) September 7, 2012
NFL Forces Modell to Sell the Ravens
By 2002, the Ravens were experiencing severe financial strain.
This was in spite of not having a stadium lease, collecting all the revenue from concessions, television, and parking, and receiving $25 million per year in state subsidy money.
Due to this fairly obvious mismanagement of funds, the NFL directed Modell to sell the Ravens.
This was an unusual intervention on behalf of the league.
In 2003, Modell found a buyer in minority owner Steve Bisciotti.
By the following year, Bisciotti owned the team outright with Modell keeping a 1% stake and an office at team headquarters.
After 44 years as an owner, Modell was without a team.
Death and Legacy
On September 6, 2012, Modell passed away due to natural causes.
He was 87.
His legacy is difficult and depends on whom you ask.
Browns fans have responded vehemently about Modell, citing his axing of both Paul and Jim Brown as well as getting rid of Kosar.
For many Cleveland fans, it does not matter that the team won an NFL Championship in 1964 or appeared in three AFC Championship games in the 80s under Modell's watch.
His sins involving both Browns, Kosar, and moving the team to Baltimore have forever tarnished his legacy in Cleveland.
Baltimore fans feel a little differently about Modell.
He was responsible for returning a professional football team to the city.
He also helped build the Ravens into a title contender that frequently appeared in the playoffs.
I have a great legacy, tarnished somewha by Art Modell … pic.twitter.com/gR4mw8Xpgs

— Daily Quotes&Sayings (@DailyGreatest) May 29, 2018
Of course, that fact alone is what embitters Cleveland fans even more.
Modell helped the Ravens win a Super Bowl.
Even worse, they won the title at a time when the Browns were an expansion team suffering through growing pains.
Despite the vitriol from the Cleveland fan base, there are a number of NFL personnel that believe Modell belongs in the pantheon of owners.
One is former Giants owner Wellington Mara who said of Modell, "I don't think I know a person who has done more for the league than Modell, especially through television."
Another vocal Modell proponent is current league commissioner Roger Goodell.
Despite Modell's alienation of Browns fans, Goodell hopes that fans can remember the contributions that Modell brought to the professional game.
"Art Modell's leadership was an important part of the NFL's success during the league's explosive growth during the 1960s and beyond," NFL Commissioner Roger Goodell said in a statement. "As the longtime chairman of the league's Broadcast Committee, Art was a visionary who understood the critical role that mass view of NFL games on broadcast television could play in growing the league. Art played important roles in many other league matters as a key adviser to [former commissioners] Pete Rozelle and Paul Tagliabue, and also built championship teams in Cleveland and Baltimore."