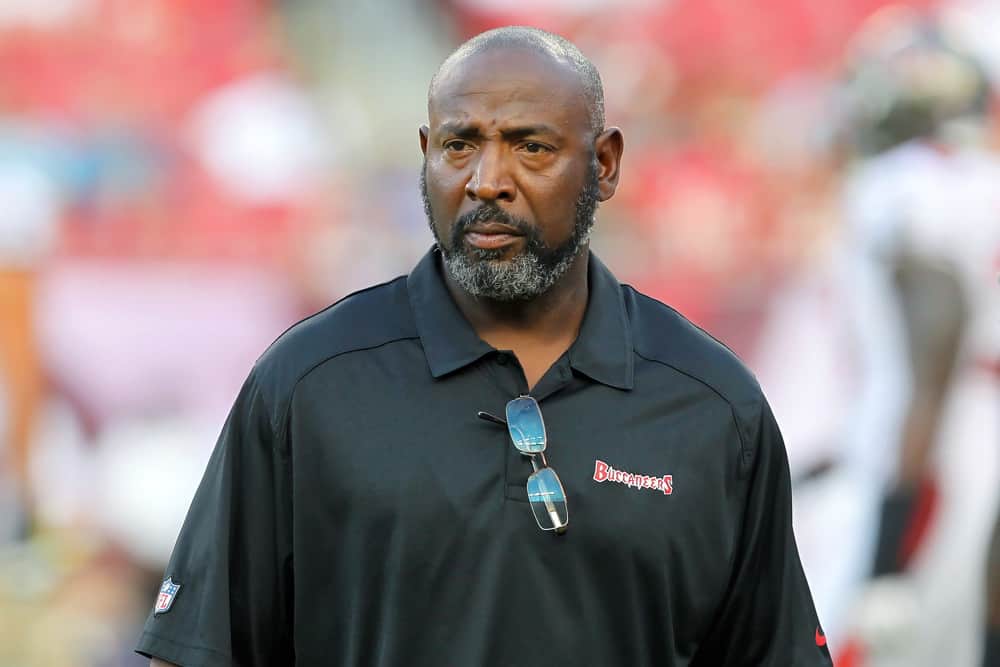 Imagine for a moment that you are a late round NFL draft pick that actually makes the team.
Then, you play in the pro game for 14 years and are involved in numerous big games including the Super Bowl.
Now imagine that your entire career is remembered for one play, which happens to be your worst memory.
Never mind that the rest of that day had been huge.
Your one mistake cost your team a victory and you spend the next three decades agonizing over it.
That moment encapsulates Earnest Byner.
After making it to the NFL from a small town in Georgia, Byner became one of the best dual threat running backs in the league.
He helped return the Cleveland Browns to respectability in the late 1980s.
Then, just when it looked like he would be a playoff hero, he was stripped of the glory, along with the football.
This is the story of Earnest Byner.
Earnest Byner #44
Kevin Mack #34
Name a better duo. Bet ya can't.
Vintage #Browns pic.twitter.com/8kQPCgAdlY

— Vintage Browns (@VintageBrowns) August 8, 2019
Early Life and College
Earnest Alexander Byner was born on September 15, 1962 in Milledgeville, Georgia.
He was raised by his grandmother, a teacher, who encouraged Byner to go above and beyond in everything he did.
Byner became a small town sports hero growing up in Milledgeville.
He played football well enough in high school that he was offered a scholarship to play for East Carolina University.
Playing fullback for the Pirates, Byner did not get a lot of carries initially.
He gained 419 total yards in his freshman and sophomore years along with two touchdowns.
Then, beginning his junior year of 1982, Byner had a sharp uptick in carries.
In 1981, he carried the rock 28 times.
The following year, that total jumped to 139.  Getting the opportunity to run the ball more often, Byner took advantage.
From 1980-83, Earnest Byner bowled over every defender in his path, averaging 5.4 yards per carry. After a distinguished 14 year NFL career, Byner retired with multiple Pro Bowl appearances and 2 Super Bowl rings. #TBT pic.twitter.com/No8seIYzDw

— ECU Athletics (@ECUAthletics) August 2, 2018
In '82, he gained 768 yards along with five scores on the ground and another through the air.
As a senior, Byner had 862 yards on 174 carries for five total touchdowns.
His combined 2,049 career yards from scrimmage got the attention of NFL teams.
In preparing for the 1984 draft, however, Byner wasn't sure when he would be selected.
"I just wanted to be drafted to tell you the truth because I had a wife and a baby girl at that point. I just wanted to be drafted," Byner said.  "I had heard I was going to be drafted — maybe in the fourth round — but it didn't happen. I was on Day 2, almost the 11th round. Got drafted in the 10th round. It was either the last pick or the next-to-last pick."
Byner recalled that moment years later and remembers saying that all he needed was an opportunity.
"For some reason, my agent — we were sitting across the table like you and I are — and I had the confidence to tell him all I need is a chance to get on the team and I can play," he said.
Eventually, the Browns took Byner with the 280th overall pick in the 10th round.

Rookie Year
As a small school and late round draft pick, Byner didn't have good odds to survive his rookie training camp.
However, he believed that he would shine once he got on the field.
"…when I initially got (to Cleveland) and got started, it was like almost automatic, like it was destiny that I would be on the Browns team and eventually get a chance at making something of myself, making myself into a player."
Byner made the team and ended up starting in three games during the 1984 season.
He ended the year with 426 yards on 72 carries and two touchdowns.
Byner also had 11 catches for 118 more yards.
The Browns ended the year at 5-11 and fourth place in the AFC Central.

Byner is Paired with Mack in 1985
After the '84 season, the Browns brought in running back Kevin Mack who had played ball that season with the Los Angeles Express of the USFL.
It looked like it was going to be a crowded running backs room, but Byner and Mack made the most of it.
From the meadow emerges #Browns Kevin Mack and Earnest Byner, the NFL's third-ever duo to each reach 1,000 rushing yards in the same season (1985). pic.twitter.com/agP5as01L1

— Kevin Gallagher (@KevG163) July 21, 2018
Emphasizing a ground-and-pound attack, Byner and Mack combined to rush for over 2,000 yards.
Byner himself had 1,002 yards on 244 attempts and an additional 460 receiving yards to go with 10 total touchdowns.
The duo sparked the Browns to improve to 8-8 and a surprising first place finish in the division.
Cleveland faced the Miami Dolphins in the Divisional playoffs and gave the Fins a run for their money.
Miami entered the game at 12-4 and looked like they would mop the floor with the Browns.
However, with the help of Byner's 21-yard touchdown run in the second quarter, Cleveland held a 14-3 lead at the half.
When the teams returned from the break, Byner kept the Browns' dream season alive when he burst through the line for a 66 yard touchdown run.
That put the Browns in front 21-3.
Unfortunately, the Dolphins and quarterback Dan Marino proved to be too much, scoring 21 unanswered points to end the game.
The result was a 24-21 Miami victory and the Browns were sent home.

1986
Before 1986, the last time the Browns made it to the AFC Championship game was in 1969.
That streak ended with the assemblage of talent Cleveland had in the locker room.
Byner and Mack, quarterback Bernie Kosar, receivers Reggie Langhorne and Webster Slaughter, tight end Ozzie Newsome, linebackers Clay Matthews Jr. and Chip Banks, and defensive backs Frank Minnifield and Hanford Dixon were the core of a unit that put their opponents through the paces.
In '86, Byner suffered an ankle injury and played in only seven games.
The result was 277 rushing yards and 328 receiving yards and four total touchdowns.
Cleveland went 12-4 and defeated the Jets 23-20 in two overtimes during the Divisional playoffs.
One week later, the Browns fell to the John Elway led Broncos 23-20 in overtime after Elway led Denver on "The Drive" to tie the score at the end of regulation.

1987 and "The Fumble"
Byner recovered from his injury the year before to improve his numbers to 432 rushing yards and 552 passing yards with 10 scores.
Meanwhile, the Browns finished the year 10-5 and first in the AFC Central.
In the Divisional round, Byner scored on both a run and a pass to help led Cleveland to a 38-21 victory over the Colts.
On January 17, 1988, Cleveland traveled to Mile High Stadium in Denver to face the Broncos in the AFC Championship game for the second year in a row.
At one point, Cleveland was down 28-10, but mounted a comeback to make it a game.
By the time the 4th quarter was nearing its conclusion, Byner had a 32-yard touchdown pass from Kosar along with a four-yard rushing score.
After Elway led Denver on a touchdown drive to take the lead 38-31, the Browns got the ball back with a little over three minutes remaining.
Byner began the drive with a 16-yard run followed by a two-yard scamper.
Late in the drive, Byner gained another six-yard run.
Then, Denver linebacker Karl Mecklenburg was called for holding and the ball was moved to the Broncos eight-yard line with 1:12 remaining.
Since Byner had 67 yards rushing and a team-high 120 yards receiving for the day, all of America knew who was getting the ball.
At the snap, Kosar handed off to Byner who took the ball and headed to the left side of the field.
What happened next would haunt Byner for years to come.
"It was late in the drive; we had been balanced the whole second half, trying to get back into the game. We finally got back into the game, and it seemed like we had an opportunity to tie the game… It was a play that we ran earlier in the series, and it had bounced very similarly for a different reason," Byner explained. "This time, they cross-faded the tight end [Ozzie Newsome] and my guard [Dan Fike] bounced out — he actually lost the guy and I bounced out. My focus was more on [Broncos safety Tony] Lilly then Jeremiah Castille. I'm thinking that I'm going to run over Lilly, and I pulled the ball in, and — for some reason — I want to let Jeremiah drop off, and while I was doing that, the ball came out."
The ball was indeed stripped by Denver defensive back Castille and the Broncos fell on the ball, ending the Browns Super Bowl hopes.
Earnest Byner the fumble pic.twitter.com/ObpJG89uB6

— Robyn (@reversethespin) July 27, 2019

Despite his career day, Byner would forever be associated with "The Fumble" and, once again, the Browns would have to 'wait for next year.'

1988
In 1988, Byner worked to put the pain of his gaffe behind him.
He rushed for both 576 rushing and 576 receiving yards to pair with five touchdowns on the season.
Cleveland went 10-6 and returned to the playoffs to face the Oilers in the Wild Card round.
During the game, Byner had a combined 67 rushing and receiving yards but was held scoreless.
Houston ended the Browns season 24-23.

Byner Leaves for Washington
Byner was five years into his career and a valued member of the Cleveland organization.
He had fumbled during a crucial situation in a playoff game, but other than that, he looked to be a solid Browns contributor for years to come.
That was, until, late April of 1989.
Needing a serious upgrade to their running back position, the Redskins offered to trade Mike Oliphant to the Browns for Byner.
Surprisingly, Cleveland agreed despite the fact that Oliphant had gained all of 30 yards rushing in his rookie 1988 year.
In 1989, Byner was paired with a fellow newly signed free agent in Gerald Riggs.
The duo combined for 1,939 total yards and the 'Skins finished third in the NFC East with a 10-6 record.
The following year, Washington again finished 10-6 and Byner had the best rushing total of his career with 1,219 yards and six touchdowns.
He was voted to his first Pro Bowl after the season.
Happy Birthday to Redskins great Earnest Byner! #HTTR!! pic.twitter.com/szsj0qeBiC

— Redskins Facts (@redskinsfacts) September 15, 2015
In the first round of the playoffs, the Redskins defeated the Eagles 20-6.
They advanced to face the mighty 49ers the following week.
San Francisco ended Washington's season 28-10.
For the postseason, Byner collected 177 total yards.

1991 and the Super Bowl
Byner had another productive season in 1991 rushing for 1,048 yards along with 308 yards receiving and five touchdowns.
He was also voted to his second consecutive Pro Bowl and was named a Second-team All-Pro.
Washington was a juggernaut that year, winning their first 11 games on the way to a 14-2 season.
In the Divisional round, the 'Skins dispatched Atlanta easily 24-7.
The following week, the upstart Detroit Lions squared off against Washington but were no match for Byner and his mates in a 41-10 loss.
That victory put Byner in his first Super Bowl and a chance at redeeming his career.
Washington locked horns that day with the Buffalo Bills. 
Buffalo was known for their high flying offense and nearly equally tough defense.
By the end of the first quarter, neither team could find footing and the score was tied at zero.
Washington got their act together in the second quarter and scored a field goal followed by Byner hauling in a 10 yard touchdown reception from quarterback Mark Rypien.
The Redskins kept pouring on points and, by the end of the game, Buffalo was in catch-up mode.
It was too little, too late as Washington completed their dream season 37-24.
Byner's stats for the postseason were 203 total yards and the touchdown in the Super Bowl.

1992 & 1993
1992 saw the 'Skins take a step back at 9-7, although their record was enough to get them into the playoffs for the third year in a row.
Byner was two yards from cracking the 1,000-yard rushing mark, ending the year with 998 rushing yards, 338 receiving yards, and seven total scores.
In the Wild Card round against Minnesota, Byner had a three-yard score and Washington advanced 24-7.
The following week against San Francisco, the Redskins ran out of gas and were defeated 20-13.
Byner's postseason totals were 142 total yards and one touchdown.
In 1993, Byner struggled with injuries again and was limited to 105 yards rushing, 194 receiving, and one score.
The Redskins missed the postseason with a dismal 4-12 record.

Return to Cleveland
Byner became a free agent after the 1993 season.
After getting interest from the Jets and the Browns, Byner chose to re-up with Cleveland.
His timing couldn't have been more perfect.
After four straight losing seasons, Cleveland returned to the postseason under coach Bill Belichick.
Byner started only one game during the year and his season totals were 219 rushing yards with two touchdowns and 102 receiving yards.
The Browns finished the year 11-5 and met the Patriots in the Wild Card round.
Cleveland dispatched New England 20-13 and next faced division rival Pittsburgh.
Unfortunately, the Steelers proved too much and the Browns season ended with a 29-9 loss.
Byner's contribution in the playoffs amounted to 103 total yards.
In 1995, the Browns regressed to 5-11.
Byner had a better year despite starting only two games.
Now paired with running back Leroy Hoard, Byner accumulated 926 total yards and four total scores.

Byner and the Browns Move to Baltimore
As the '95 season drew to a close, owner Art Modell told the Cleveland faithful that the team would be moving to Baltimore after the year.
Shock and disbelief led to rage as the Browns headed east and Cleveland lost its beloved football team until 1999.
In 1996, Byner had his best rushing total since 1992 with 634 yards and four touchdowns.
He added 270 yards and one more touchdown through the air.
Basically an expansion team, the Ravens completed their inaugural season 4-12.
On this day in 1996, the #Ravens played their first game in franchise history! Earnest Byner had the game-winning TD. pic.twitter.com/DC3j2khdEh

— Baltimore Ravens (@Ravens) September 1, 2014
In 1997, Byner started five games, gained 313 rushing yards and 128 receiving yards.
Baltimore slightly improved to 6-9-1.
Following the season, Byner decided that 14 years was long enough and retired.
For his career, Byner rushed for 8,261 yards, accumulated another 4,605 yards in receptions and tallied 71 combined touchdowns.
He was a two-time Pro Bowler, a Second-team All-Pro, and a Super Bowl winner.
After retiring, Byner was named one of the 80 Greatest Redskins and was placed in the Ravens Ring of Honor.

Second Career as a Coach
Byner stayed close to the game after retiring as a player.
In 1998, he took a job with the Ravens as Director of Player Development.
That year, Byner was also placed in the East Carolina University Hall of Fame.
After the 2000 season, the Ravens defeated the Giants 34-7 and Byner got a second Super Bowl ring.
He continued in that position through the 2003 season.
The Redskins hired Byner in 2004 to be their running backs coach and he served in that capacity through 2007.
In 2008, the Titans hired Byner to be their running backs coach.
Jacksonville was next in line for Byner's services from 2010-2011.
Then, Tampa Bay brought him into the fold in 2012-2013.

Still Suffering from "The Fumble"
Despite the fact that Byner had a long, productive career, won two Super Bowls as a player and coach, and mentored countless aspiring pros, he still couldn't shake one mistake.
In 2016, Byner laid bare his soul during the "Believeland" documentary.
In the program, Byner apologized for his fumble during the Browns playoff loss to the Broncos in 1987.
Inside Earnest Byner's emotional apology at the heart of #Believeland, airing now on ESPN: https://t.co/gW03lEg0d8 pic.twitter.com/QZNNkT3voS

— ESPN (@espn) May 15, 2016
"I felt like I did let a lot of people down," Byner said.  As a matter of fact, I know I did. I accept that responsibility."
Byner went on to say that he couldn't get over that one tiny part of his career because of how many people were affected.
He eventually had to forgive himself and ask others to forgive him as well.
"After the fumble I was never as free of a football player," he said. "I was still playing good. I was still playing at a high level, but because of how I took that and how I allowed other people to influence how I took it, it was something that did really start to kind of take [over] me from inside out. I had to actually forgive myself after a while.  It has been a process."
It goes without saying, Byner's fumble during the 1987 playoffs should in no way diminish his career.
What he has accomplished as a player, coach, and as a person leaves no doubt that he has more than redeemed himself.