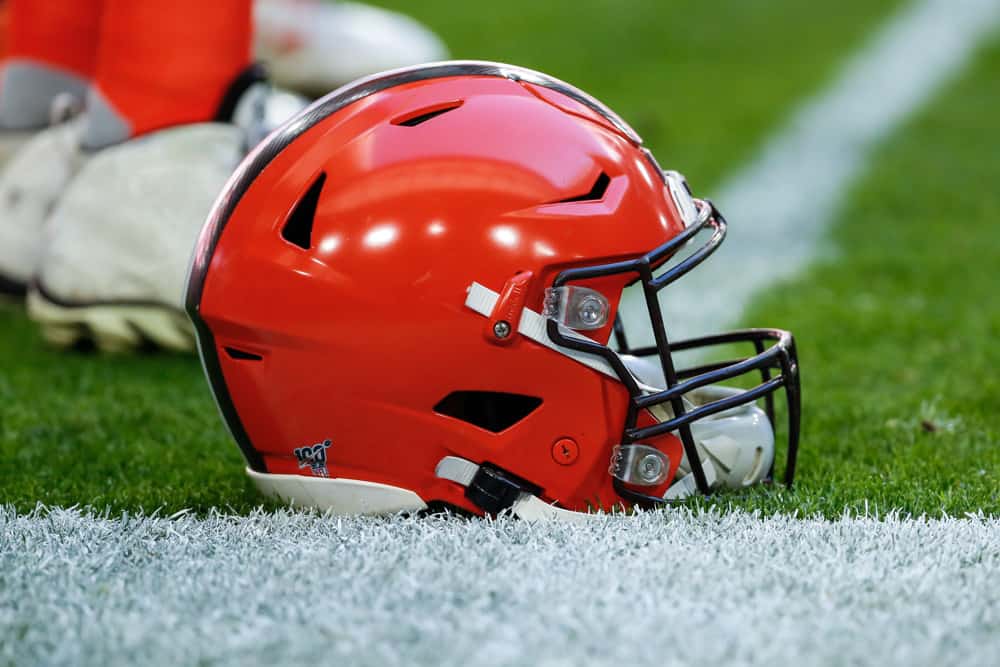 Kevin Stefanski continues to round out a young and diverse coaching staff for the Cleveland Browns.
His emphasis has been to find coaches who like to teach and can garner credibility from his players.
Brandon Lynch is such a coach.
"It's making sure that guys are doing things right on and off the field and guys are giving the best effort to the team."

Meet our new assistant defensive backs coach Brandon Lynch » https://t.co/dzI11V9gFY pic.twitter.com/l0H7lQRVIh

— Cleveland Browns (@Browns) February 20, 2020
If his coaching resume doesn't win over the Browns' defensive backs, he brings another prop to the locker room.
Lynch was a cornerback for the 2006 Super Bowl Champion Indianapolis Colts.
If anyone needs the motivation to work harder, a wave of that ring should do the trick.
Even if Lynch spent more time on the practice squad than gameday sidelines.
Super Bowl and Grey Cup Champion
Brandon Lynch was a two-time defensive captain (and three-year starter) for Middle Tennessee.
He went undrafted but that didn't stop him from pursuing his NFL dream.
Lynch latched onto the Tennessee Titans for parts of 2004.
He was signed and released to the Colts' practice squad in 2005.
Indianapolis re-signed the cornerback-safety in 2006.
In 2007, Lynch opted for a more active playing role in the Canadian Football League.
He played linebacker and safety for the Saskatchewan Roughriders for three seasons.
One year after winning a Super Bowl, Lynch helped the Roughriders win the Grey Cup.
In Lynch's final season, Saskatchewan finished as the Western Division Champions.
Kicking Off a Coaching Career
After hanging up his cleats, Brandon Lynch immediately pursued coaching opportunities.
College coaching internships at Wilmington and Sacramento led to his first college assistant coaching job.
Lenior-Rhyne University in North Carolina added Lynch as a secondary coach in 2011.
He stayed on until 2013 when the University of Northern Iowa signed him as a secondary coach.
Lynch was promoted to associate head coach for defense in 2015.
#ECU announces the hire of Brandon Lynch, former Northern Iowa assistant, as defensive back coach

— Zach Maskavich (@ZachMaskavich) January 15, 2017
His last college-level position was with Eastern Carolina University.
After serving as a defensive backfield coach in 2017, Lynch worked specifically with cornerbacks the past two seasons.
There Was Also a Visit to Minnesota
In 2013, Lynch took part in the Bill Walsh Minority Intern Program.
He worked with the Minnesota Vikings where he counted Joe Woods as one of his mentors.
Lynch continued to call on Woods for advice as his college career continued.
Woods' first season as an NFL defensive coordinator now includes his former intern.
New #Browns defensive coordinator Joe Woods. pic.twitter.com/HEkDDcb2kb

— Tom Withers (@twithersAP) February 19, 2020
Another recent addition to the Browns staff was just breaking into the NFL as a Vikings defensive assistant in 2013.
Jeff Howard is now the Browns' defensive pass game coordinator/defensive backs coach.
Lynch, Woods, and Howard will work closely again to improve the Browns defense.
Lynch's Minnesota connection was not lost on the Browns' head coach.
"He interned with us back at the Vikings with Leslie Frazier and when Joe was there. We have some mutual people that highly recommended Brandon in this role," said Stefanski.
That's not to say Lynch was an automatic choice. Stefanski also noted,
"He really blew us away in his interview process. He's really knowledgeable about the defensive back aspect of the game and is really a first-class individual as well."
Lynch is just as complimentary to his fellow coaches and the Browns players.
"We have a great chance to be successful early. That is our expectation," Lynch said.