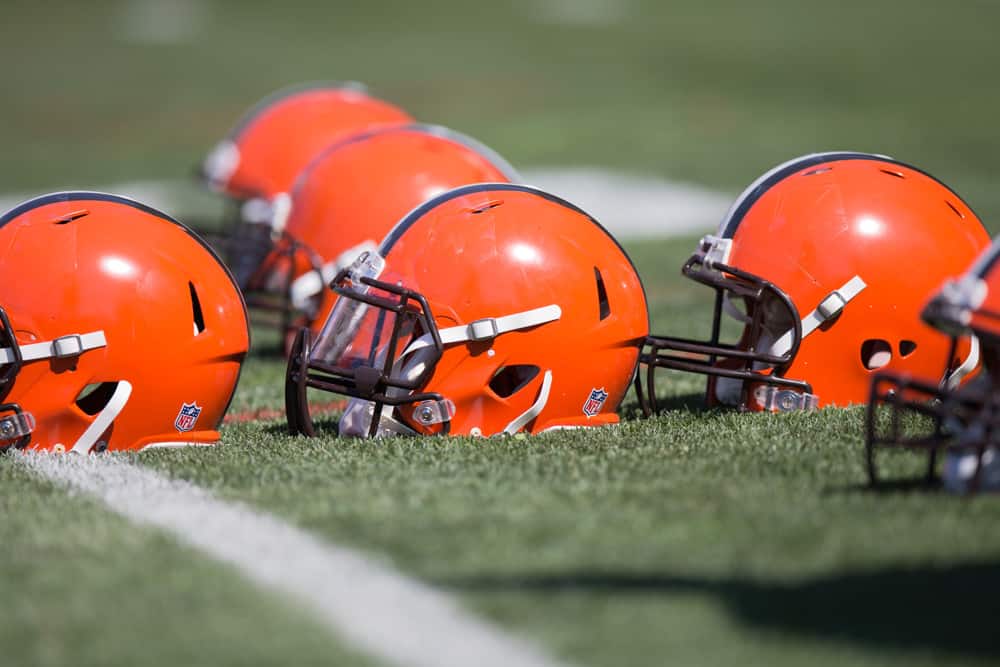 The Cleveland Browns are among the NFL teams choosing to skip in-person, voluntary offseason workouts, which are set to start Monday.
Players from the Browns, Chicago Bears, Denver Broncos, Detroit Lions, New England Patriots, Tampa Bay Buccaneers and Seattle Seahawks each put out statements this week through the NFL Players Association that they'll skip OTAs and voluntary minicamps due to the COVID-19 pandemic.
Here is the statement released Thursday on behalf of Browns players:
"The NFL's memo outlining how they plan to implement voluntary workouts falls short of what we as players believe is adequate. The Cleveland Browns players agree that a virtual offseason, like we had last year, is the best decision for everyone in our league.

"COVID-19 continues to affect our players, our families and our communities, and we must continue to take it seriously. In addition to the ongoing threat of the pandemic, we felt healthier both mentally and physically last year, which we attribute to sufficient recovery time and the lack of additional wear and tear on our bodies during the spring months. The league-wide injury-data supports us as well, as NFL players experienced a 23% reduction in missed-time injuries last season.

"For these reasons, we stand in solidarity with players from other clubs by exercising our CBA right not to attend in-person voluntary workouts this offseason. We are professionals who train year-round, wherever we spend our offseason. As we proved last year, we will be ready to compete this upcoming season.''
A statement from the Cleveland Browns players: pic.twitter.com/VI71lJXWeA

— NFLPA (@NFLPA) April 15, 2021
On Wednesday, the league sent a memo to all 32 teams announcing plans for the offseason program, which is scheduled to run from April 19-June 18.
NFL Players Association President and Browns center JC Tretter appeared Wednesday on "the Rich Eisen Show."
During the interview with Eisen, Tretter explained why he and the NFLPA are encouraging players to avoid voluntary in-person workouts.
"I think all the vaccination talk, I think we are very hopeful that we will be back to normal and we can full stadiums and have the fans back in September, but April isn't September, and we're nowhere near those points now," Tretter said. "And that's one of the issues we're having right now is, the NFL has this feeling of we're going to be normal for the regular season, so let's just go back to normal now, and we're not normal now."
Tretter said he has received his first-round vaccination, but is not scheduled to receive his second shot until mid-May.
"If you haven't gotten your first shot yet, you might not be fully vaccinated until June comes around, which is the entire offseason program," Tretter said.
As @NFLPA voices major concerns over the #NFL voluntary offseason workout program, we asked union president and @Browns center @JCTretter about its stance on all players getting vaccinated: pic.twitter.com/5F0afLUTGP

— Rich Eisen Show (@RichEisenShow) April 15, 2021
Tretter said the league is not going to mandate players receive COVID-19 vaccines.
However, the NFL expects members of each team's football operations staff to receive a vaccine unless they have a "bona fide" medical or religious reason not to, according to a memo issued Tuesday.
Team facilities were among the safest places from COVID-19 during the 2020 regular season.
The league's chief medical officer Dr. Allen Sills announced in February that the COVID-19 positivity rate for the NFL last season was 0.08%.
However, Tretter said the offseason protocols are different than those that were in place in 2020.
For example, NFL teams can only hold players for a maximum of four days per week in the offseason.
"So guys are free to leave. Guys didn't leave their home cities during the season," Tretter said. "We had a virtual bubble. Guys stayed dedicated to staying in town all year for the season.

"They tested every day. That will not be going on, so we don't know what our facilities will look like, so we can't compare what happened last year during the regular season to what will go on this year in the offseason because the protocols will not be the same.

"There will be giant holes and openings for COVID to get into the building, and that's what guys are realizing just how different the regular season would be compared to what this would look like as an offseason program."
Tretter said the boycott was not about protecting veteran roster spots.
"My job and our job is to know what our players want," Tretter said. "And this is what our players want. And we surveyed our players, and the vast majority of our players think the virtual offseason is the best for this year.

"And that wasn't just the veterans saying that. Just as many young guys, just as many guys with one year of experience, two years of experience, three years of experience responded saying that they think the virtual offseason is the best thing for them this year as the older guys did.

"So that's a narrative that just doesn't have any factor or proof to it. It's just used to try to divide the union. But we know what we want. We have players talk and we as a union are in charge of representing what all players want, and that's what we're doing."
It's unclear what kind of survey the NFLPA administered and how many players participated in it.
#Bucs head coach @BruceArians has said young players won't be as advanced because of the nature of the virtual, voluntary offseason…

…so we took that notion to @NLFPA president and @Browns center @JCTretter: pic.twitter.com/OrOoY2g12A

— Rich Eisen Show (@RichEisenShow) April 15, 2021