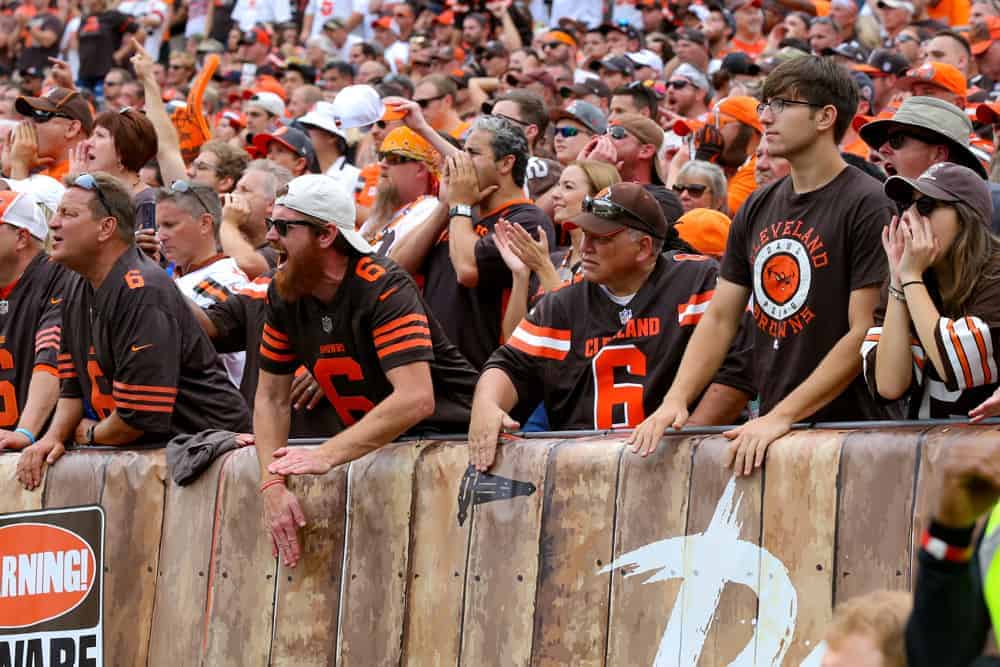 Attention all you armchair quarterbacks or head coaches in waiting, this is your golden opportunity.
You know you've dreamed about scripting plays alongside Cleveland Browns Head Coach Kevin Stefanski and Offensive Coordinator Alex Van Pelt.
And attending the team pre-game dinner, running out on the field with the team, and participating in the coin-toss at a preseason NFL game are on your bucket list too.
As part of Fanatics latest "All In Challenge," which helps struggling families put food on the table during the COVID-19 pandemic, Browns fans can put their money where their mouths are and win these great prizes.
100% of the proceeds goes to any or all of the following charities:  Feeding America, Meals On Wheels, World Central Kitchen and No Kid Hungry.
Think you can script an NFL game?

Coach Kevin Stefanski is offering the chance to help script 15 plays for one of our preseason games and even more immersive experiences — all for a great cause!

Details » https://t.co/xHlvlYr3ZN#ALLINCHALLENGE @allinchallenge pic.twitter.com/rOdsRaoFbw

— Cleveland Browns (@Browns) May 22, 2020
There are two ways to win an opportunity to call plays and be up close and personal with your favorite team.
1. Auction
"Winner Winner, chicken dinner."
The highest bidder will win this life-changing opportunity in the auction piece of this fundraiser.
In addition, the winning bidder can bring a guest with him or her for all of the festivities.
The starting bid was $5,000, and the current highest bid is $10,000.
Bidding ends on Friday, May 29, 2020 at 9:00 pm EDT.
2. Raffle
Another way to win is to purchase raffle tickets.
$10 buys 10 entries, or you can purchase 200 entries for $100.
The maximum amount of entries each person may purchase is 200.
All the same prizes will be enjoyed by the raffle winner.
The only caveat is that the raffle winner is the sole invitee; no guests are permitted.
It is unclear when the drawing is for the raffle winner.
It goes without saying that each winner will go home with the memory of a lifetime and plenty of Cleveland Brown autographed swag to decorate his or her house.
Not to be outdone by Coach Stefanski, Browns legend Bernie Kosar is getting in on the act and offering his own "All In Challenge."
Thrilled To Let You Guys Know That I've Officially Accepted The #ALLINCHALLENGE.

Hit The Link Below For A Chance To Attend A @Browns Game With Me While Enjoying Some Of The Best Food Around By The One And Only @ChefSymon. #GoBrowns 👊🏻https://t.co/Hp7qlvWkLb pic.twitter.com/rLCwIYAlPe

— Bernie Kosar (@BernieKosarQB) May 19, 2020
Details of Kosar's Challenge
In this auction, the highest bidder and three guests will get pregame passes (for a regular-season game) and watch the game with Bernie in a suite at First Energy Stadium.
The winner gets an autographed Kosar jersey, and the guests are treated to lots of Browns swag.
Kosar is enlisting the aid of Chef Michael Symon, a Cleveland native, known for his appearances on Food Network's Iron Chef America and for being a co-host on ABC's former talk show The Chew.
Symon will be preparing a customized meal for the winner, winner's guests, and Kosar in the suite.
At this time, the current bid is $11,000.
That certainly will increase as bids do not end until May 26 at approximately 9 pm EDT.
In all cases, winners must make and fund their own travel arrangements to partake in these events.
The Cleveland Browns join a growing list of organizations throughout the United States participating in the "All In Challenge" sponsored by Fanatics.
Coach Stefanski has also directly challenged the Cleveland Cavaliers to get in on the action and offer fan-immersed challenges for Cavs fans.