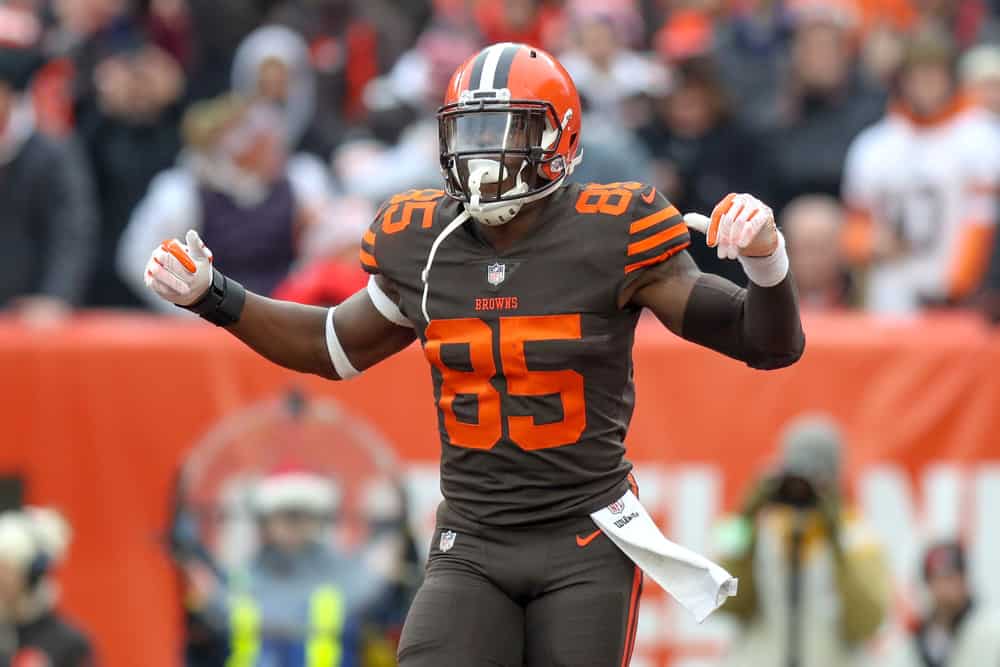 "Raw, but has plenty of potential."
This essentially sums up the bulk of analysis on David Njoku when the Cleveland Browns took him in the first round of the 2017 draft. The tight end from the University of Miami had size and speed which made him an offensive threat, but many viewed him as a project thanks to his youth, limited experience and issues with drops.
Three seasons later, not much has changed.
Njoku still has skills that make him a red-zone nightmare, but has yet to truly meet his potential. Making matters more complicated is the fact the Browns have only a couple months to decide if they want to pick up the fifth-year option on his contract.
While declining the said option wouldn't end Njoku's time in Cleveland right away, it also wouldn't bode well for his future with the team. He'd enter 2020 on the final year of his deal, having yet to prove himself in the NFL.
One would think the arrival of a new front office helps his chances. After all, Browns GM Andrew Berry was part of the staff which drafted the tight end three years ago. Perhaps his return will increase the odds of Njoku's option being picked up.
That is, of course, if Berry feels he's earned it. Considering how uneven Njoku's time in Cleveland has been, it wouldn't be shocking if Berry's return ended up not helping his cause.
His overall stats with the Browns certainly won't blow you away. In three years, Njoku has 1,066 yards on 93 receptions, with nine touchdowns. His career catch percentage of 58.9% isn't what you'd call ideal, though he increased said percentage by 10% from 2017 to 2018.
Still, maintaining any sense of consistency has been a major issue with Njoku. Analyzing his game logs is like looking at a seismograph. One week, he'll haul in five catches for 63 yards and a touchdown. The next, he'll only grab three of six balls thrown his way for a paltry eight yards.
Essentially, flashing potential is all Njoku has really done over the past few seasons. Every now and then, you'll see how much of an impact he could provide for Cleveland's offense, right before vanishing from the stat sheet the very next week.
Desperate to increase the chances of Cleveland picking up his option, Njoku badly needed a strong 2019 campaign. What we instead saw was the exact opposite.
Two games into the season, he broke his wrist. Njoku opted for surgery to repair the injury, with the hopes it would help him get back on the field later in the year.
It did, but his troubles hardly ended once he healed.
After then-coach Freddie Kitchens mysteriously kept a healthy Njoku inactive in late November, the tight end finally made his return in a December 8 bout with the Cincinnati Bengals. One dropped-pass-turned-interception later, Njoku found himself a healthy scratch for the final three games of the year, even admitting he felt he'd be dealt in the offseason if Kitchens was retained in 2020.
Kitchens is gone now. By Njoku's logic, that should serve as good news for his chances to stay in town.
Again, though, this is dependent upon Cleveland's new staff believing he's earned an extended look.
Berry's return should be viewed by Njoku as a best-case scenario. Instead of having to win over a fresh set of eyes, he's being reunited with someone who viewed him as first-round talent three years ago.
However, it wouldn't take much effort for Berry to talk himself out of picking up Njoku's option. Mainly because he's yet to live up to his first-round status.
Every bit of progress he's made is seemingly coupled with a setback. He's shown the Browns what he can do, he just can't do so frequently.
Berry has to decide if Njoku can consistently meet the potential he saw in him on draft night, or if only flashing it every now and then is all he can realistically offer.
Can the tight end take advantage of the physical attributes which should make him a QB's red zone dream? Or are brief cameos on the scoreboard all he'll ever be able to offer?
It's a tough decision, one made more difficult by the fact a crucial 2019 campaign for Njoku was hampered by both an injury and a coach holding a grudge against him.
He's clearly hoping Berry can look past that. Otherwise, Njoku's time in Cleveland may soon be coming to a close.