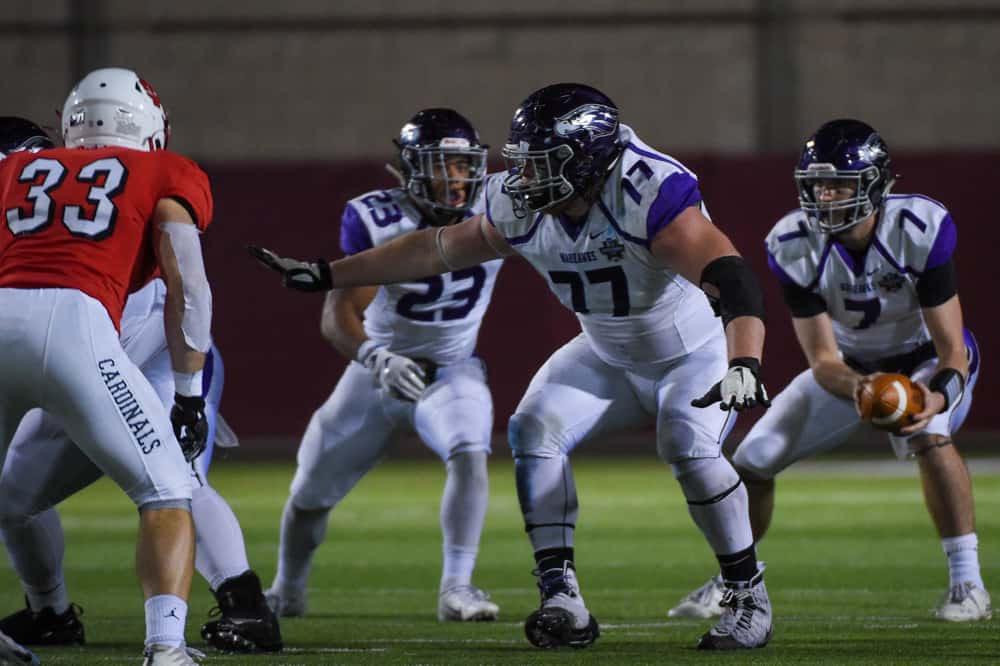 The Cleveland Browns must have listened to Browns Nation writer Ben Donahue.
At the end of March, Ben inked an article outlining a couple of small-school prospects for the Browns to look at in the upcoming NFL Draft.
One of the guys mentioned in that article is offensive lineman Quinn Meinerz.
Now, reports have emerged saying Cleveland has met with the Wisconsin-Whitewater product.
The #Browns have met with Wisconsin-Whitewater guard Quinn Meinerz. Meinerz is viewed as one of the top interior offensive line prospects in the upcoming draft. He made headlines when he broke his right hand and still played in the #SeniorBowl#BrownsTownUSA #OrangeAndBrown #D4L pic.twitter.com/RAtVQHTNZD

— BrownsTown USA Podcast 🎧 (@BrownstownUSA) April 13, 2021
While Meinerz isn't a household name in this year's draft, he has the potential to carve out a nice professional career.

D-III Prospect
For those who uttered a "huh?" after seeing Wisconsin-Whitewater, it is a division three school located in the very place it says.
For reference, Whitewater is between Madison and Milwaukee while sitting just south of both.
Football fans may recognize the name from the school's championship battles against Mount Union University, located in Alliance, Ohio.
From 2004 to 2015, those two teams made up the Stagg Bowl (Division III national championship game) in all but one season.
It's an extremely underrated rivalry in sports.
Small-school feuds aside, Meinerz should not be scoffed at just because of where he played college ball.
Jake Kumerow, a receiver for the Bills, is a Wisconsin-Whitewater alum.
Several other NFL players have also come from a non-Division I program and had success at the next level.
Sure, there is a notable talent gap between collegiate levels.
But NFL teams just want guys who can play, regardless of the background.
And if they want a guy who can workout like Sylvester Stallone in "Rocky IV", well, look no farther.
Center Quinn Meinerz workout videos consisted of a GoPro, oversized propane tanks being thrown over his shoulder, a weight bench perched on the flat crest of a slight rock-infested hill, and climbing to the second level to uproot a small tree. #Steelers pic.twitter.com/DG4uDR8mKM

— BlitzburghVideos ✨ (@BlitzVideos) April 13, 2021
The former Warhawk comes into the draft at 6'3" and 320 pounds.
That's, um, some size.
A lot of it, actually.
That's raised some concerns about being a bit top-heavy and not fitting into zone-blocking schemes.
While those are legitimate weaknesses, team's will almost always welcome a tough, smart, and nasty offensive lineman that can explode and be physical.
Those traits are exactly what Meinerz brings to the table.
His appearance at the Senior Bowl only further solidified that.
Per profootballnetwork.com, Meinerz was named his team's MVP in 2019 in addition to earning AP first-team All-American honors.
If Quinn hopes to sustain an NFL career for a couple of years, strength and smarts will be what allows him to do so.

Drawbacks
Again, the stock of a Division III athlete will almost always suffer simply because of the level they played at.
Those concerns are justified though, as the Division I guys are consistently seeing higher-level competition prior to the draft.
Outside of being strong and physical, the compliments start to fall off for Meinerz.
He is not the most athletic guy in the world and reportedly struggles with footwork and flexibility.
He's a very raw prospect, which isn't exactly unheard of with most draft hopefuls each year.
The problem is that this isn't baseball with a farm system and a multi-year waiting period before draft picks are expected to contribute.
NFL franchises, especially ones looking to compete like the Browns, need guys who can contribute almost right away.
Of course, patience with development still happens and can pan out.
But, if Andrew Berry feels like Meinerz is too much of a project, he'd be wise to stay away.