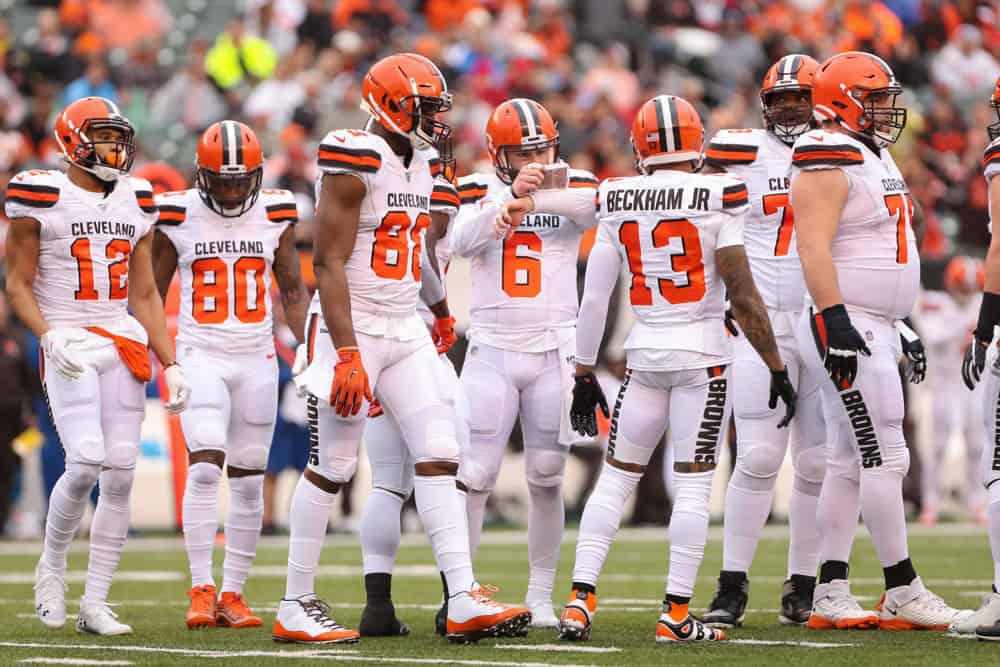 The Cleveland Browns have a habit of starting over almost on a yearly basis.
That is once again the case as Kevin Stefanski and Andrew Berry are in and Freddie Kitchens and John Dorsey are out.
What is lost in all the talk of yet another head coach and general manager combo is the fact the new regime could look to recreate the roster the same way Dorsey did when he arrived.
I love how Dorsey has owned the phrase 'real football players' as if the other GMs are having a tough time choosing between the real football players and all the fake ones.

— Beau Bishop (@BeauBishop) March 1, 2018
The same way Sashi Brown did when he got the job.
And so on all the way back to 1999.
Following this same failing path in 2020 would set the Browns up for disaster.
Former Browns Throughout the NFL
A perfect representation of the effects of all the turnover in Cleveland is Mitchell Schwartz.
The offensive lineman just won the Super Bowl with the Kansas City Chiefs and had a historically great postseason.
Best player in the NFL this postseason?@MitchSchwartz71 pic.twitter.com/Mw4fTCJ0kw

— PFF (@PFF) February 3, 2020
The Browns drafted him in 2012 and he was growing into a great player.
But he didn't fit into Brown's plans in 2016 and was allowed to sign with the Chiefs on a deal paying his less than $7 million annually.
Or what about Jamie Collins?
The linebacker was traded to Cleveland in 2016 and for whatever reason, his play declined and he was released before the 2019 season.
He then went back to New England and started 15 games, once again becoming a key piece on that defense.
The Current Situation
That brings us to this 2020 roster.
The 2019 team was once a Super Bowl contender because of all the talent in the locker room.
But the likes of Odell Beckham Jr., Baker Mayfield, and Olivier Vernon all struggled.
David Njoku and Rashard Higgins struggled to find playing time.
Joe Schobert had a career year and finds himself without a contract for 2020.
Meanwhile #Browns fans out here saying guys like Joe Schobert aren't good enough to win with meanwhile Chiefs are winning with guys like Erving.

Culture, coaching, and quarterbacks can certainly cover up a lot of holes. https://t.co/FGL6SRsqYn

— ClevelandStrikesBack (@ClevStrikesBack) February 2, 2020
All of this should be left behind in 2019 and the new Browns regime must give this roster another chance to succeed.
Blowing it all up now would just lead to another scenario in which fans wonder how all these guys got away.
A one-year sample is not enough, especially for an organization so into analytics.
What's the Worst That Could Happen?
The Browns need to keep things simple.
The team has not made the playoffs since 2002 and even a winning season has not been had since 2007.
There don't need to be any new, radical team-building strategies put in place.
Guys like Beckham, Mayfield, Njoku, Schobert, and plenty of others form a talented core on this team.
Starting over again and changing half of the roster would only set the team back even further.
At some point the blame has to fall on the coaching.
That appears to be what got Kitchens fired.
Now Stefanski comes in and he can't blame this talented team if he fails in 2020.
Odell Beckham has "good feeling" about new Browns coach Kevin Stefanskihttps://t.co/28ntD9XNKm pic.twitter.com/as4OjXHtWj

— Around The NFL (@AroundTheNFL) February 4, 2020
He has the simple task of just not screwing up and getting the best out of his guys.
Just like any coach should.
If he can't succeed, some moves can be made.
But the Browns cannot afford to blow things up again for quite some time.
A team constantly failing to have a winning season should not be acting like a Super Bowl champion moving on to a new phase after years of success.