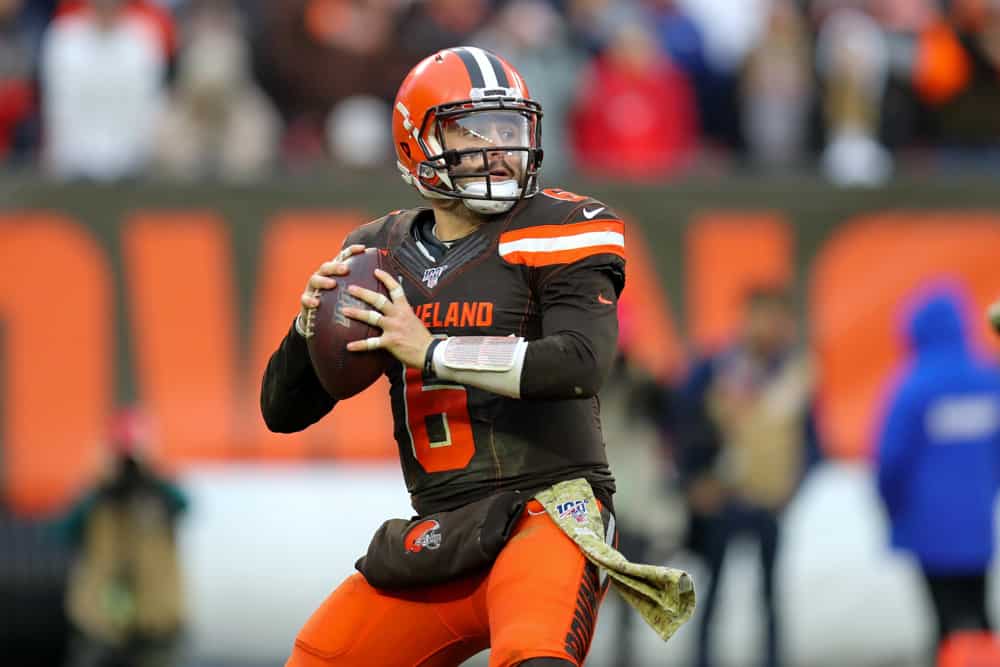 Cleveland Browns QB Baker Mayfield addressed a myriad of topics at a virtual press conference.
He provided an interesting answer to the question about his relationship with backup QB Case Keenum.
In addition to a new coaching staff which brings a new offense, Mayfield has a new backup QB.
32-year-old Keenum signed a 3 year, $18 million contract in March.
Keenum has been ping-ponged around the league for his entire career with stops in Houston, St. Louis, Los Angeles (with Rams), Minnesota, and Washington.
Keenum's Presence
Not only does Keenum provide experience to Mayfield, but he also has encountered similar situations in his career.
Mayfield enters his 3rd season under his 3rd head coach and learning another new system.
Keenum has done the same thing, not in the same organization, but because of his play for different teams throughout his career.
During the press conference, Mayfield acknowledged that Keenum has seen many systems so he has already enjoyed "getting his thoughts" on situations.
He called Keenum a great guy and a veteran he is glad to have in the room to bounce ideas off of.
In the 2018 playoffs, there is only one play less ballyhooed than the "Philly Special."
That is the "Minnesota Miracle", and Case Keenum created 1/2 of that magic with Stefon Diggs.
Who was Keenum's quarterback coach at Minnesota during the 2018 playoff run?
You know the answer.
It was Head Coach Kevin Stefanski.
So there is no doubt that Keenum understands the schemes and offensive strategy.
Mayfield mentioned that Keenum was present last week at the workout he hosted in Austin.
Mayfield's May "Practice" Session
Eager to get a jump start on the delayed start to the 2020 season, Mayfield hosted practice sessions with TEs and WRs 2 weeks ago in Austin.
OBJ and Jarvis Laundry, who are recovering from 2019 injuries (and surgeries), did not attend.
David Njoku, Rashard Higgins, and Damion Ratley participated in the Austin practices.
Given the unofficial nature of the workouts and Mayfield's mantra of working in silence, there was not much hoopla surrounding them.
Higgins confirmed that he was in Austin.
Austin Texas is beautiful, haven't been here since elementary

— Wood (@CALLME_WOOD) May 13, 2020
New TE Austin Hooper was in Austin also to meet and practice with his new teammates.
Hooper is expected to play a pivotal role in Stefanski's signature multiple TE schemes.
Baker Mayfield will have a highly reliable target in Austin Hooper this upcoming season.

Hooper was 6th among Tight Ends in catch percentage last year at 77.3%. He was 2nd in 2018 at 80.7%.

Austin has 0 career fumbles and only dropped one pass last year. #Browns pic.twitter.com/lo40Ijqy3o

— The Hottest Take Sports Podcast (@Hottest_TakePod) May 30, 2020
Baker's 2020 Prospects
During the press conference, Mayfield was asked many times in different ways about the pressure he shoulders enter his 3rd season amidst the COVID-19 pandemic.
He consistently answered that focusing on fundamentals is what he has been doing.
Mayfield also acknowledged he has been talking less in the offseason; this was his first press conference in quite some time.
Admitting that it's "time to do it", meaning perform instead of talking about it, Mayfield seems up the challenge.
His other challenge is changing his footwork as directed by new Browns OC/QB coach Alex Van Pelt.
Mayfield mentioned that he is working on it and admitted that it is different, but he also said that Aaron Rogers and Andy Dalton have successfully made the same adjustment.
The idea is to lead with the left foot in three-step drops and in shotgun formation.
Van Pelt believes the change will allow Mayfield to play with more rhythm.
Mayfield seems poised and primed to tackle his 3rd NFL season with less talk and more work.