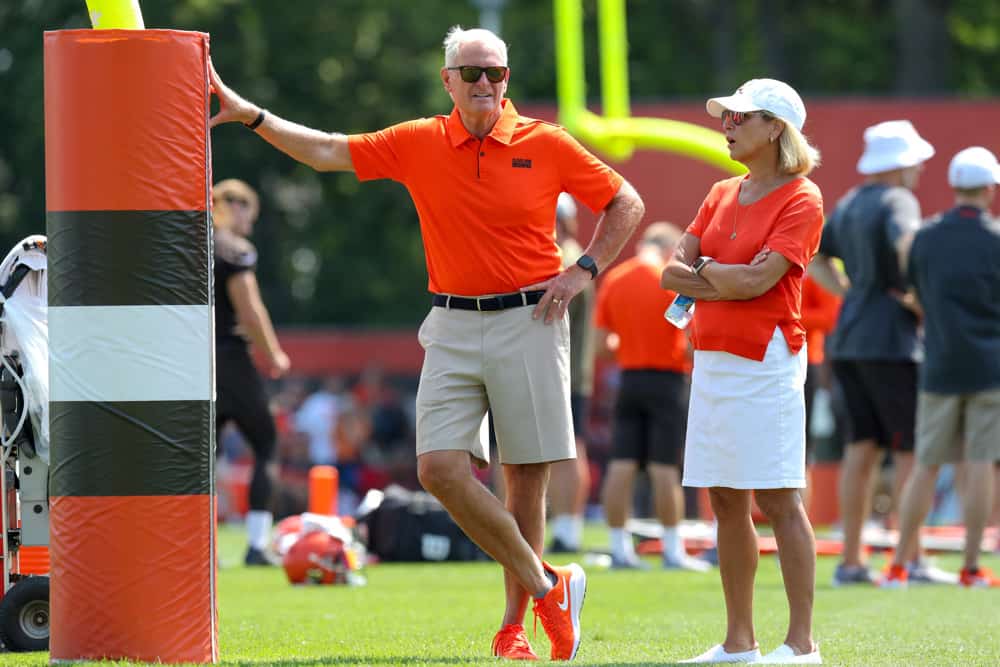 With the NFL season only 5 months away, many are wondering if the current coronavirus pandemic is going to affect it.
In a recent email to season ticket holders, Cleveland Browns owners Jimmy and Dee Haslam said they expect to host a full NFL season.
"While these circumstances are certainly fluid and evolving, we currently expect to host a full NFL season this year and are excited to get back on the field when appropriate, despite the cancellation of public access to the NFL draft in Las Vegas and the indefinite postponement of offseason programs throughout the League," the Haslams said in an email to season ticket members. "In the meantime, our coaches, personnel group and players remain hard at work to prepare for what we hope will be an exciting 2020 Browns season."
The keyword in that statement is "currently."
It remains to be seen how COVID-19 will further impact the NFL as nothing is guaranteed at this point.
The NFL voluntary offseason program was set to begin April 6, but will not start.
At this point, it also seems unlikely that spring workouts will take place at all.
Baseball, Basketball, Soccer, and Hockey have all seen their season suspended.
The XFL also canceled the rest of it's season.
According to ESPN's Adam Schefter, Jimmy and Dee Haslam pledged $1.5 million in relief funds throughout Ohio.
Browns' owners Dee and Jimmy Haslam pledged $1.5 million to COVID-19 relief funds throughout the state of Ohio.

— Adam Schefter (@AdamSchefter) March 23, 2020
"We are humbled by the tremendous work of people around the world in their efforts to help those impacted by COVID-19 and we wanted to try to positively impact those affected in our own communities of Cleveland and Columbus," Dee and Jimmy Haslam said in a release. "We are grateful for the individuals who are putting others before themselves and for the sacrifices they are making."
The donations, made through their Haslam 3 Foundation, included $1 million to the Greater Cleveland COVID-19 Rapid Response Fund and $500,000 to the Columbus Foundation Emergency Response Fund.
Browns quarterback Baker Mayfield and wife Emily recently donated $50,000 to the Greater Cleveland Food Bank amid concerns about the pandemic.
The Mayfields made the announcement in a video posted to IGTV.
"It's a point for us that we wanna give back, we wanna help out in any way we can," Baker Mayfield said. "And even if you guys can't help out, you know, $1, $5, $10 goes a long way. Whatever you do, we will match that. So, please help out. Wherever you're at, whatever community you're in, anything matters, anything helps. We're all affected by this."