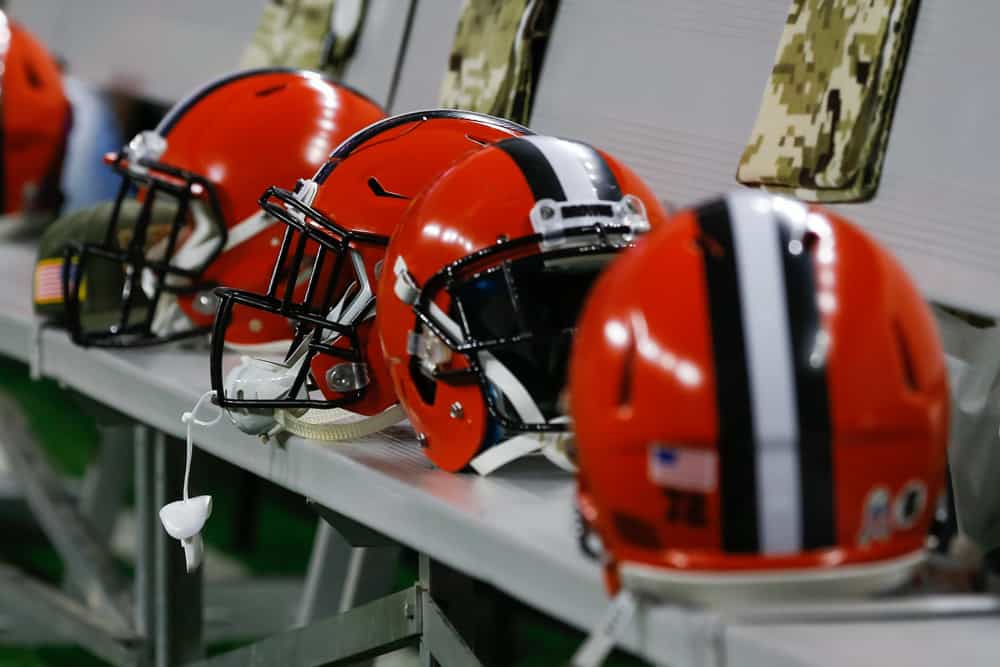 The Cleveland Browns have a rather long list of players who will be playing in a contract year in 2020.
This includes both restricted and unrestricted free agents.
We will be looking at unrestricted free agents currently on the roster who have a contract year ahead.
We start with the offense.
Browns Contract Years on Offense
The players on offense are Kareem Hunt, Kendall Lamm, JoJo Natson, and Taywan Taylor.
The biggest name in this group is Hunt.
He was assigned a second-round tender by the Browns worth $3.26 million.
The team could still offer him up in a trade, but for now it appears no one was comfortable giving up a second-round pick for Hunt.
Browns placed a second-round tender on running back Kareem Hunt.

— Adam Schefter (@AdamSchefter) March 16, 2020
Thus he remains in Cleveland for at least one more season.
Natson and Taylor are two players who will not know their fates likely until the end of the preseason.
Both players can be cut without financial penalty and could be bumped from the roster if the Browns draft one or two receivers.
Natson has a better chance of sticking as he was primarily signed for his abilities in the return game.
STC Mike Priefer on WR/Returner JoJo Natson before #Browns played #Rams in '19:

"He is terrifying,"

"He possesses a big-time threat because you can't be out of control at the point of attack or you are going to miss him."

Prief got his guy.

— BrownsAccess (@BrownsAccess) March 20, 2020
Lamm is an offensive tackle who projects to be a backup, especially if the Browns draft a tackle early on in the draft.
He has a dead cap figure of just $300,000, but it doesn't hurt to have depth along the line.
This is a situation where a John Dorsey addition should not be cut loose just because he wasn't acquired by those currently in charge.
Browns Contract Years on Defense
The list on defense is much more extensive and includes: Olivier Vernon, Andrew Billings, Kevin Johnson, Terrance Mitchell, Karl Joseph, B.J. Goodson, Andrew Sendejo, Larry Ogunjobi, Eli Ankou, and Tae Davis.
Fans will notice several new additions who joined the Browns on one-year deals.
Billings, Johnson, Joseph, Goodson, and Sendejo have arrived to try to help the Browns and also earn multi-year deals either here or elsewhere after a great showing in 2020.
Yet the biggest name on the list is Vernon.
Next business decision for #Browns: DE Olivier Vernon who carries a $15.5 million price tag in the final year of his contract. Cutting him would be a full cap savings with no dead cap applicable.

— Daryl Ruiter (@RuiterWrongFAN) March 10, 2020
He is set to earn $15.5 million this season with a dead cap hit of $0.
The Browns can let him go and save $15.5 million to spend all over the roster.
However, the team still has roughly $43 million in cap space and Vernon is on the final year of his deal.
There is no need to cut him for financial reasons when extensions for Myles Garrett and Baker Mayfield are still now owed at this point in time.
One extension that should be handed out is to Ogunjobi.
That speed swim is deadly from Larry Ogunjobi. When he times it right he isn't blocked. Period. pic.twitter.com/tDFTlmFySW

— Jake Burns (@jake_burns18) October 3, 2019
That could begin in 2021 when the Browns essentially shed Vernon's money if the team ultimately decides to move on.
Ogunjobi has had 5.5 sacks in each of the past two seasons and could be signed for a bit of a bargain if his peak is still a few years away.
The Browns have the money to avoid cutting those with any sort of dead cap repercussions.
Yet, tough decisions will be made in 2021 when it comes time to hand out extensions for the young stars on the team.