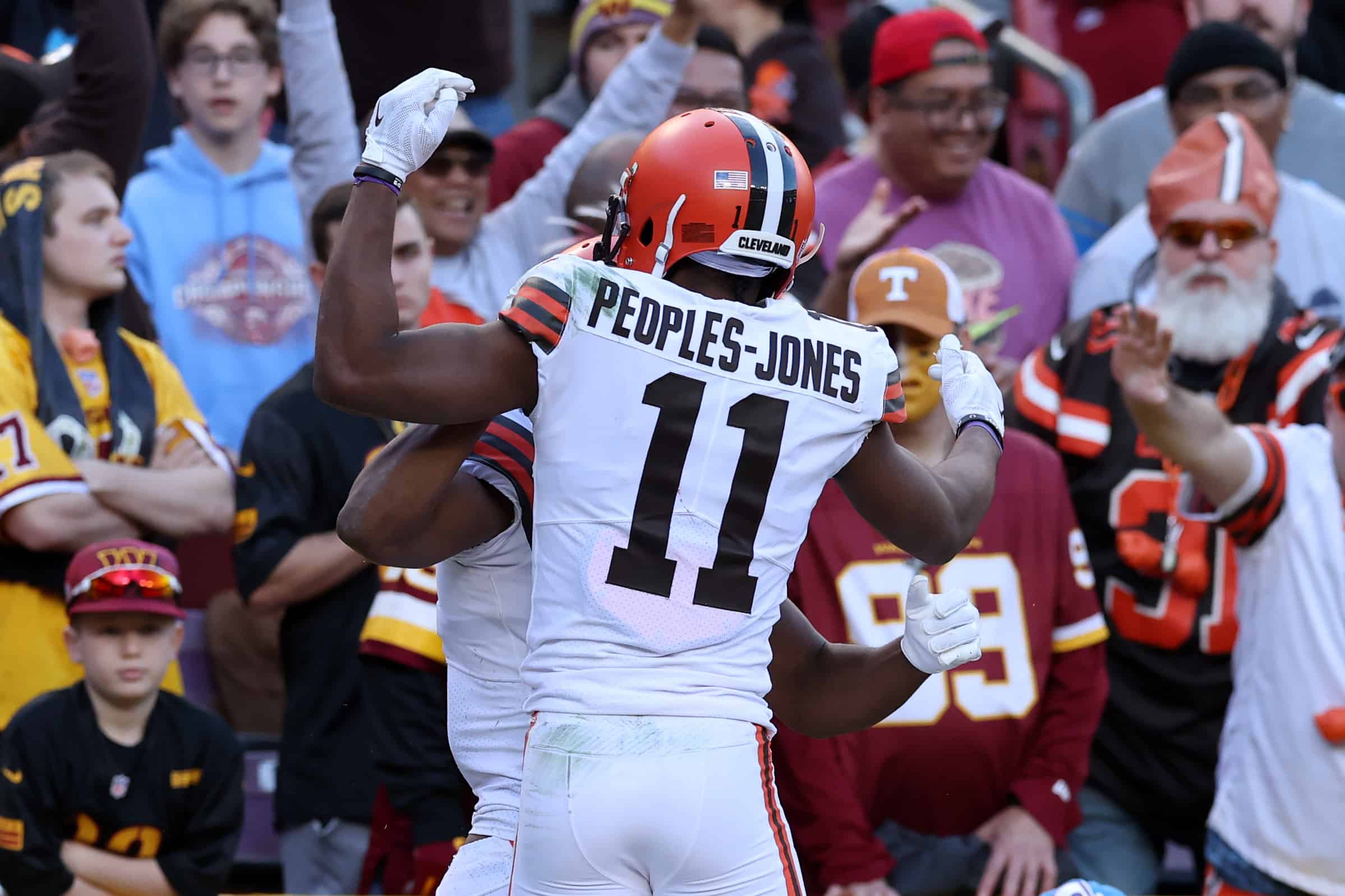 Deshaun Watson can't say he doesn't have enough targets this season.
Leading up to the Cleveland Browns 2023 season, the wide receiver room is by far the most crowded.
And that's before the NFL Draft from which many pundits expect Andrew Berry to add a wideout.
Throw 4 tight ends into the mix with 14 wide receivers, and we have to hope Watson can choose quickly.
But how will the Browns coaches and GM select the best combination of players for their new offense?
Amari Cooper touchdown! #Browns pic.twitter.com/oLdCXGZ4XO

— CleWest (@erjmanlasvegas) November 20, 2022
Returning starters Amari Cooper and Donovan Peoples-Jones are among the few "locks" to make the roster.
Former Jet Elijah Moore is another shoo-in, but veteran Marquise Goodwin might have to compete.
Second-year wideout David Bell saw limited action as a rookie but has an inside track on a spot.
Whether Michael Woods' Achilles injury opens a role for another young receiver remains to be seen.
But it seems inevitable a recent Andrew Berry draft pick or two won't make the cut.
State Of The Wide Receiver Room 
Cleveland's newest additions seem to reveal a "type" for Kevin Stefanski's new offense.
"Good route runners with speed" describes both Moore and Goodwin.
Amari Cooper and People-Jones might not be quite as fast, but they are plenty fast enough.
Cooper is also one of the NFL's most adept players at getting separation, and Bell has the same knack.
DPJ excels at getting into an advantageous position and comes down with almost every contested ball.
🚨ELIJAH MOORE TOUCHDOWN🚨
pic.twitter.com/JjVDzwtqPK

— PFF Fantasy Football (@PFF_Fantasy) November 27, 2022
Cleveland's Jakeem Grant is back from an injury and if he regains full speed, he is as fast as anybody.
His return prowess could help him find a spot in this speedy passing attack, too.
Meanwhile, Anthony Schwartz and Demetric Felton are challenged to remain on the team.
Schwartz has proven unreliable at receiving passes and Felton's best bet might be as a running back.
And the 5 remaining players might have to hope Stefanski carries more wide receivers than usual.
What's Next At Wide Receiver?
Andrew Berry might not be done adding to his receiver room.
As Michael Woods' offseason achilles tear illustrates, we never know what to expect.
This season's NFL Draft is not as deep as recent drafts at wide receiver.
But it is still deeper at wideout than any other position, according to PFF.
There is an argument to be made the Browns should be more concerned about their defense.
Marquise Goodwin long jump touchdown celebration! 🔥 #SEAvsLACpic.twitter.com/0ziWUM28Uo

— Travis Miller (@travismillerx13) October 23, 2022
Berry has to notice, however, how much impact recently drafted wide receivers have made around the league.
Whether he would trade up to grab someone who falls into the second round is questionable.
Several former UDFAs are among the group already rostered.
There are still a few interesting free agents if Berry was unexpectedly willing to invest more in the position.
But it's more likely Berry limits additions to the draft until he sees how the preseason goes.