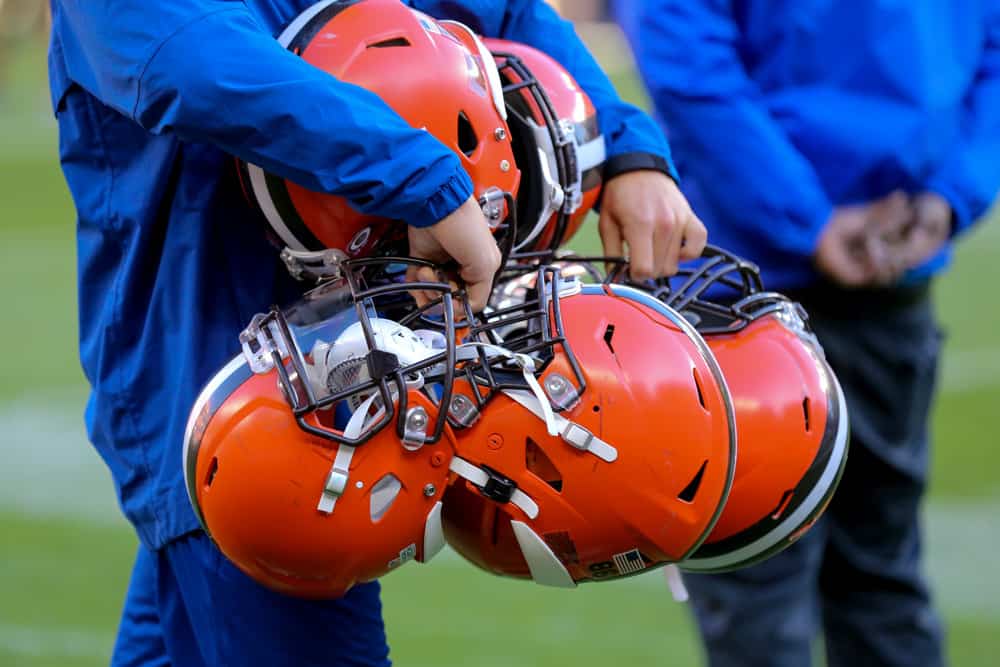 The Cleveland Browns join the rest of the NFL in what appears to be the most unique year in league history.
Training camps are beginning in an unorthodox manner and there will be no preseason games.
That will undoubtedly hurt undrafted players and those fighting for jobs on the Browns 53-man roster.
This is just the reality of the world in 2020 and limited action could also hide certain flaws for players who end up looking great and becoming the latest "training camp stars" that seem to show up every year.
Let's take a look at a few bold predictions for this bizarre training camp that should end up featuring some surprises.
1. Harrison Bryant Emerges as a Legitimate Threat at Tight End
Welcome to Cleveland, Harrison Bryant!

📰: https://t.co/D27VfTgeB8#BrownsDraft pic.twitter.com/clubeatLS5

— Cleveland Browns (@Browns) April 25, 2020
The Browns drafted Harrison Bryant in the fourth round of this year's NFL Draft and it seemed to be a purely depth move.
Then David Njoku requested a trade, only to go back on that decision.
Even with Njoku deciding against a trade request, Bryant still has a clear path to earning significant playing time as a second or third tight end.
Njoku's offseason drama, and past struggles, will not be forgotten either.
Losing Ricky Seals-Jones and Demetrius Harris leaves Pharaoh Brown and Stephen Carlson as the only other real competition on the depth chart.
Bryant was an absolute beast at Florida Atlanta and had 1,004 receiving yards with seven touchdowns last season.
That followed a year in which he had 662 yards in 2018.
The tight end had a career average of 14.4 yards per reception in college and could replace Njoku's big-play ability even though the former No. 1 overall pick is sticking around.
2. Kareem Hunt Used Primarily as Wide Receiver
Kareem Hunt was not properly used by Freddie Kitchens in the latter half of the 2019 season.
Everyone could see that.
Nick Chubb has the highest overall grade (91.5) and rushing grade (92.1) among running backs over the past two years.

When teamed with Kareem Hunt, they form the top backfield in the NFL💪https://t.co/eK8T1GaZFb

— PFF CLE Browns (@PFF_Browns) July 29, 2020
However, he still finished as the team's third-leading receiver with 285 yards.
Hunt played in eight games and ran for 179 yards on only 43 attempts.
He added those 285 receiving yards on 37 receptions.
There was a sense Kitchens wanted to focus on Hunt as a receiver, but at the same time, there was no coherent plan.
That was true for the offense as a whole.
Kevin Stefanski appears to be far more competent and there have been hints about using Hunt more as a receiver.
That keeps both Nick Chubb and Hunt on the field as much as possible and doesn't telegraph plays as much.
Having Hunt as the third option behind Odell Beckham Jr. and Jarvis Landry frees up both of them as well in terms of focus from the defense.
Kitchens seemed to have a problem realizing he had a roster filled with dynamic players and instead focused on trying to force specific plays to work.
Stefanski can line up Hunt as a receiver and watch him work.
3. Jedrick Wills Able to Win Starting Left Tackle Job
Jedrick Wills was drafted No. 10 overall and the expectation was he would make the move to left tackle after playing on the right side at Alabama to protect Tua Tagovailoa's blindside.
However, not having a traditional summer has slowed down his progression from the right side to the left.
The advantage he does have is being the most talented tackled on the roster.
Jack Conklin will hold down the right tackle spot and Wills' main competition at left tackle is Chris Hubbard.
Wills was drafted high enough to where the intention is for him to be around for a long time.
Throwing someone like Hubbard out at left tackle instead of Wills just delays the inevitable, even if the rookie struggles at first.
He was brought in to be the guy at left tackle and while the transition is tough, he wouldn't have been drafted at No. 10 overall if there were initial concerns about the transition.