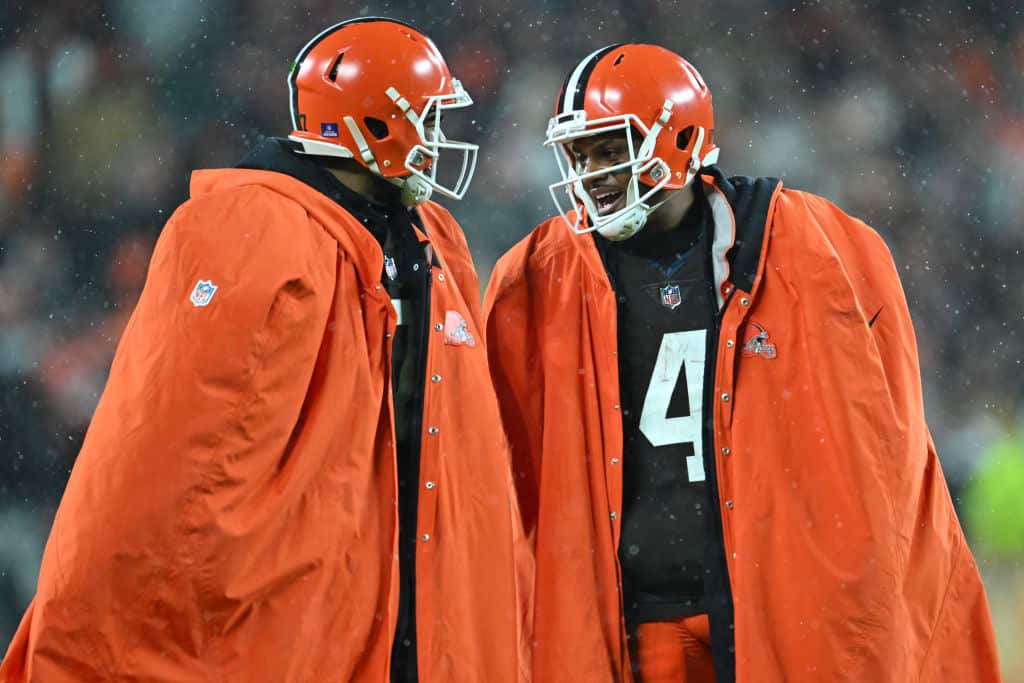 NFL.com analyst Marc Sessler ranked all of the NFL quarterback performances each week this past season.
And he followed up with an overall regular season ranking and now a final segment including all the playoff games.
It might not surprise fans of the Cleveland Browns that their quarterbacks were not among the top 10… or even 20.
Sessler includes everybody who started a game during the season, a whopping 68 different passers in 2022.
.@PatrickMahomes on top…again 😎@MarcSessler's full 2022 QB rankings: https://t.co/MvZV11olN6 pic.twitter.com/Y1dEDhegd0

— NFL GameDay (@NFLGameDay) February 16, 2023
Jacoby Brissett's career year earned him no better than the 21st position overall.
And Deshaun Watson's return to the gridiron was deemed the 28th-best performance of the season.
Super Bowl quarterbacks Patrick Mahomes and Jalen Hurts copped the top 2 positions, with Joe Burrows sliding into the third.
Watson will have to pick up his game in 2023 to make a run at a division title.
Big Mistakes Cost Brissett
With Jacoby Brissett behind center, the Browns boasted the 4th-highest DVOA in the NFL.
Which begs the question, why didn't they win more games?
It doesn't take much of a deep dive to reveal some late-game breakdowns by the defense and special teams.
But while Brissett didn't make a lot of mistakes, he made some of the biggest and worst-timed mistakes of the season.
Crushing interception thrown by Jacoby Brissett…
pic.twitter.com/5ioDhp4rvI

— Lost Tribe Sports (@LostTribeSports) October 9, 2022
Sessler points to errors in the Jets, Falcons, and Chargers losses as particularly costly to Brissett's ranking.
NFL.com's premier analyst positively cited Brissett's chemistry with Amari Cooper and David Njoku.
And he noted that Brissett threw only 1 interception over his final 5 games.
Despite his unimpressive ranking, Brissett probably earned a shot at another starting role outside of Cleveland.
Watson's Rust Ran Deeper Than Expected
Anybody who saw Watson's play in Houston probably thought he was worth the massive contract he landed from Cleveland.
Certainly, Andrew Berry expected something closer to his 3-time Pro Bowler efforts than what Browns fans saw this season.
But there is still hope for optimism as Watson retools after his extended absence.
Sessler points to his 5 touchdowns in the final 2 weeks as a reason to hope.
Deshaun Watson first touchdown in over 700 days.pic.twitter.com/GEsc0L0UCx

— Dov Kleiman (@NFL_DovKleiman) December 11, 2022
And Watson's excitement about reworking things with Kevin Stefanski probably means he sees or feels something positive.
But pessimists and critics are justifiably concerned about the latest Browns savior's performance to date.
Under Watson, Cleveland's DVOA fell from 4th best to 15th in just 6 games.
Enthusiasm and promise are great, but Watson and Stefanski know that only winning will alter fans' perceptions.