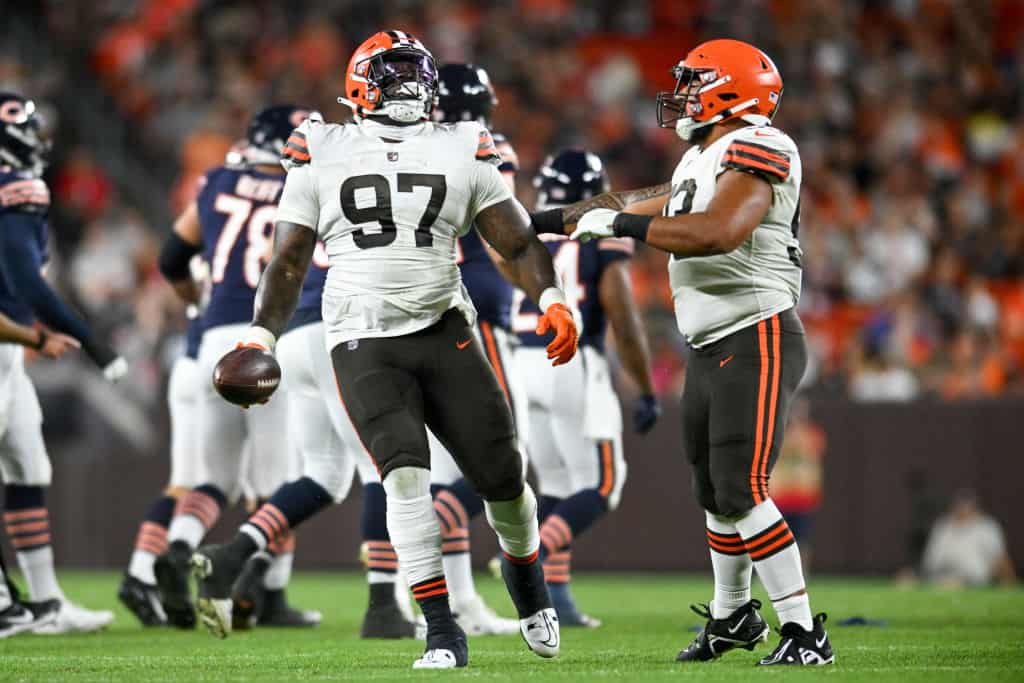 Taking a chance on a player with some off-field concerns occasionally pays off for NFL teams.
And Perrion Winfrey barked his way into the hearts of the Dawg Pound with his draft day antics.
But the Cleveland Browns have had enough after barely a season of mostly negative returns.
After a reported gun incident last night, the team tersely reported that Winfrey has been released.
We have released DT Perrion Winfrey.

📰 » https://t.co/LEsyKYqLR9 pic.twitter.com/8gjCN8f6Fg

— Cleveland Browns (@Browns) July 19, 2023
As reported by Fox8.com, Winfrey was allegedly the object of an insult tossed at him by a young woman in a hotel lobby.
He angrily showed that he was carrying a firearm in a manner she felt was a threat.
Cleveland's troubled second-year tackle left the scene before police arrived and is not under arrest.
But word broke this morning that the police are investigating the matter.
Those reports were quickly followed by the team's announcement of Winfrey's release.
Browns Gave Winfrey 3 Strikes 
Cleveland spent considerable resources rebuilding their defensive line in the offseason.
And Winfrey's chances of making the final roster diminished with each move.
But he was still on the roster after another police incident earlier this year.
Texas police arrested Winfrey back in April on a misdemeanor assault complaint.
The #Browns have now released Perrion Winfrey. https://t.co/2AxrVTrhwu

— Ari Meirov (@MySportsUpdate) July 19, 2023
Someone described as his girlfriend claimed he grabbed her hard enough to cause injury.
Still, the Browns decided to keep Winfrey in the fold hoping a thin leash would keep him focused.
This followed a rookie season that saw Winfrey disciplined a couple of times for tardiness.
And a concussion sustained in a scooter accident didn't endear him to management, either.
What It Means To The Browns 
Winfrey becomes only the third player drafted by Andrew Berry to be released.
But despite taking the hit for a missed fourth-round pick, the loss is barely a blip on the 2023 Browns' radar.
Cleveland showed some commitment to Jordan Elliott, reworking his deal earlier this year.
They signed Dalvin Tomlinson as an interior anchor and added veterans Maurice Hurst and Trysten Hill.
#Browns Myles Garrett on Perrion Winfrey being disciplined pic.twitter.com/F8I65Wlw8e

— Mary Kay Cabot (@MaryKayCabot) September 16, 2022
Berry used his second draft selection, a third-rounder, on Siaki Ika.
And he tacked on a young practice squad prospect in Michael Dwumfour.
Winfrey's loss might help Tommy Togiai's chances of sticking to the 53-man roster.
The former Ohio State tackle is among those hoping to make more of an impact under Jim Schwartz.