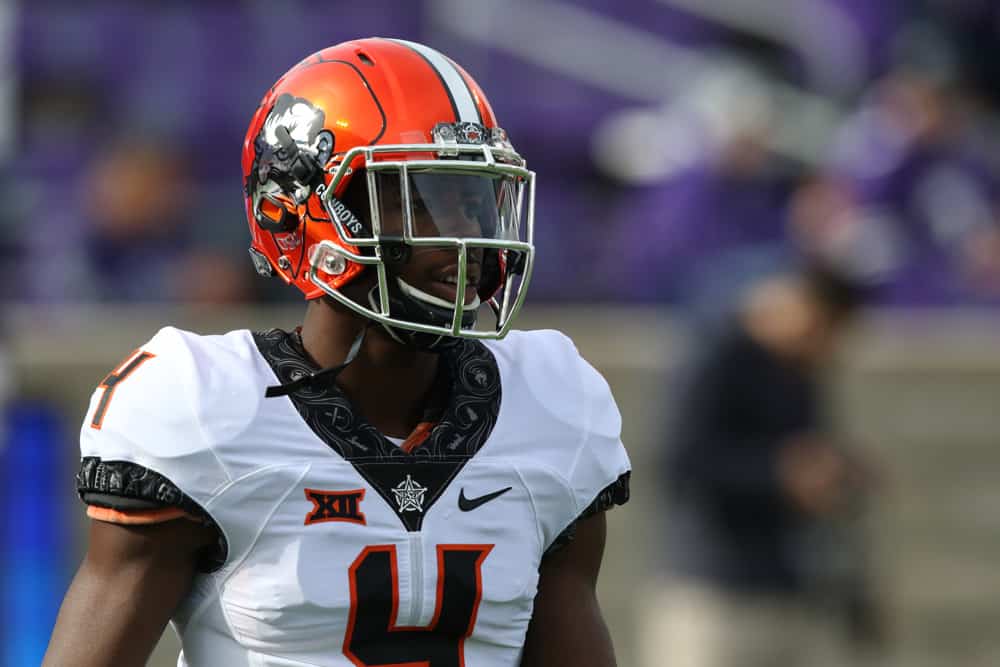 After the 2020 NFL Draft concluded, the Cleveland Browns signed 15 undrafted players.
Almost all of those players are going to have an uphill battle to climb for a roster spot in Cleveland.
However, the Browns gave Oklahoma State defensive back A.J. Green $145,000 in guaranteed money, which is the most for an undrafted player.
The Browns clearly saw something from Green that they felt he deserved that deal before stepping on an NFL field.
He was projected to be drafted during Day 3, but he did not hear his named called on draft day.
Green is ready to prove everyone wrong and make a name for himself in Cleveland.
Green's College Career
Green was a three-year starting defensive back at Oklahoma State.
He performed well in college and was a two-time selection to the All-Big 12 defensive second team.
"I was pretty dominate in my time, in my college career," said Green.
Gallery: A look back at the college career of new Cleveland #Browns corner A.J. Green https://t.co/XWWrIdKORU #okstate pic.twitter.com/bmuJIpGjcu

— tulsaworld (@tulsaworld) May 5, 2020
Green mentioned that he played against some NFL stars such as Patrick Mahomes and Kyler Murray during his time in college.
He believes playing against talent like that is only going to make him better and help him succeed in the future.
Green recorded 145 tackles, 5.5 tackles for loss, and six interceptions during his three years as a starter.
Throughout his college career Green ran a bunch of different defensive schemes and he feels that will help make the transition to the NFL easier for him.
During his senior year, Green recorded 49 tackles, one tackle for loss, and one interception through 13 games.
Why Wasn't Green Drafted?
It is quite surprising that a player with his type of talent and experience was not given a shot late in the draft.
Green has plenty of potential, but also has holes in his game that are major issues.
He struggles with tackling and has some technique issues that need to be worked on.
At times Green is unbalanced and it hurts his ability to efficiently follow receivers.
Green came from a high-profile school, but has plenty to work on before he's ready to take the next step in his game.
How Will Green Impact The Browns?
The Browns already have their two starting corners with Greedy Williams and Denzel Ward.
However, Green might actually have a shot at competing for that third corner position on the team.
Although, Kevin Johnson and Terrance Mitchell are going to battle toe-to-toe with Green in camp.
Recent undrafted free agent signings include Jets DB Lamar Jackson, Browns DB A.J. Green and Patriots DT Bill Murray. Borderline roster locks on their names alone.

— Field Yates (@FieldYates) May 6, 2020
The NFL is considering reducing the preseason and only having two games for this upcoming season.
That is going to hurt Green's chances along with every other undrafted player trying to make a name for themselves.
The best chance for Green to make the roster is likely going to be with the special teams unit.
He'll get a chance to work on his game while still contributing on the field each game.
Green is determined to make his presence known in the NFL and prove the doubters wrong.
The Browns clearly believe in him after giving him guaranteed money, so we'll see what he can do in camp.