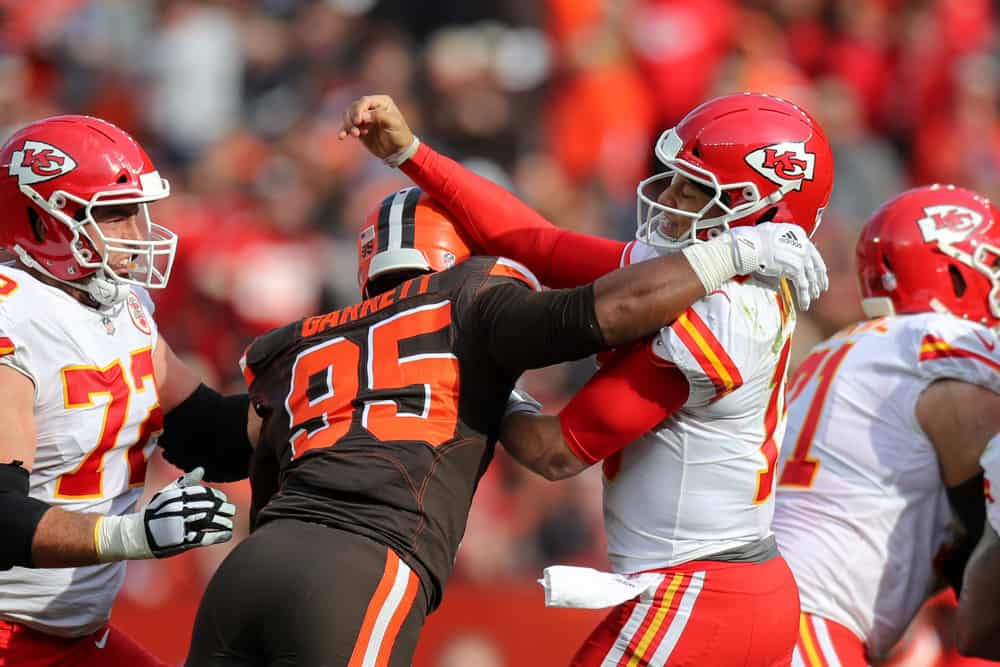 The Cleveland Browns got off to a hot start in Pittsburgh and never looked back in their upset victory over the Steelers.
This week, the Browns will be looking for more of the same against the high powered offense of the Kansas City Chiefs.
Despite both franchises having a storied history, this is the first time they will ever meet in a playoff matchup.
Who will advance to the AFC championship game?
Let's take a look at our writer's bold predictions for this Sunday's matchup.
Writer: Pat Opperman

Cleveland rolls into Kansas City fresh off the memory of knocking JuJu's dance shoes off last week.
Nary a Browns fan would not call this a successful season regardless of what happens this weekend.
But if we think the Browns players are satisfied, we better think again.
To a man, all conversation since Monday has been directed at the Chiefs.
Nobody is waxing nostalgic about 28-0 or 35-7 or even 48-37.
They are laser-focused on the task at hand Sunday, which is why another upset victory is in the cards.
Anyone who thinks the Chiefs can approach this game like any other is mistaken.
Certainly, they've prepared well most weeks, as their 14-2 record indicates.
But Kansas City hasn't blown many opponents away this year.
And teams with a little extra motivation- like the Raiders- have played them tougher than others.
To take the same approach toward a Browns team that senses something special in the air is a mistake.
It would not surprise me to see another early punch in the mouth delivered by Cleveland this week.
Kansas City's roster is one of the strongest in the NFL.
But emotion and confidence are what propels teams on playoff runs.
My Prediction: Browns 45, Chiefs 36
Writer Jake Luppino

Not many would have predicted this coming into the 2020 season, but the Cleveland Browns are in the divisional round.
The underdog mentality has favored this Cleveland team as it has eased the pressure off of them.
Last week against the Steelers, not too many (including myself) thought they were going to win.
Now, we have found ourselves in a very similar situation as they take on the defending Super Bowl Champions, the Kansas City Chiefs.
Control The Clock
The two important keys to this game are: limiting turnovers and controlling the clock.
The Kansas City Chiefs finished the regular season averaging the most total yards in the entire league.
It is no secret their offense is dynamic and very hard to stop.
This Cleveland defense will have quite the difficult task ahead of them.
But, Cleveland did finish the season with the third most rushing yards per game and we did see what both Kareem Hunt and Nick Chubb did against the Steelers in the Wild Card round.
The Cleveland run game will need to be in full effect as they have to keep Mahomes and that explosive Kansas City offense on the sidelines.
Subsequently, they must cash in all touchdown opportunities.
They cannot trade field goals with Chiefs touchdowns.
The good news for Cleveland is that they will have Kevin Stefanski, G Joel Bitonio and CB Denzel Ward back.
Unfortunately, I am picking against the Browns once more.
I hope they prove me wrong, but I just don't think they have enough defensive weaponry to slow down the Chiefs offense.
My Prediction: Chiefs 35, Browns 21
Writer: Ben Donahue
I have never been more happy to be wrong!
Last week, I predicted that the Steelers would end Cleveland's season by a score of 28-21.
Instead, the Browns had 28 by the end of the 1st quarter.
The team would go on to harass and mock their division rival to a 48-37 finish that helped Cleveland advance.
Now it's on to Kansas City to play the Chiefs in the Divisional Round.
Though they are mighty, the Chiefs can be beat.
Although my prediction score was wrong last week, I did hit on the winning formula for the Browns.
I said, "In order for the Browns to have a chance, they need all their starters to play, open running lanes for Chubb and Kareem Hunt, limit Mayfield's mistakes, and play lights out defense."
With the exception of a couple starters out due to injury or Covid protocols, everything else was spot on.
Mayfield played like a man possessed and threw three touchdown passes.
Both Chubb and Hunt ran for a combined 126 yards and two Hunt scores.
The defense did play lights out, forcing Ben Roethlisberger into four picks and numerous Pittsburgh mistakes.
So, the same formula has to happen this weekend for even the slightest chance of another Cleveland playoff upset.
Denzel Ward's return helps, but can the #Browns really keep up with the Chiefs?

The Cleveland defense made a number of big plays against Pittsburgh last week, but it will face its biggest challenge of the season in KC.@AkronJackson on what must happen: https://t.co/CIvG6NkAwY pic.twitter.com/CNQjEG3dl3

— The Athletic Cleveland / Columbus (@TheAthleticCLE) January 14, 2021
For starters, while the Browns defense played well last Sunday, they can NOT allow another 500+ passing yards and four touchdowns to Kansas City like they did against the Steelers.
The pass defense rating for Cleveland this year is 19th and the yards per game is ranked 22nd.
Not the best news when facing the likes of Patrick Mahomes.
Even worse, the Browns defensive line has struggled to get to the quarterback.
They are ranked 25th in QB hits and 28th in pressure percentage.
Speaking of Mahomes, the guy has played very well, again, this year.
He currently owns a 108.2 rating with 38 touchdowns passes and only six picks.
It should be noted that he threw four of those INTs over the last three games of the season.
Could that be a foreshadowing of things to come?
Mahomes has a fantastic weapon in tight end Travis Kelce.
The enigmatic Kelce has been a pain in the posterior for opponents this year.
This is obvious in his season stat line: 105 catches, 1,416 yards, and 11 touchdowns.
Speaking plainly, he is a beast!  It's already difficult for corners and safeties to hang with Kelce.
Linebackers trying to cover him are laughed out of the building.
Then, there is the matter of Tyreek Hill, who had 87 receptions, 1,276 yards and 15 scores.
Teams trying to contain Kelce left Hill open often.  In addition to Hill, KC had five receivers with 400+ yards this year.
In total, this group led the way to the sixth most points per game in the league and first in yards per game.
Meanwhile, Cleveland's D as a whole is ranked 21st in points per game and 17th in yards per game.
Under Patrick Mahomes, here's how the Chiefs perform in the playoffs:

⁃ 35.8 points per game
⁃ Never scored lower than 31 pts
⁃ Every win by 11 points or more
⁃ ONLY loss was in OT where Mahomes never got the ball

Just some perspective for #ChiefsKingdom pic.twitter.com/L4UOAo4kCe

— CBS Sports HQ (@CBSSportsHQ) January 13, 2021
What does this mean?  As much as I like how the Browns have come together this season, do they have a shot to advance to the next round?
A lot has been made of the Chiefs winning nine of their games by fewer than seven points.
That's hopeful but, then again, KC has had two weeks to rest.
Head coach Andy Reid, Mahomes, and offensive coordinator Eric Bieniemy have had a lot of time to tinker, recharge, and prepare for the playoffs.
I wish you well, Browns.
But, Mahomes and Kelce, and an offense that can score in a minute, will prove too much for Cleveland.
My Prediction: Chiefs 35, Browns 24
Writer: Wendi Oliveros

Here we go.
The Browns found their way through a tumultuous season to the divisional playoff game.
Of course, they drew the defending Super Bowl Champions in the divisional round, why would it be any other way?
The storylines are many, but I really believe the Browns can win this game.
It won't be easy, and it will be far from a blowout, but they can and will do it.
Here's why I think it will happen.
Virtually no one believes they can do it.
They will be able to run the ball and keep Mahomes and the Chiefs offense off the field.
Coach Stefanski will be back with the team.
Last week, the Browns were inspired to play for their coach and Joel Bitonio (who hopefully will be activated in time for Sunday's game).
This week, they are playing for Kareem Hunt who is going back to Kansas City where it all began and ultimately unraveled too.
I think the Browns want to win this for Kareem Hunt and to prove to the NFL that last week was no fluke.
Winning is part of the new culture in Cleveland; that may be the only bright spot of 2020, but at least it's a good one!
Browns win 28-27 in a nail biter that will make the Kardiac Kids proud.
My Prediction: Browns 28, Chiefs 27
Writer: Rocco Nuosci

The Cleveland Browns will be playing in an AFC Divisional Playoff game this weekend.
That's something I am yet to see in my lifetime.
The case is the same for younger generations of football fans all around the world.
It could, however, become commonplace for years to come given the resurgence of the franchise.
Their future success does not ride or die with this one individual game.
It is a game the Browns have a legitimate shot at winning, however.
Fading Chiefs?
The Pittsburgh Steelers were fading at the end of their season, and fading hard.
The Chiefs have not experienced a fall-off anywhere near that level, but they haven't been their usual, dominant selves.
In fact, they haven't won a game by more than six points since a 35-9 thrashing of the New York Jets.
That was back in week eight.
I think Cleveland is worried about stopping the Chiefs, obviously, but I think there should be as much or more concern from the Kansas City side about stopping Cleveland.

That's one thing I have not appreciated enough. When at full strength, just how good this offense has become

— Jake Burns (@jake_burns18) January 13, 2021
Putting aside the regular season finale where the Chiefs rested most of their starters, look at their week 16 game against Atlanta.
The Falcons had the fifth worst defense this season in terms of yards allowed per game.
The Chiefs, with the same team they will trot out on Sunday, pushed across just 17 points against a defense that gave up over 25 points per game.
With an offensive line that is more than capable of winning the battle up front Sunday, the Browns should have no problem putting up points.
2020 #Browns: only offensive line to finish #1 in both team pass and run block grade in PFF's history pic.twitter.com/qmhQkA3SHx

— PFF (@PFF) January 14, 2021
Whether or not they can go stride-for-stride with Pat Mahomes and the Chiefs, however, will be a tough task.
My Prediction: Browns 35, Chiefs 31
Writer: Mark Bergin

Getting cornerback Denzel Ward back for Sunday's game will help the Browns' secondary.
However, the Browns would need to clone Ward to have a chance to win Sunday considering how dominant the Chiefs are with all of their different offensive weapons.
It includes the return of rookie running back Clyde Edwards-Helaire, who practiced Wednesday for the first time since injuring his ankle and hip in Week 15.
While this season's 14-team playoff format is different than years' past, there's a reason getting the first-round bye week is so important.
The 2012 Ravens were the last team to play in the Super Bowl without having a bye week.
The most ardent Browns fans might point to the fact that Nov. 1 marked the last time the Chiefs won by more than one score.
However, there's a reason why the Chiefs have moved to 10-point favorites ahead of Sunday afternoon's game: Patrick Mahomes is a generational talent.
Even if the Browns can establish their running game with Nick Chubb and Kareem Hunt, the Chiefs can put up points too quickly to erase any kind of deficit.
My Prediction: Chiefs 38, Browns 24