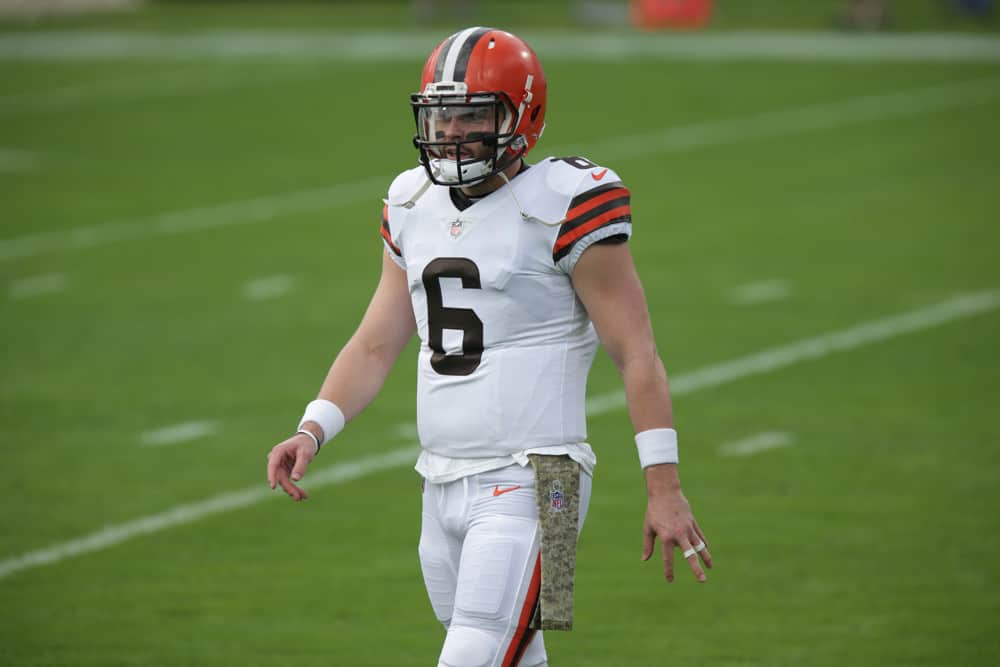 Very few expected the Cleveland Browns to still be playing football in mid January.
If they were not, the question of QB Baker Mayfield's contract extension would permeate the airwaves.
Recall that Mayfield is in the third year of his four year rookie contract.
Because he was a first round draft pick, the Browns have the ability to exercise a fifth year option on the rookie contract.
This contract situation was heavily discussed in the preseason with no resolution since Mayfield's performance in the third year was viewed as critical in evaluating his value and future with the Cleveland Browns.
In the midst of a week of playoff preparation, GM Andrew Berry answered (or deflected) a question on Mayfield's extension.
"There will be plenty of time to discuss those 2021 decisions. It's probably safe to say we're really pleased with Baker's performance and what we've established here. We wouldn't be here without his contributions."
Berry on a potential extension with Mayfield this offseason: #Browns pic.twitter.com/XIaqW4RrKq

— Jake Trotter (@Jake_Trotter) January 15, 2021
Berry "very pleased" with QB Baker Mayfield. "He's grown before our eyes." Berry wouldn't get into any discussions about a contract extension for Mayfield, but made it clear team is excited about him and his future.

— Tom Withers (@twithersAP) January 15, 2021
I suspect Berry is a very good poker player.
He is capable of saying something so diplomatically, but it sheds no light on what he may be planning.
Mayfield's Peers
Perhaps Berry is keeping a watchful eye on what is happening with Mayfield's peers.
There are both good and bad examples of contract extensions in the two draft classes prior to Mayfield.
2016 first round pick Carson Wentz is being paid handsomely by the Philadelphia Eagles.
This could be creating a financial situation that is hard to break free from if they choose to give the starting duties to 2020 second round draft pick Jalen Hurts.
Patrick Mahomes' is the highest paid quarterback in the NFL.
Drafted in 2017, he is under contract with the Chiefs until 2031, a ten year deal worth $503 million.
The risks versus the rewards of paying the quarterback that kind of money is one that will not be limited to the Browns.
Remember that Mayfield was drafted in the first round of a quarterback-rich 2018 draft that includes Josh Allen, Lamar Jackson, and Sam Darnold.
NFL front offices will have to figure out how to manage these contracts.
It will be a trickier exercise because the salary cap (at least for 2021) will be considerably lower following the COVID-19 financial ramifications of the 2020 season.
Yes. Extend Baker's contract now. Or at the very least, this coming spring, once they know what the salary cap is going to be.

— Massillon Dude (@fentonc12) January 11, 2021
Organizational Ramifications
Not just the quarterback's future has to be considered.
If the Browns pay Mayfield big money, it will certainly sacrifice their ability to spend in other key positions that helped Mayfield's performance this season including the offensive line.
The Browns are a very young team so other player contract decisions will need to be made in the season or two after Mayfield's contract is determined.
No doubt this is why GM Andrew Berry does not want to speak off the cuff about it in the midst of the playoffs.
The farther the Browns advance in the playoffs especially if Mayfield continues to play well, the greater Mayfield's bargaining position becomes.
Regardless, there is a long offseason to ponder these issues.
Right now, there is Browns' playoff football yet to be played on Sunday afternoon against the Kansas City Chiefs at 3:05 pm EST.