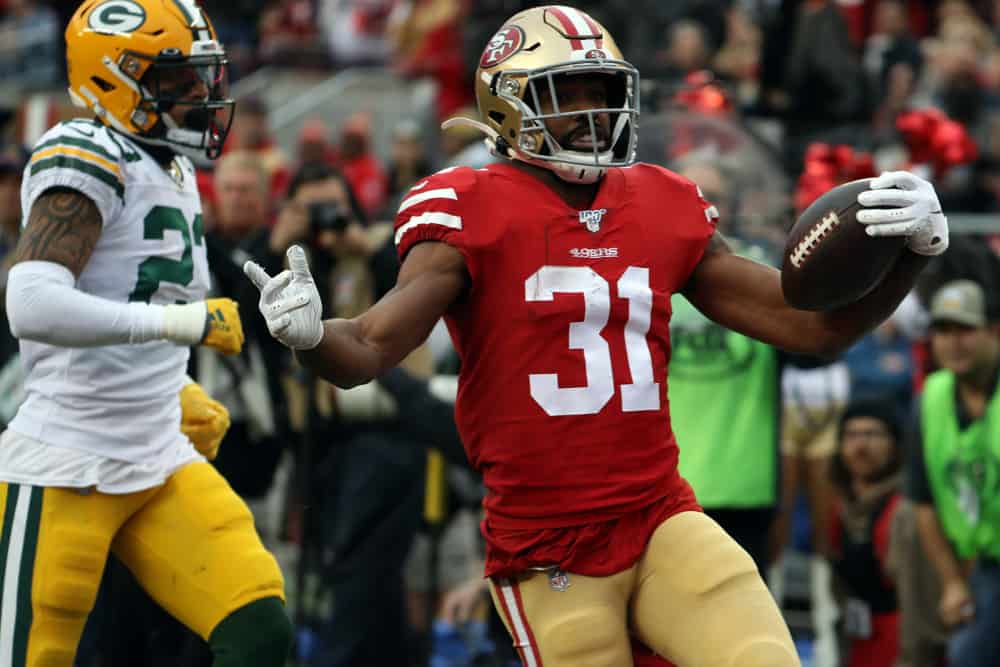 Raheem Mostert is the underdog you want to cheer for in a Super Bowl.
Before rushing for the second-most yards in a playoff game (220) on Sunday, Mostert was passed over by six different teams.
Mostert, now 27 years old, uses those experiences as motivation.
Raheem Mostert was cut by six different teams before landing on the 49ers.

He still looks at the list of all six teams and the cut date of when they released him for motivation.

(via @957thegame)pic.twitter.com/oCXiG79Dlt

— Bleacher Report (@BleacherReport) January 20, 2020
The Teams That Looked Over Mostert
Raheem Mostert enjoyed a four-year career at Purdue, where he was primarily a kickoff return specialist.
His best year at running back was his senior season in 2014, where he rushed for 529 yards.
Mostert signed as an undrafted free agent with the Philadelphia Eagles in 2015 but spent time with four teams.
After being demoted to the practice squad, Mostert bounced around with the Miami Dolphins, Baltimore Ravens, and Cleveland Browns.
In 2016, Mostert signed with the New York Jets and the Chicago Bears.
Mostert signed with the 49ers where he impressed as a special team player and running back.
The rest is history.
Mostert With The Browns
When Mostert was waived by the Cleveland Browns, he was let go to make room for players that the Browns claimed.
Want to know who those players were?
This included OL Anthony Fabiano, DB Ed Reynolds, QB Kevin Hogan, DL Gabe Wright, P Michael Palardy, and DB Trey Caldwell.
It wasn't until 2018 that the Browns had their franchise running back in Nick Chubb.
This past season Chubb rushed for the second-most yards in a season and was nominated as a FedEx Ground Player of the Year finalist.
Some believe that their franchise back could have landed in Cleveland sooner but everyone needs to take a moment and look at the facts.
In 2016, the Browns did not have the offensive pieces like the team has now.
Y'all, just because there were former #Browns players at almost every position doesn't mean the Browns would be in the playoffs if they retained them.

Raheem Mostert taking handoffs from Josh McCown behind Mitchell Schwartz would get the Browns 3 wins, not a Lombardi.

— An Angry Browns Fan (@irritated_1) January 20, 2020
Mostert's Rise In San Francisco

Mostert played the final regular-season game in 2016 and placed on the IR in 2017.
In 2018, he saw his role increase as a running back; however, he was placed on the IR again with a fractured forearm.
Mostert impressed enough as a contributor on special teams that the 49ers signed him to a three-year extension.
He was used more like a running back and finished the season with 772 rushing yards.
Final Thoughts
Mostert was passed over by numerous teams, but it's safe to say that his greatness stems from the coaching of 49ers head coach Kyle Shanahan.
His stats at the collegiate level were consistently average in terms of running back production.
This season is a career-year but look at the other running backs on the team.
Matt Brieda has 623 rushing yards, while Tevin Coleman has 544 yards.
Mostert was not going to be a difference-maker at the time he was cut.
However, we should still applaud his performance and look forward to the Super Bowl.