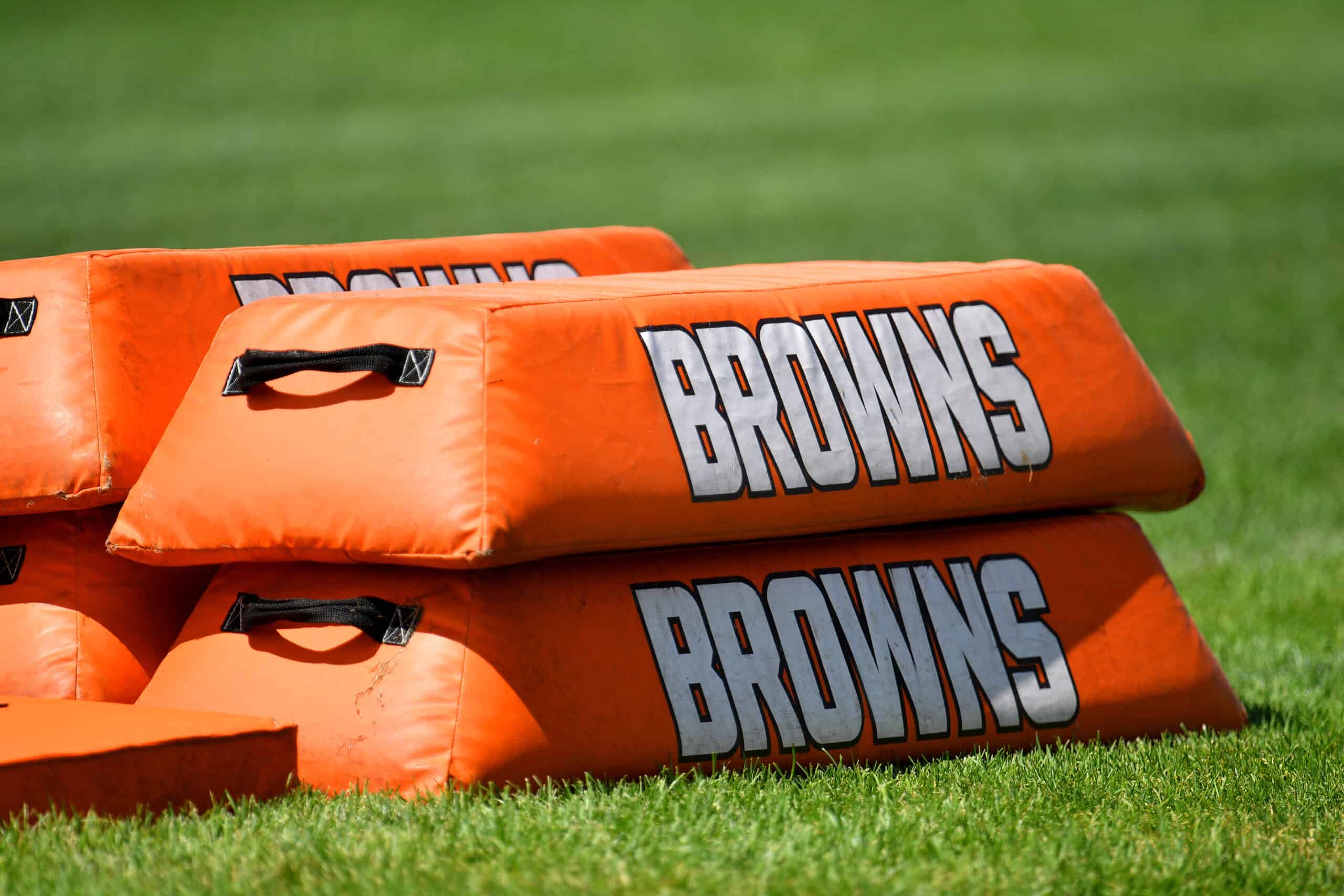 Though the Cleveland Browns players had an off day on Monday, August 9, the coaching staff was still hard at work.
They reportedly invited six players in for workouts.
Those players included: Dylan Coe, Johnathon Johnson, Chad Kelly, Darvin Kidsy, T.J. Morrison, and Jordan Ta'amu.
Cleveland Browns working out Dylan Coe, Johnathan Johnson, Chad Kelly, Darvin Kidsy, T.J. Morrison and Jordan Ta'amu

— Aaron Wilson (@AaronWilson_NFL) August 9, 2021
The Players
1. Dylan Coe
Dylan Coe is a free agent inside linebacker.
He was an UDFA out of Missouri State in 2017.
Coe played for the Texans from 2017-2020.
2. Johnathon Johnson
Wide receiver Johnathon Johnson is an 2020 UDFA out of Missouri who signed with the WFT in 2020.
He was waived before the season began and never found an NFL home last season.
3. Chad Kelly
Quarterback Chad Kelly is the nephew of NFL legend Jim Kelly.
The Ole Miss product spent his first two seasons with the Broncos and two seasons with the Colts.
He is 27 years old and has only taken one NFL snap in 2018 while with the Broncos.
Off-the-field legal issues have hampered his opportunity to make and stay with an NFL team.
X it is ! We are cookin in this Texas heat ! pic.twitter.com/ATkYkRIAgd

— Chad Kelly (@Chadkelly_6) August 6, 2021
4. Darvin Kidsy
Wide receiver Kidsy is an UDFA from 2018.
He spent time with the Washington Football Team and the Seattle Seahawks.
Kidsy is reportedly making the rounds for NFL teams and traveled to Carolina after leaving Cleveland.
Source: Despite working out for #Browns today, WR Darvin Kidsy will not be signing with the team. He's headed to Arizona to work out for the #Cardinals.

— Brad Stainbrook (@BrownsByBrad) August 9, 2021
5. T.J. Morrison
Morrison is a defensive back out of Stony Brook University.
The UDFA was signed by the Las Vegas Raiders in the spring but released in June.
6. Jordan Ta'amu
Ta'amu is also a quarterback.
He was an UDFA in 2019 out of Ole Miss.
Ta'amu was on the practice squad for both the Kansas City Chiefs and the Detroit Lions in 2020.
The Plan
It is likely that the Browns are trying out these players for practice squad positions.
None of the six has any significant NFL experience.
Chad Kelly is the only player who was drafted, and he was a seventh-round pick (253rd overall).