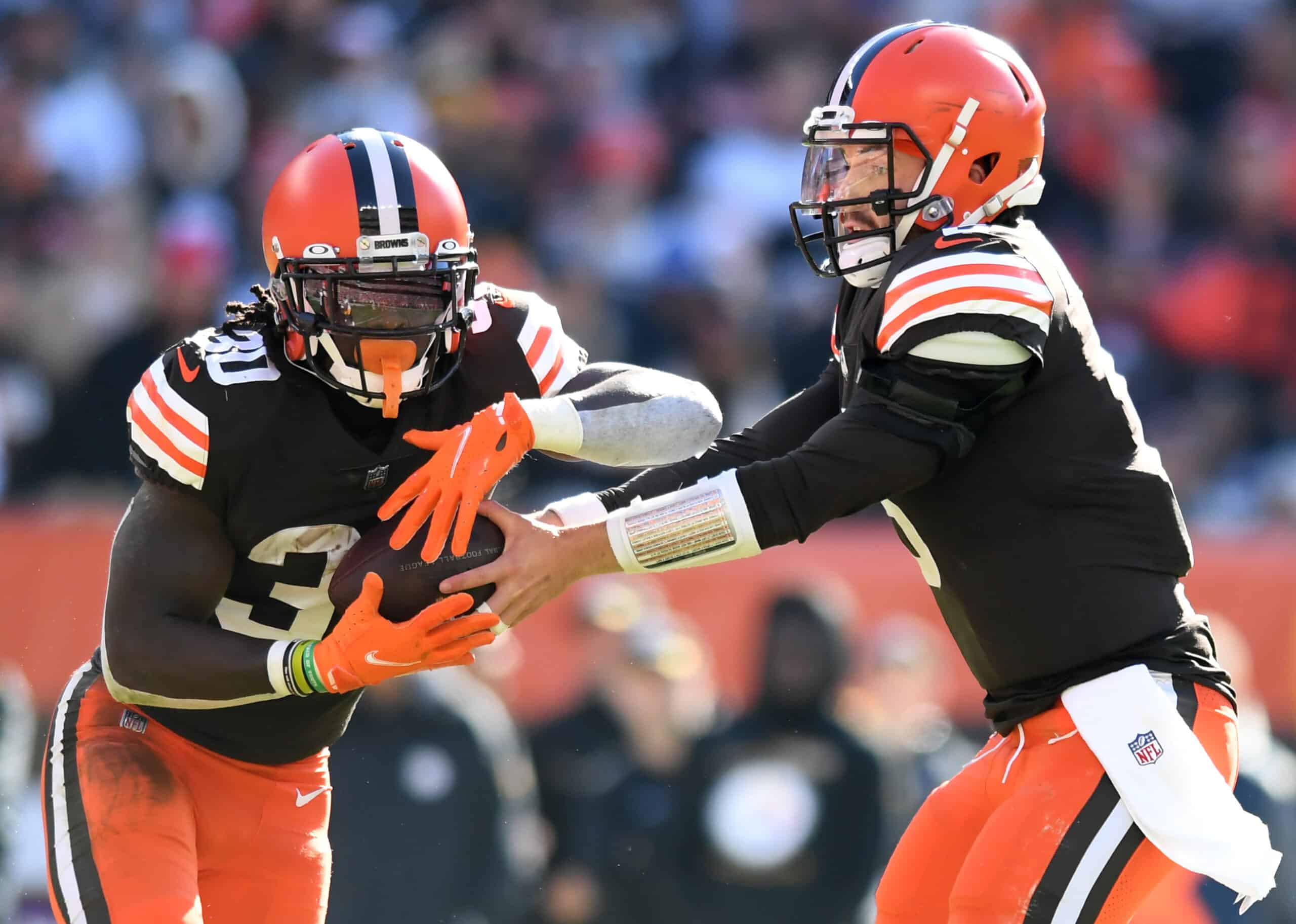 The Cleveland Browns face a bit of a conundrum against the New England Patriots on Sunday with their running game.
With Nick Chubb and Kareem Hunt both out for Sunday's matchup, the starting job will once again fall to third-year running back, D'Ernest Johnson.
Browns RB Nick Chubb is OUT Sunday against the Patriots. D'Ernest Johnson is set to get his second start of the season.

— Field Yates (@FieldYates) November 12, 2021
Lucky for the Browns, this isn't the first time that Johnson will be in the spotlight for them.
Unluckily for the Browns, the Patriots are a tough team that's coming into Sunday's matchup on a three-game winning streak, due in no small part to the play of their defense.
Overall, the Patriots rank fifth in rushing touchdowns allowed, fifteenth in rushing yards allowed, and third in points allowed.
Their defense isn't what it was in the Tom Brady days, but it's also a heck of a lot better than it was last year.
If D'Ernest Johnson hopes to eclipse the 100 yard mark for the second time this season, he's going to have to show up in a big way.
Buy 
He's done it before.
When called upon to start in their Thursday night game against the Denver Broncos, Johnson had 22 carries for 146 yards and a touchdown.
At the time, Denver had one of the best rushing defenses in football.
Johnson averaged 6.6 yards per carry and looked more like Nick Chubb coming out of the backfield than an undrafted free agent acquisition.
On the season, Johnson has totaled 37 carries for 195 yards and 2 touchdowns while averaging over 5 yards per carry.
He's already eclipsed his previous career totals from his first two years in the league in this season alone.
Johnson clearly has a lot more talent and running ability than the 32 teams who passed up on him in the 2018 draft thought he did.
Another thing that plays into Johnson's favor is the fact that Cleveland just signed both of their guards, Joel Bitonio and Wyatt Teller to contract extensions.
The combo has been playing at a Pro-Bowl level all year and are sure to be flying high on Sunday, which bodes well for Johnson.
A big game on Sunday would likely mean that teams will be vying for Johnson in the off-season, which means that he's got a lot riding on his performance.
D'Ernest Johnson will shine Sunday.

Book it. pic.twitter.com/voMAcy0qTA

— Nick Karns (@karnsies817) November 12, 2021
Sell 
D'Ernest Johnson might have performed well against the Denver Broncos, but the Patriots are a whole other animal.
We've since found out that Denver isn't as good as we thought they were.
New England, on the other hand, only seems to be getting better.
With or without Nick Chubb and Kareem Hunt, Cleveland has the number one rushing offense in football.
You can bet the house that Patriots head coach, Bill Belichick is going to emphasize stopping the run and force the Browns to beat them through the air.
With a beat-up Baker Mayfield and a passing game that's been inconsistent and struggling all year, the running game is still Cleveland's number one weapon.
Belichick has a nasty habit of honing in on a team's strengths and forcing them to find other ways to win.
If the Patriots do indeed focus on stopping the running game, Johnson has little to no chance of eclipsing the 100-yard mark.
Another big advantage that the Patriots have over Johnson, is that they've seen what he can do in the running game.
Denver didn't have tape to review or time to come up with a solid game plan to stop Johnson, but the Patriots have both.
Without the surprise factor in his favor, Johnson will be hard-pressed to gain 100+ yards on the ground.