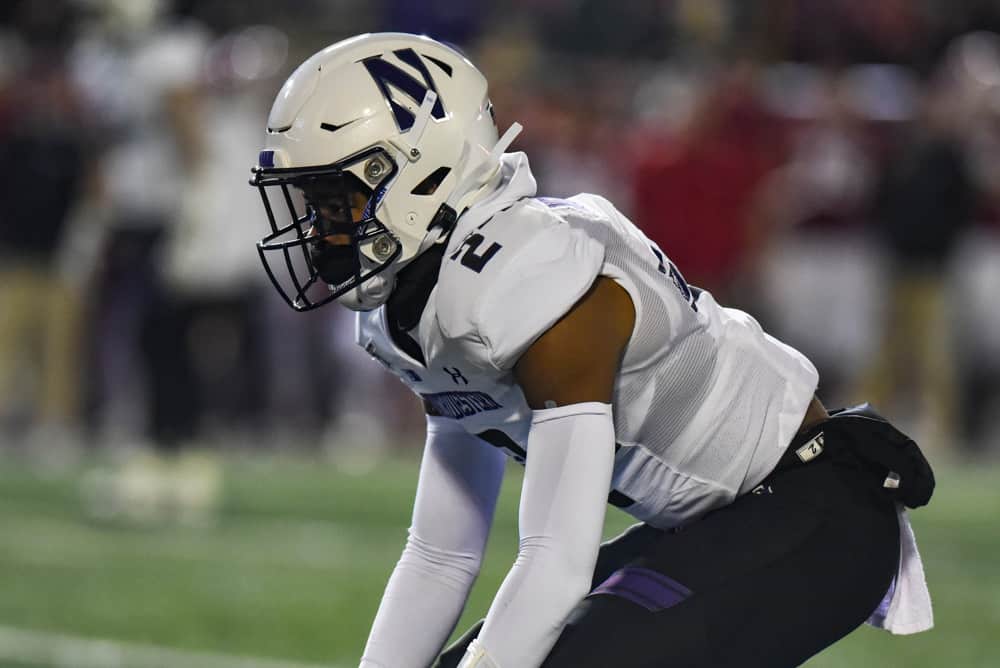 The Cleveland Browns selected Northwestern cornerback Greg Newsome II in the first round (26th overall pick) of the 2021 NFL Draft.
Like last year's first-round pick, Jedrick Wills Jr., the Browns have high expectations for Newsome.
Before tonight, Northwestern's last first-round pick came in 2005.

Greg Newsome II makes that ✌️ on the night for the Wildcats, selected at No. 26 for the Browns. #NFLDraft pic.twitter.com/63Js8SqLl8

— SportsCenter (@SportsCenter) April 30, 2021
Do those expectations include a trip to the Pro Bowl in his rookie season?
Let's take a look at whether you should buy or sell the possibility of Greg Newsome making the Pro Bowl in 2021.
Buy 
There is a very good possibility Newsome earns the starting job after competing in camp against Greedy Williams.
Williams is coming back from a nerve injury in his shoulder so he did not play most of last season.
He did not exactly dominate in his position during his rookie season of 2019 when he was the Browns first-round pick.
Newsome was also one of the elite cover corners during his time in college.
He has the skillset to make an impact in the NFL right away.
Lowest completion rates allowed in the Big Ten last season:

Cameron Mitchell, Northwestern – 33%
Greg Newsome II, Northwestern – 35% pic.twitter.com/sUKn997GBW

— PFF College (@PFF_College) March 2, 2021
After the draft, he said:
"Do I think that coach is just giving me the job? No way. I'm going to have to come in there and definitely work. It's a talented, talented room. I have to go in there and prove myself every day…I am just ready to give my all to Cleveland every single day and that fan base."
Sell
There is no doubt that Newsome was a formidable force on the field for Northwestern in 2020.
Greg Newsome's 2020 season (PFF):

🔸12 catches on 34 tgts (35.3%)
🔸93 yards allowed or 7.8 ypc
🔸0 TD | INT | 7 PBUs
🔸Passer rating of 31.7
🔸PFF's 9th best coverage grade among CBs https://t.co/ujPzlbUoY3

— Paul Bretl (@Paul_Bretl) February 27, 2021
Will that success translate immediately to the NFL?
Newsome will most frequently be covering the opposing team's number two receiver as Denzel Ward will be on the top receiver.
While Newsome has the talent to be successful in the NFL, making the jump from covering Northwestern's opposing receivers to NFL-caliber receivers may require more than a year to adjust to.
That means achieving a Pro Bowl berth in his rookie year would be a tall order.
He Will Not Play The Majority Of Defensive Snaps
This could be the biggest roadblock to Newsome making the Pro Bowl in 2021.
There are two reasons for this.
One, because the Browns defensive roster is so deep, even if he wins the starting job, he is likely to split snaps with Williams.
Defensive coordinator Joe Woods dealt with injuries and less talent on the roster in 2020 so we are expecting a more creative playbook in 2021.
That includes switching up just about everything to keep opposing offenses guessing.
The second issue for Newsome is that he has only played in 17 games in his college career that spanned three seasons.
Newsome is coming off a shortened 2020 season where he was sidelined with a groin injury.
Injuries are hopefully in his past, but it is worth mentioning that it took him three calendar years to play the amount of games in one NFL regular season.
Conclusion
Anything is possible, and Newsome would be in good company with another rookie Cleveland Browns cornerback who made the Pro Bowl on his first try.
Making the Pro Bowl is not the only measure of success for a rookie player, and many believe Newsome has Pro Bowls ahead of him in his career but not necessarily in 2021.