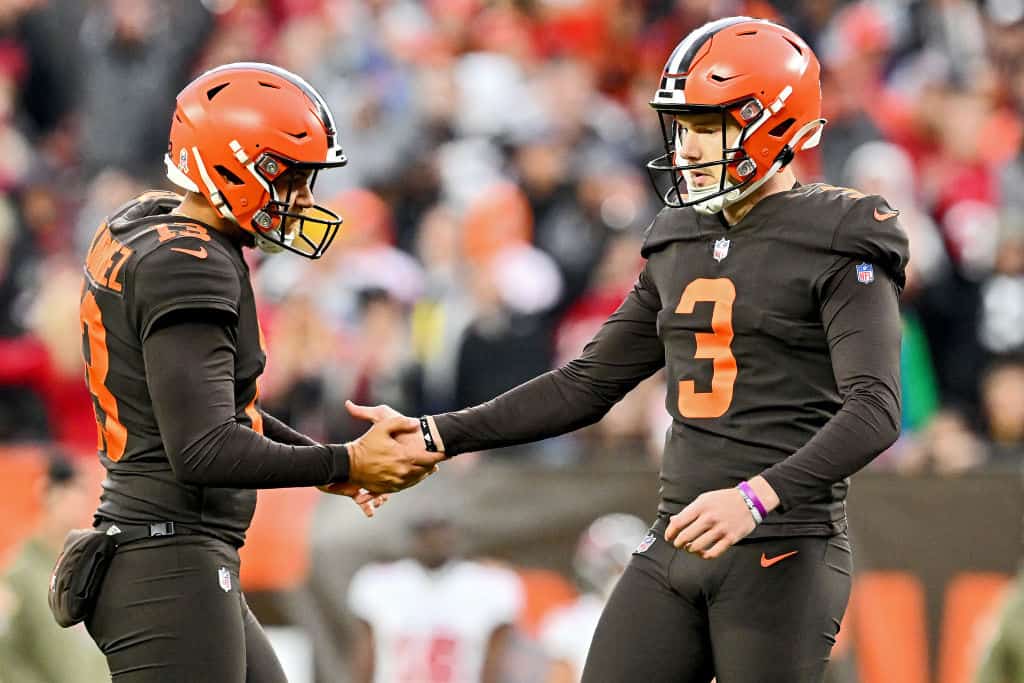 It is that time of year in the NFL season when analysts score and figure out who belongs on various All-Star teams.
Two Cleveland Browns rookies are getting recognition from different publications for their 2022 performances.
They are Cade York and Martin Emerson Jr.
Cade York Named To The Athletic's All-Rookie Team
Cade York earned rookie team honors for The Athletic.
The Athletic's 2023 NFL All-Rookie team.

Selected by @dpbrugler @Nate_Tice @DianteLeeFB @ChrisBurkeNFL and me for @TheAthleticNFL https://t.co/BoToRRsg7N

— Nick Baumgardner (@nickbaumgardner) January 12, 2023
York began his NFL career in a dazzling manner in the season opener with a perfect day converting four field goals and two extra points.
One of those field goals was a game-winning 58-yarder at the end of regulation to secure the Week 1 win for the Browns.
ICYMI: #Browns Cade York hits 58-yard game-winning field goal to snap 17-game losing streak in season openers in 26-24 win. https://t.co/1szeH36VGN pic.twitter.com/TEcttwqVl8

— Orange and Brown Rpt (@TheOBR) September 12, 2022
There were ups and downs after Week 1, but York finished the season making 24 out of 32 field goals and 35 out of 37 extra points.
MJ Emerson Named To Pro Football Journal's All-Rookie Team
Cornerback MJ Emerson came into his own during the season.
He seemed to be flying around the field and breaking up big plays more frequently as the season wore on.
With Greg Newsome II and Denzel Ward out with injuries at various points of the season, Emerson had more opportunities to gain significant playing time.
Emerson played in every game and recorded 51 solo tackles and 15 passes defended.
Martin Emerson Jr's rookie season : 63 tackles, 1 for loss, 1 sack & 15 passes defensed in 17 games (6th in the NFL in passes defensed. QB's when targeting him went 46/91 for 490 yards, 3 TD's & a 77.6 QB Rating) pic.twitter.com/Dn8MHUX9hf

— Lee Harvey (@MusikFan4Life) January 12, 2023
Both players should be even better in 2023 with one year of NFL experience under their belts.
Emerson will get the benefit of a new defensive coordinator.
The question that is yet to be determined is if Cade York will get a new special teams coordinator.
#Browns coach Kevin Stefanski on whether he'll retain special teams coordinator Mike Priefer: I haven't had a chance to sit down with every coach. Those are things we'll work through.

— Nate Ulrich (@ByNateUlrich) January 9, 2023
We do not yet know if Mike Priefer will be back in 2023.
Congratulations to both players!