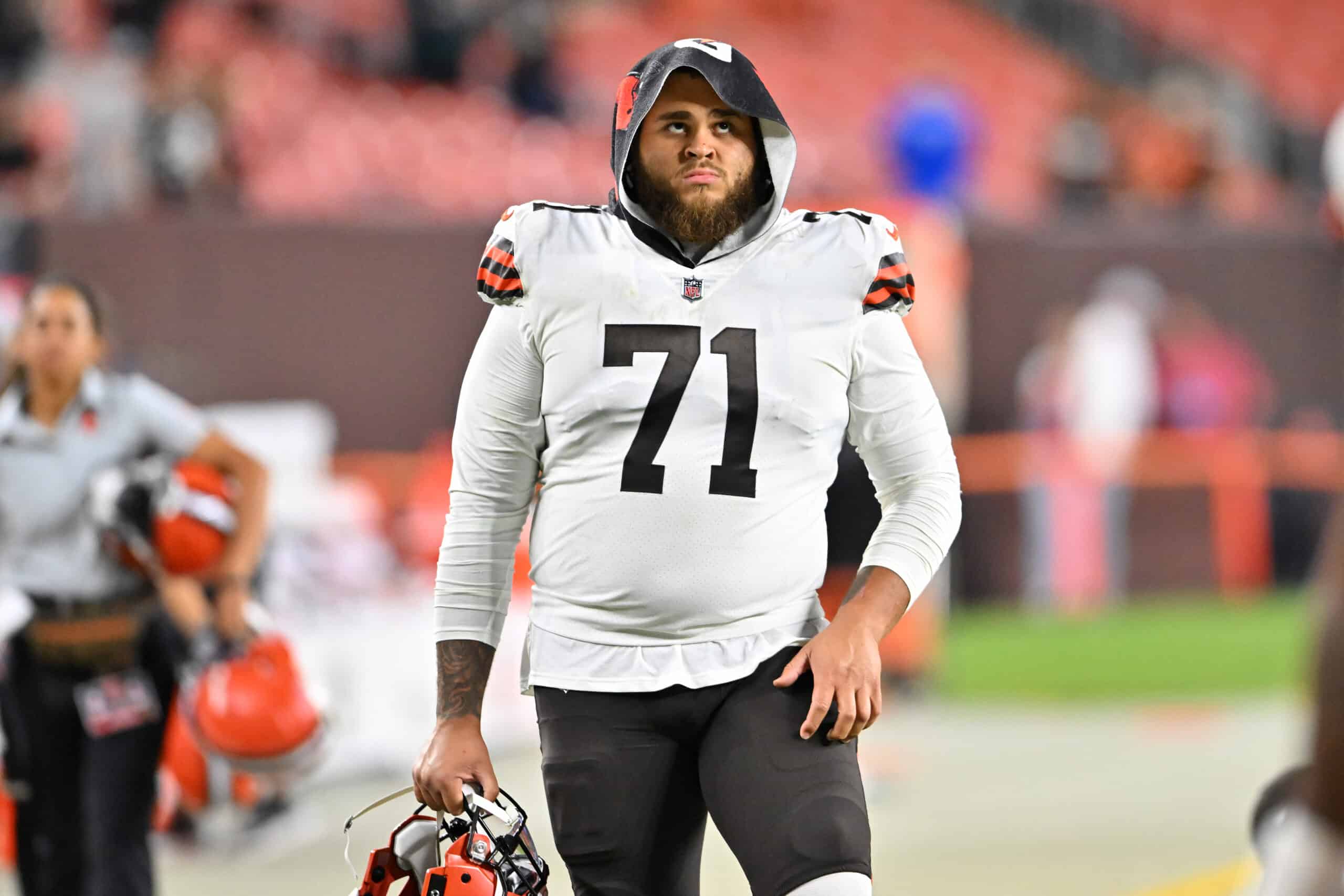 Jedrick Wills is "young" and "inconsistent".
However, he also "took strides" and "took a step forward" this season.
At least, that's what Wills is according to Cleveland Browns General Manager Andrew Berry as he outlined in his press conference earlier this week.
You can see the clip of him describing Wills here.
#Browns GM Andrew Berry was asked about Jedrick Wills' performance this season. His answer:

"young"
"inconsistent"
"took strides"
"step forward"

He was the 10th overall draft pick and we're STILL talking about steps forward & making strides heading into his 4th year in the NFL? pic.twitter.com/fn9nFAkV4M

— Roberto Shenanigans (@Rob_Shenanigans) January 9, 2023
Many fans were, well, surprised by Berry's words to say the least.
Wills was one of the most harshly, if not the most harshly criticized offensive lineman down the stretch.
Plays like this are a big reason why.
Jedrick Wills' career with the #Browns summed up in one play. I hope the NFL is charging him for season tickets because my dude always has the best seat in the house. pic.twitter.com/Glt0V2Ri9z

— Roberto Shenanigans (@Rob_Shenanigans) January 1, 2023
Jedrick Wills folks pic.twitter.com/vAHLmNs1FC

— Michael Killi (@MikeKilli) October 23, 2022
Next season is the last of Wills' rookie contract with the fifth-year option sitting right after that.
Will Berry and the front office roll the dice moving forward with Wills?
Or will they look for an upgrade this offseason?
Let's take a look at what the future of Wills' time in Cleveland might look like.
No Progression
Whether you feel Wills regressed or just took a step sideways, he certainly didn't improve in any areas this season.
That puts Cleveland's front office in a tough spot moving forward.
Football isn't like baseball where you can wait years and years for a guy to develop.
The Browns need guys who can be productive on their offensive front now.
Making the move for Deshaun Watson last spring and trading away all those draft picks makes things even more urgent.
They don't have time to sit and wait for guys to finally figure it out.
For anyone who defends Jedrick wills – this guy plays patty cake. Watches people harass his QB. This happens multiple times per game. @realcorykinnan pic.twitter.com/aHDEgFQRHX

— Chris (@ChrisKerrVa) January 1, 2023
Can't move him to RT since the #Browns extended Conklin. What do they do here?

Tackle By PFF:
Overall: 76th
RBLK: 94th
PBLK: 95th pic.twitter.com/c8cv4qibrt

— Michael Killi (@MikeKilli) January 2, 2023
Wills did, well, pretty much the opposite this year.
The offensive line underwhelmed most of the season, and Wills is a huge part of that.
He had a solid first few weeks, including in the win over Pittsburgh, but his performances fell off from there.
In his "prove it" year, Wills failed to deliver.
That may be enough for the front office to move in a different direction this offseason.
The Long Game
The opposite train of thought, of course, is to wait things out with Jed.
He did have an excellent rookie season and at one point looked like for certain to be the left tackle of the Browns' future.
Some will point out the development timeline of David Njoku.
He elevated his game from that of a draft bust to that of one of the better tight ends in football.
It took Njoku 5.

You just watched that process, which culminated in him being one of the better tight ends in football.

Jedrick Wills is still 23 years old. https://t.co/Biqzyo70B5

— Pete Smith (@_PeteSmith_) January 10, 2023
No two careers work the same, and it's far from a guarantee that Wills will return to top form.
But, he has proved he can be effective.
And he's just 23-years old.
The Browns can't wait forever for Wills to become more consistent, but it could be worth running it back again with him to find out.
What Do They Do?
Wills is likely to stay with Cleveland this winter and return to his starting spot in the fall.
I doubt he gets any kind of contract extension done this offseason, making next year pivotal for his career.
He's young, and without much draft capital, Cleveland's upgrade options are limited.
There's other holes to fill on the roster, and cap space can disappear in a hurry.
Kevin Stefanski and the front office probably want to see what he looks like once healthy again.
Wills is probably your starting left tackle in 2023.
However, a shorter leash on his play and effort could be something we see.