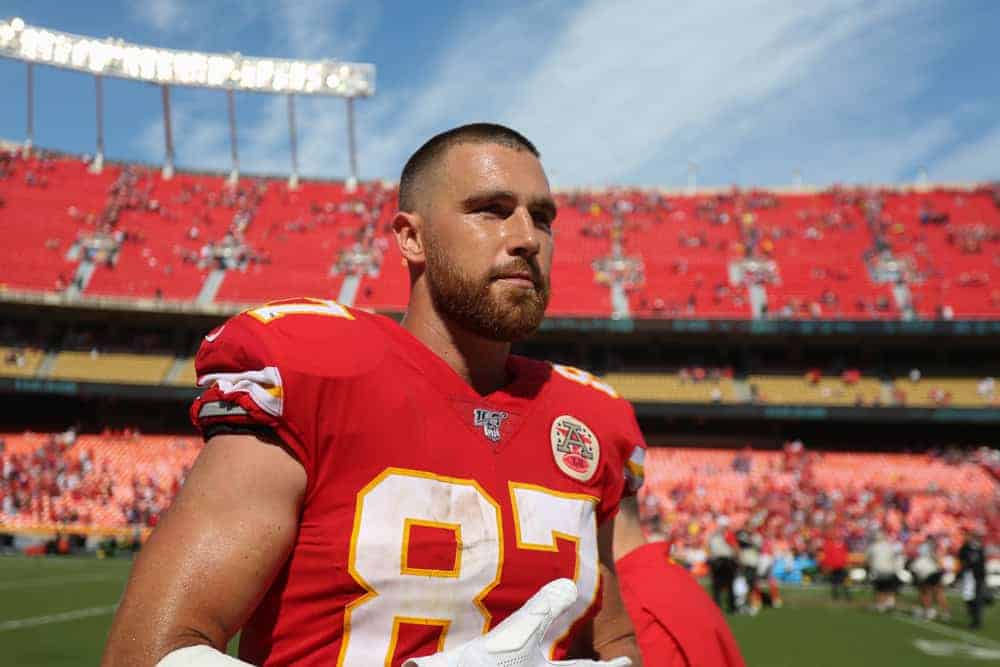 There seem to be so many connections between the Cleveland Browns and the Kansas City Chiefs.
Much discussion has centered around Kareem Hunt meeting his former team and Baker Mayfield and Patrick Mahomes' epic college battle.
Travis Kelce reminded us this week of his ties to Ohio.
Kelce Grew Up A Browns Fan
Travis Kelce was born in Cleveland Heights, Ohio and was a Cleveland Browns fan as a child.
He was cheering for the Browns to beat the Steelers last week also.
Obviously, he is not rooting for the Browns on Sunday afternoon, but he says that many of his family members and friends will have mixed feelings about the game.
Kelce believes they will figure out a way to wear both teams' colors.
"I understand what it means to be a Cleveland sports fan, to be a die-hard at that. I think a lot of the close friends and family will be wearing Chiefs gear but throwing an orange shirt with Browns helmet on underneath. It's definitely going to be mixed feelings for a lot of people I know."
Cleveland native and #Chiefs tight end Travis Kelce on facing the #Browns Sunday…

"I absolutely love Cleveland. but I understand we are each other's enemies right now. I've got a lot of friends and family that are telling me I'm the enemy."

— Nick Camino (@NickCaminoWKYC) January 14, 2021
Unchartered Territory
The Cleveland Browns and Kansas City Chiefs have never met in the playoffs before.
Their most recent meeting occurred on November 4, 2018.
The Chiefs defeated the Browns by a score of 37-21.
Both Travis Kelce and Kareem Hunt were instrumental in the Chiefs' success on that day.
Stopping Kelce Is One Of The Keys
Travis Kelce is one of the lynchpins of the Chiefs offensive attack.
Mahomes, Kelce, and WR Tyreek Hill account for more than half of the Chiefs' offensive yards this season.
Kelce always seems to find a way to get open and help Mahomes out of a jam.
The Browns' defense will be busy trying to shut down Kelce, Hill, and Mahomes.
The Raiders Beat The Chiefs
No team is unbeatable.
We saw that with the Pittsburgh Steelers this season.
The Las Vegas Raiders handed the Chiefs their first loss of the season in October.
Capitalizing on the rare Chiefs' mistakes is the key, and the Raiders managed to do that.
Plenty of Respect 
The Chiefs and Browns have plenty of respect for each other.
Both Mahomes and Mayfield speak highly of each other.
Mahomes and Hunt are still in regular contact, and Mahomes was quick to send a congratulatory text to Hunt after last week's win.
The one possible exception was WR Sammy Watkins who hinted at the Twitter universe last Sunday that he didn't think the Browns would be much competition.
This weeks contestant on "free bulletin board material" is Chiefs WR Sammy Watkins! Please feel free to tag a #Browns player below. Let's get this spread all over Cleveland. pic.twitter.com/Kp8gQ4ZsmW

— MoreForYouCleveland (@MoreForYou_CLE) January 11, 2021
In spite of Watkins, there seems to be better blood between these two teams than the Browns have with its divisional rival the Pittsburgh Steelers.
Catch the Browns take on the Chiefs at Arrowhead Stadium on CBS, Sunday January 17, 2021 at 3:05 pm.
Despite being 10 point underdogs, the Browns appear to be up for the challenge, and fans should look forward to a competitive game.