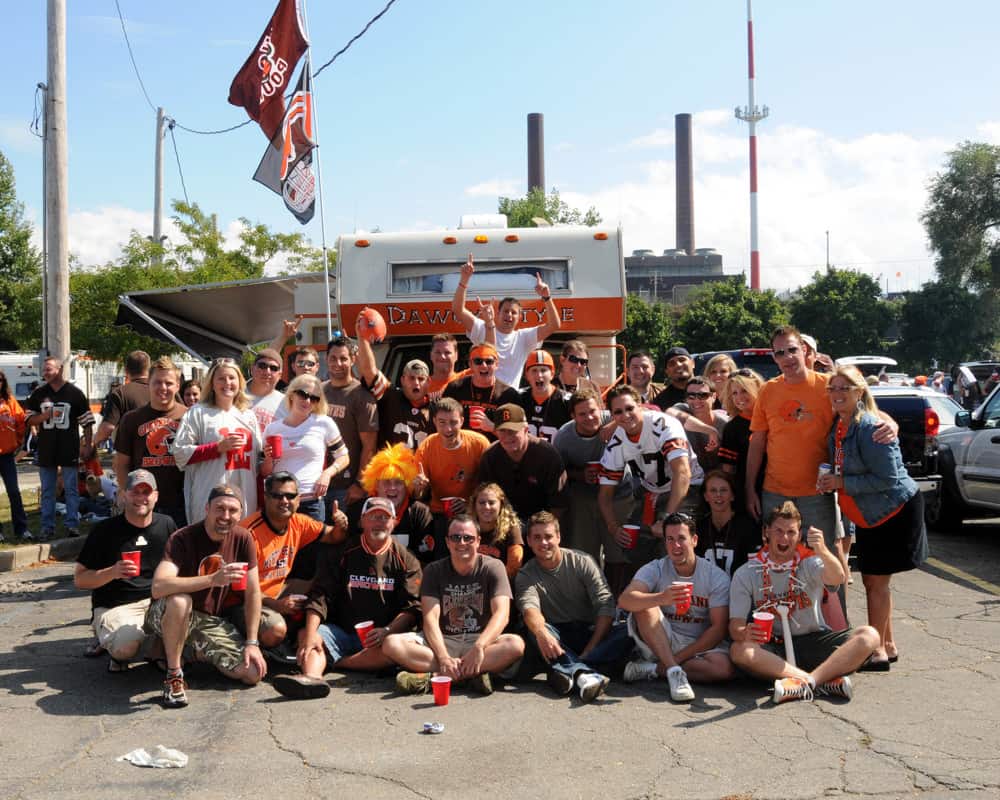 Cleveland's mayor extended his COVID-19 civil emergency order which will ban tailgating prior to Cleveland Browns home games at least through the month of September during the 2020 NFL season.
Mayor Frank Jackson's order, initially enacted on March 11 was set to expire on August 31.
He extended the order for the sixth time so it now runs through September 30.
It states:
"Public and private gatherings of greater than 10 people occurring outside of a single household or living unit, including but not limited to block/street parties and tailgating events are prohibited."
How It Affects Browns Fans
City-owned parking lots will not open until 2 hours before the games.
In addition, no tailgating permits will be issued.
Thousands of fans traditionally gather to tailgate in parking lots around FirstEnergy Stadium prior to the home games with the most popular parking lot being the Muni lot.
There are 2 home games during the month of September.
The Browns home opener is on Thursday, September 17 against the Cincinnati Bengals at 8:20 pm.
On September 27, the Browns play the Washington Football Team at home at 1:00 pm.
Fans in The Stadium
The state of Ohio's established stadium capacity is 15%.
This 15% number is applied to all outdoor sporting events held during the pandemic so it is not specific to the Browns.
FirstEnergy Stadium's capacity is 67,895.
The Browns are expected to petition to increase that to 20%.
At 15% capacity, FirstEnergy Stadium would have 10,184 spectators.
If 20% capacity is granted, 13,579 fans will be inside the stadium.
Spectators In Other NFL Cities
The Kansas City Chiefs recently announced it will allow 15,000 fans (22% stadium capacity) for its opening game (and rematch of last season's Super Bowl) against the San Francisco 49ers.
Kansas City's mayor has agreed to this proposal.
The team has added the following provisions:
Masks must be worn by all fans except when eating or drinking. (Masks must be provided by the spectator though the Chiefs will issue a commemorative mask that spectators of the first 3 home games will receive upon entry.)
No bags will be allowed into the stadium.
Jacksonville Jaguars fans will also be present for home team games.
Jaguars announced that, in compliance with state and local authorities and following CDC social-distancing guidelines, @TIAABankField will seat approximately 25% of its capacity at each home game this season.

— Adam Schefter (@AdamSchefter) July 10, 2020
The Dallas Cowboys also plan to allow fans to watch home games and tailgating this season.
How many spectators allowed has not yet been released to the general public.
Empty stadiums will also be the case in some cities.
In an expected announcement, the New York Giants and New York Jets will not be having fans in the stands of MetLife Stadium in 2020.

They join the Philadelphia Eagles in the precautionary measure. https://t.co/Pz9Kl5UziE

— Jim Vasil (@JimVasilWFMZ) July 20, 2020
Dealing with these changing and varying requirements is one of the many challenges 2020 and COVID-19 presents to sports fans.